Steel Prince nails Cup berth in narrow win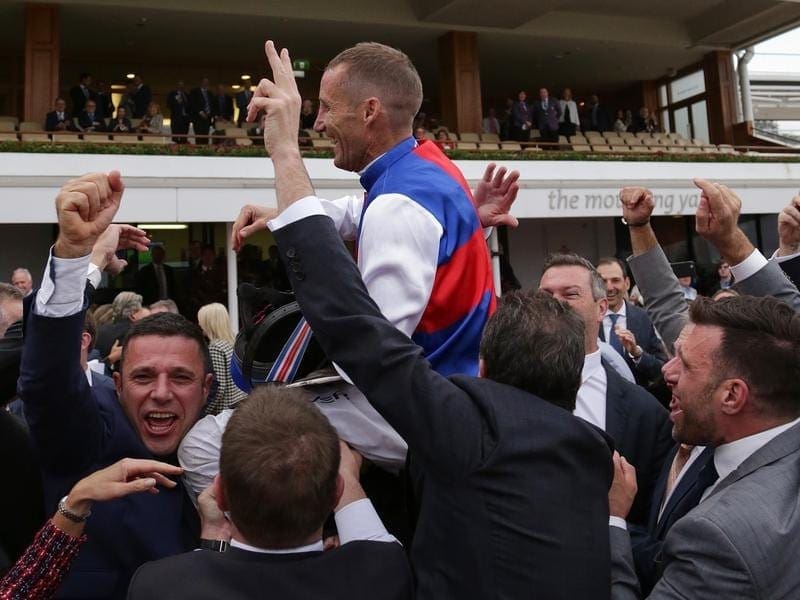 Melbourne Cup-like scenes have greeted Damien Oliver after Steel Prince won The Andrew Ramsden.
The connections of Steel Prince have celebrated the gelding's victory in The Andrew Ramsden as if they had just won the Melbourne Cup.
Steel Prince is a step closer to realising that dream for his owners by winning Saturday's Listed race at Flemington, earning a ballot exemption into November's Cup.
The Andrew Ramsden underwent a transformation this year being shortened from 3200m to 2800m and restricted to three, four and five year-olds while giving the winner a golden ticket into the Melbourne Cup.
And what a nail-biter the finish turned out to be.
Under the urgings of Damien Oliver, Steel Prince ($2.90) defeated the $2.40 favourite Surprise Baby by a nose with Eastender ($19) 2-1/4 lengths away third.
"What a fantastic race," winning trainer Anthony Freedman said.
"They're both wonderful stayers and neither wanted to lose.
"This horse, he just didn't want to lie down and when the other horse came to him he dig in for the fight.
"He's earned his chance and he'll run well in a Melbourne Cup and I'd be fairly confident he'd get a nice cheque."
Freedman said Saturday's victory relieves the pressure of qualifying for the Melbourne Cup.
The five-year-old will now have a short break while Freedman said he'd like to race the gelding with three week gaps between races leading into the Cup.
"I'd probably only run him three times before the Melbourne Cup, maybe four," Freedman said.
"And we've learned a lot about him as the preparation went on.
"I didn't know much about the horse when he came to me.
"I know he'd run second here on Melbourne Cup day and that form's turned out strong with the winner going on to win the Sydney Cup.
"He's enjoying the farm down at Pinecliff and the boys that own him say today's the best he's presented through the prep."
Paul Preusker, trainer of Surprise Baby, was ruing a wide draw and a tough run the gelding had.
"A different gate and an easier run, I think the result is different," Preusker said.
"But that's racing.
"We'll go and look after the horse and come back with another plan.
"The Cup's only five months away. It comes around quickly."
Racing Victoria stewards reported Surprise Baby pulled-up distressed but had recovered quickly.