Stackhouse out of hospital and recovering after Kilmore fall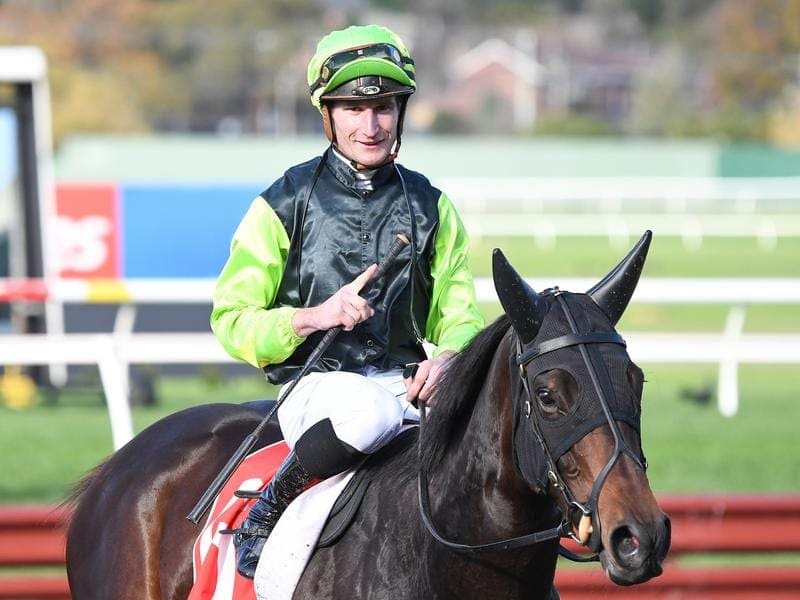 After being airlifted from Kilmore Racecourse last Thursday, Daniel Stackhouse is out of hospital and back at his home residence.
The Victoria-based jockey fell off Armansky in Race 4 at Kilmore and was subsequently taken to hospital with leg and rib pain.
Speaking on Racing.com's 'After The Last' on Monday evening, Stackhouse said he remembers most of what happened and is doing well.
"I remember the whole day and I remember three-quarters of the race," he said.
"I've watched the replay a few times – I hit the ground pretty hard and I don't remember a lot after that.
"I was in a lot of pain and pretty sore down my left-hand side, I was just glad I was awake I guess and functioning the best I could at that present point in time.
"We're very lucky with the race day doctors and the support team we have on the ground that looked after me. They did a fantastic job and I knew I was in good hands."
Prior to his fall, Stackhouse had been riding in a rich vein of form, with seven winners from his past 50 rides, and was gearing up for a big Melbourne Autumn Carnival, but now those plans have been put on hold.
Although he will spend a bit of time on the sidelines, the 31-year-old hoop escaped with relatively minor injuries.
left and right rib fractures, small liver bleed & small pelvis fracture will not keep him down for long. He is already counting down the days until he is back doing what he loves & riding winners!🏇❤️ pic.twitter.com/tkf801MCT1

— Tatum Bull (@TatumBull) February 10, 2022
"Watching the replay, I feel very lucky to be honest," he said.
"I've walked away with some injuries that aren't too bad that I'll heal from, but it could've been a lot worse.
"I've broken nine ribs – both sides – I've fractured my pelvis, laceration to my liver."
Doctors have told the New Zealand expat that they would like to see everything heal properly before he returns to riding, to prevent any further injury should he fall off again.
While he has watched the replay of the fall on a number of occasions, Stackhouse still isn't "too sure what actually happened" to cause the tumble.
"It sort of happened really fast," he said.
"I may have clipped a front heel from the inside runner, but to tell you the truth, it happened that quickly – the horse fell underneath me very fast and I'm not to sure.
"I guess there will be enquiries, so I'll probably learn a bit more when that comes along."
It is unfortunate timing on the doorstep of the autumn, but the jockey is in good spirits despite missing out on the Melbourne Autumn Carnival, although he fears he might struggle with filling his newfound spare time.
The road to recovery has started and all I can say is that he is in good spirits and doing his best to stay positive.❤️ Daniel can't wait to be back riding winners 🏇🏇 pic.twitter.com/zQ9DSmOrQt

— Tatum Bull (@TatumBull) February 11, 2022
"I just want to take it slowly – make sure I mend properly so I can be back in the saddle as quickly as I can," he said.
"I'm just going to have to do what they say – I've got a lot of physiotherapy to go through and hopefully it all works out.
"I'm not much of a person to sit around and be quiet, so it's going to be quite hard for me, I think."
Stackhouse said his partner and fellow jockey, Tatum Bull, has been a huge support for the fallen hoop.
Bull was quick to update her social media followers on Thursday and the days after in regard to her partner's recovery.
Stackhouse has no timeline on when he will be back riding winners, with the next six weeks' worth of recovery at the forefront of his mind, after which a visit home to New Zealand to see his family beckons.
He has ridden 37 winners in Victoria this season at an 11% win strike rate.