Rockstar Meggsy ready for Magic Millions SA 2YO Classic assault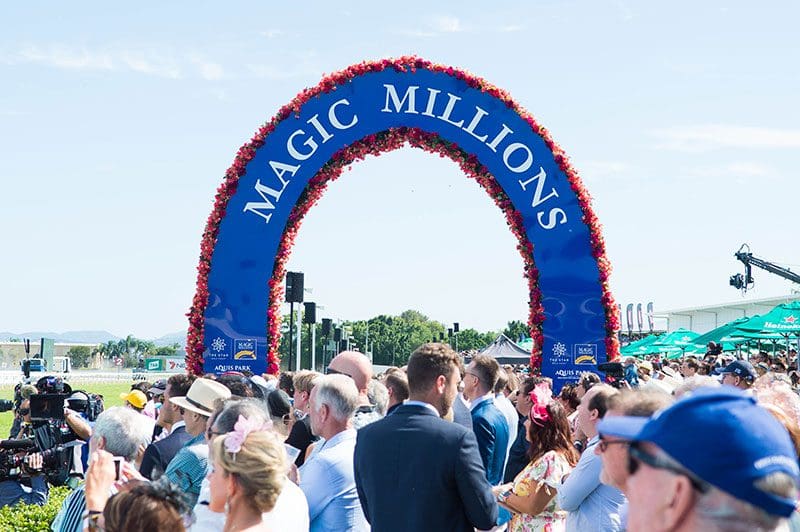 Short, stocky and "barrel-chested", SA filly Rockstar Meggsy stands ready to take on some high-priced interstate raiders in Saturday's $202,250 Magic Millions SA 2YO Classic at Murray Bridge.
Already boasting an impressive win at her only start, the local hope will be "up for the fight", according to trainer Jon O'Connor.
"Obviously there are some big stables represented, with high-priced young horses, but you just don't know about the unraced ones," O'Connor said.
"What they cost is almost irrelevant to me – ours is a 'cheapy' but she knows how to gallop. She cost $35,000 in Adelaide last year.
"Price tags and pedigrees mean nothing come race day. She's a tough little thing and I expect her to be around the mark."
MORE: Murray Bridge tips for March 5
Rockstar Meggsy, rated a $5 chance tomorrow (with Australian online bookmakers), won an incident-packed 1000m 2YO race at Morphettville a fortnight ago, skirting wide around some trouble on the turn, before finishing powerfully to overhaul Sghirripa, an early $4.60 favourite for this weekend's race.
"We had to make the corner a bit wide, and we became unbalanced," O'Connor said.
"So, it took a bit of time, once she balanced up and settled back into her stride, to regain momentum.
"Once she got her legs back under, she finished off really well."
Rockstar Meggsy and Shane Oxlade's Sghirripa will face first starters from the McEvoy, Maher/Eustace and Price/Kent Jr stables, plus highly rated Freedman runner Biographer, which finished second at Morphettville a month ago.
Rockstar Meggsy was a little tardy out of the barriers at her only start and may be again over 1200m tomorrow, although O'Connor is unfussed.
"She hasn't quite got the gift of springing from the barrier yet, but it's not necessarily a bad thing, because the ones who do jump out quick often don't finish their races off as strongly," he said.
"She was like that in her trial at Gawler. She jumped slowly… and it'll be the same Saturday, but she'll balance up and hopefully have last crack at them.
"I think probably the most encouraging part of her first run was she was the best finisher in the race.
"With young horses in particular, you always want to see your horse as the best finisher. It's good to have speed horses, but I think horses that hit the line hard often go onto better things."
O'Connor said while the daughter of Star Witness had been "a handful" from day one, her ability was never in question.
"Without sounding cocky I honestly thought she was an above-average filly," he said.
"She had a hell of a temperament in her early days and she had to go back to the breakers for a bit of a second go.
"She won't go a yard without blinkers on her head, so she's a character, but once it gets down to doing her work, she's pretty professional about it.
"She loves competition."
If the Magic Millions SA 2YO Classic goes well and the horse comes through the race in good shape, black type races during the upcoming Adelaide autumn festival beckons.
"There are lot of good targets here during the autumn, such as the Dequetteville Stakes in five weeks' time," O'Connor said.
"Part of your duty as a trainer is to get black type on your fillies, so if Saturday goes well, maybe we'll have a short freshen up and go there…
"We've got a good series of two-year-old races right through autumn here, but I'm not getting ahead of myself. We're just focused on Saturday."
Meanwhile O'Connor is praying for rain in the lead-up to Adelaide Cup day, with his stable's wet weather duo of Great Leveller and Angaston due to run at the public holiday meeting.
More horse racing news