Rain arrives in time for Mugatoo in All Star Mile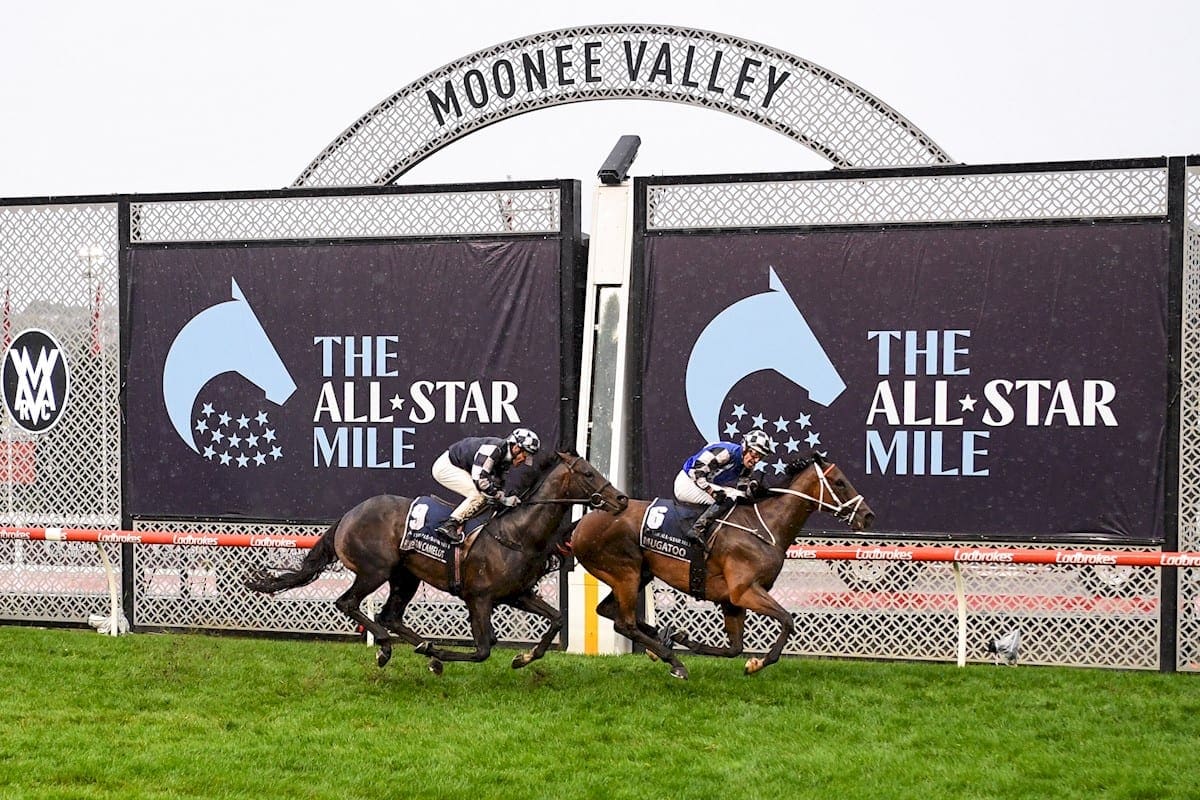 Hugh Bowman thought hopes of winning the $5 million All Star Mile (1600m) at The Valley aboard Sydney visitor Mugatoo looked forlorn after his first two rides on Saturday.
The rain that was forecast had not arrived, but it arrived in bucket loads after 3pm, moving the track into the soft range by All-Star Mile time.
"After rides in races two and five the track was not ideal for Mugatoo to run a mile against this opposition, but then the rain that was forecast, he came into contention," Bowman said.
"I did not expect to ride him like that. I was hoping to be three deep, getting a trail up, but I stayed to the rail and gave him the shortest way home."
Weaving through traffic, Bowman guided Mugatoo (+700) to a half-length win over Russian Camelot (+320) with Behemoth (+1400) a further three and a quarter lengths off third.
There were anxious moments for Bowman as Mugatoo was held-up for a run as Damien Oliver swept up on Russian Camelot on the turn after himself weaving some magic.
"Damien Oliver is someone I have looked up to from a very young age and I have had the privilege to ride against him for a very long time now," Bowman said.
"We've both reached the heights of the sport. I could sense him waiting for me to run into trouble.
"I said to Cameron Swan (trainer Kris Lees' travelling foreman) that sometimes the best options are when you don't have any and Damien really did have control of my fate.
"As things would have it, I got room in front of me and I think the best horse won on the day."
Trainer Kris Lees began thinking of the All Star Mile immediately after Mugatoo finished fourth in the Group 1 Cox Plate last spring.
But like Bowman he was waiting for the rain to arrive to enhance the gelding's chances.
"I just kept looking at the sky all morning waiting for it to come and it certainly enhanced our chances, I've got to say," Lees said.
"Coming to the corner I was thinking 'just have no bad luck from here, please'.
"To get a quality horse like this to come into your stable it is every trainer's dream and I'm very fortunate."