Peacock still enjoying NT racing after 26 years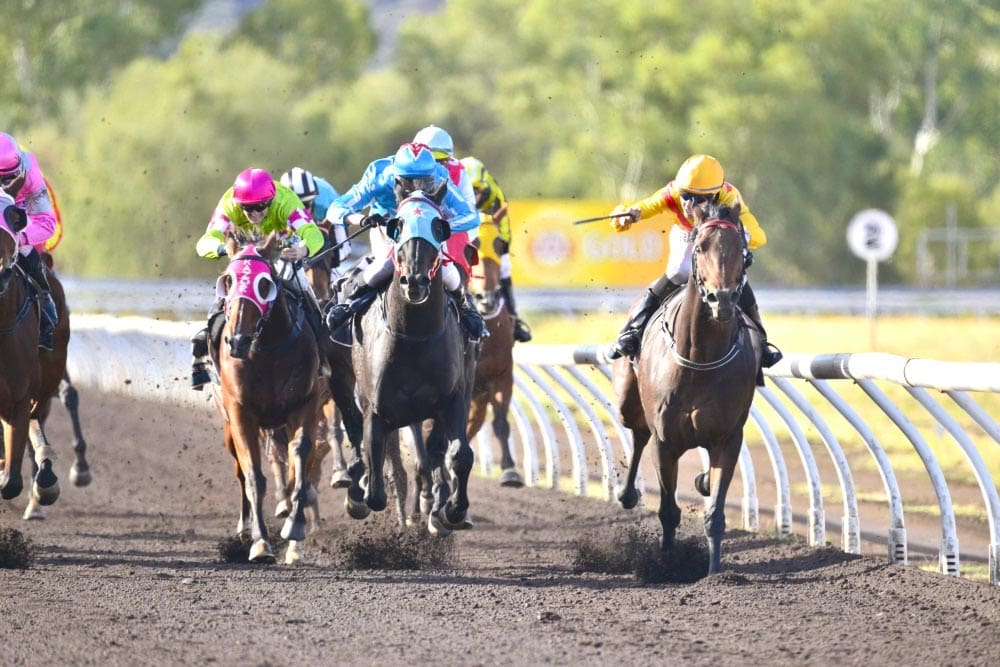 Murray Bridge trainer John Peacock encourages anyone who loves their horse racing to experience it Northern Territory style.
He has been involved in it for the past 26 years.
During that period Peacock, who is still training winners at 74 years of age, has spent up to six months a year in the Territory supporting the Alice Springs and Darwin Cup carnivals.
It's also unlike Peacock not to have a runner at the Tennant Creek Cup (May 14) and Adelaide River Cup (June 4) meetings following the Alice Springs Cup on the first Sunday in May, as well as Katherine Cup Day (August 6) after the Darwin Cup on the first Monday in August.
"It's a good way of life up here, good people," Peacock said from the Red Centre on Tuesday.
"If anyone is thinking of taking a horse to the Territory they've got to start in Alice.
"There are some good horses in Darwin.
"I'd encourage any trainer to put their horses on a float and come up here to see what it's like.
"The Alice Springs Turf Club has plenty of stables to rent, the facilities are good, and it's hard to criticise the prizemoney.
"Normally the weather is good in Alice Springs at this time of year for the Cup Carnival."
Acquiring his trainer's licence in 1971, Peacock, who is a farrier by trade, said that based on experience there is no secret finding the right horse to bring to the Territory.
Alice Springs is an oil-based track mixed with dirt and sand, and certain horses either find the surface too hard or reject having dirt in their face during a race.
"You take horses to Alice and just live and hope," Peacock said.
"They've got to be tough and really go through some pain racing on the hard surface.
"If not they won't do any good here.
"I once had a horse who was narrowly beaten at Morphettville.
"Brought him here next start and he was the odds on favourite and was beaten by 48 lengths.
"I just kept coming back every year with two or three decent horses.
"Picking them out, you've got to be ruthless. If they're no good get rid of them.
"Turn them over. Try new ones every year. That's how you do it."
Peacock started his annual trek to the Northern Territory in 1996 as a farrier.
"I started coming to Alice as a farrier for the Cup Carnival," he said.
"I would do the Alice Carnival then I'd go home to Murray Bridge. I'd then do the Darwin Carnival then go home.
"I used to help trainer Nev Connor for years. I wasn't training up here then – I was just shoeing.
"I ended up purchasing a two-year-old at the Alice Springs Sales in 2006 and Off His Tucker ended up winning a race here at Pioneer Park.
"He was the same year as Periduki, so I didn't have much hope of winning too many two-year-old races."
Periduki is considered to be one of the best ever horses to come out of the Northern Territory.
With the 2022 Alice Springs Cup Carnival in full swing, Peacock is bullish that three-year-old gelding Super Famous and eight-year-old gelding Kyd Rock will make an impact.
Super Famous impressed when he saluted against 0-58 opposition over 1100m on April 2 in his first race for Peacock after nine career starts in Queensland.
Kyd Rock has been making the trip to the Red Centre since 2019 and has tasted success every visit, including last Saturday – Day 1 of the Carnival – when he triumphed in 0-58 class over 1200m at $16.
"Super Famous will race a few more times, including the three-year-old race on Cup Day," Peacock said.
"See if he can get to 1200 – he ran the 1100 pretty good the other day.
"Kyd Rock will go to the 1400 or mile race on Cup Day."
Alice Springs Cup Day is scheduled for Sunday, May 1.
Peacock has enjoyed plenty of success at Pioneer Park and Fannie Bay, and estimates that he has recorded up to 130 winners in the Territory.
Some of his standout performers include former NT Derby winner Flying Tormenta, Samalidan, Senior Council, Mine Craft and Calabisca.
"Samalidan – he was a champion, Mine Craft was special – but he had feet issues," Peacock said.
"Flying Tormenta and Senior Council won $500,000 between them in the Territory.
"Calabisca started me off here in 2008.
"He was an eight-year-old – he ended up winning five in Alice.
"I ended up naming my property back at Murray Bridge after him."
Looking to the future, Peacock has no plans to head north for the Darwin Cup Carnival.
"Not going this year, I'm a scratching," he said.
"I'm taking Super Famous back to Adelaide with me – better money.
"I am considering retiring next year.
"Super Famous is only a three-year-old, but if he turns out to be a good horse I could be going for another four or five years yet."