Our Destrier in Darwin Cup contention for Hann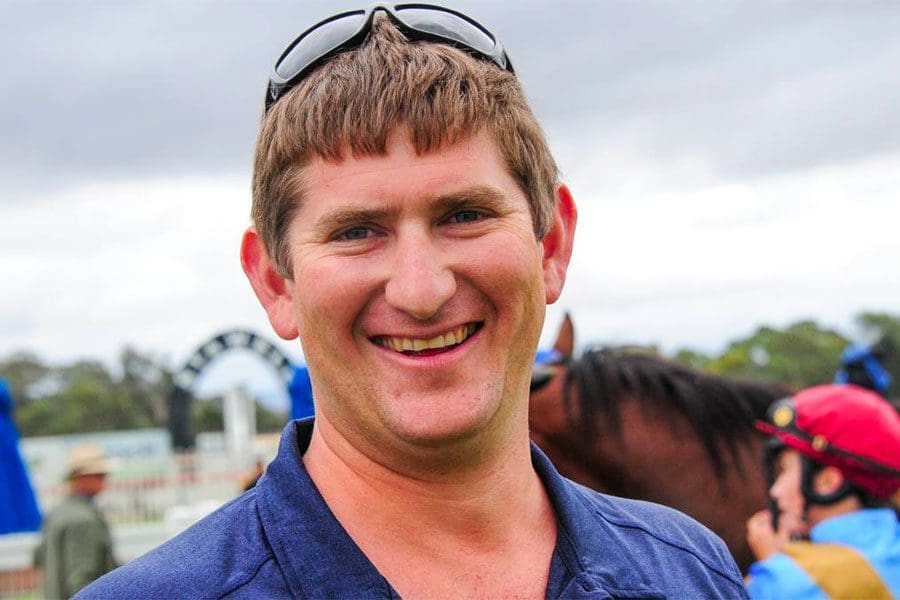 The $200,000 Darwin Cup (2050m) is not until August 1, but at this early stage Bendigo trainer Kym Hann might well have a serious contender.
Our Destrier will turn six years of age should he get a start in the Northern Territory's feature race of the year and he definitely brings decent recent form to the Top End.
The Zoustar gelding has only had 17 starts since debuting in a 1100m Bendigo maiden as a two-year-old, but three of his five career wins were achieved in December and January.
A win over 1600m at 0-58 level in Albury in NSW on December 11 was followed by back to back wins in Murray Bridge in South Australia over 1600m.
After a three and a half length win against 0-60 opposition on New Year's Day starting at the juicy odds of $17, Our Destrier showed signs that he had plenty of potential with a comfortable win at 0-82 level on January 15.
He returned to action at Morphettville in Adelaide in February where he finished ninth in 0-78 class over 1600m and has already caught the eye at Fannie Bay.
Stepping out for a 800m trial on Tuesday, Our Destrier made a statement when he led his other four rivals home by a tick over five lengths in 52.38 seconds.
"He's a pretty handy horse," Hann said.
"His trial the other day couldn't have been more impressive.
"Our Desteri will be heading on a Cup path – he'll run first up in the Adelaide River Cup (June 4) which is being held in Darwin this year.
"He'll run first up there, then probably the Chief Ministers Cup and then probably into the Cup – we'll see if we give him one more run or not."
Hann brought a team of six horses with him for the Darwin Cup Carnival, an eight race meeting extravaganza starting on July 2 with the running of the Darwin Guineas (1600m) for the three-year-olds.
Apart from Our Destrier, the Hann stable will be represented by Elmore Lad, Swing With Junior, Light Night Reward, Boy Big and Royal Tyke, who finished second in a 800m trial at Fannie Bay on Tuesday.
It's not easy identifying a horse who can make the successful transition from the grass to the dirt – something that Hann can certainly appreciate.
"I've just got to hope they go well on the dirt at the end of the day," he said.
"But they've settled in well up here so far.
"We've got Elmore Lad, Swing With Junior and Late Night Reward running on Saturday.
"I think Elmore Lad and Swing With Junior will be very competitive.
"The three-year-old (Late Night Reward), he's in a tough race, but he is a horse who has showed ability in the past – just yet to produce it.
"I do think he will be better over a bit further – 1100 is the furthest he has been.
"Gets the blinkers on, he has trialed very well and he's a horse also that has actually thrived in the heat."
Hann agreed that Late Night Reward will have find form pretty quickly if he is to be considered for the Darwin Guineas and NT Derby (2050m).
Seemingly settled after the arduous trip from his Bendigo base, the Darwin Cup Carnival has always been on the radar for Hann.
"It's a trip I've wanted to do for the last couple of years," he said.
"I've just got the horses that I have brought up that have sort of reached their grade in Victoria.
"I thought it was a good opportunity to take them up there.
"You've either got to move them on or sort of do something else with them.
"So I thought, why not do it now and take them with me."
And the young trainer could not fault the support he has received from the Darwin Turf Club.
Then again other trainers from interstate have echoed similar sentiments over the years.
"I rang up and looked into it all," Hann said.
"They've been great so far and the people up here have been really good.
"So far everything is going well and it's hard to fault the facilities.
"The visiting stables are very good.
"I can't fault anything, they've been great and very accommodating so far which is good.
"I'm here until the start of August.
"I haven't really set anything in concrete yet, but we'll definitely be here for the Cup and just see where we go from there.
"I've already been approached by a few jockeys in Victoria that want to come up as well.
"Just in the lead up to the Cup the carnival might be a bit short for riders, but once you sort of get into the carnival I've already had a few jockeys ring me – so I'm flush for options I would say."