No fairytale farewell for Alice Springs hoop Wayne Kerford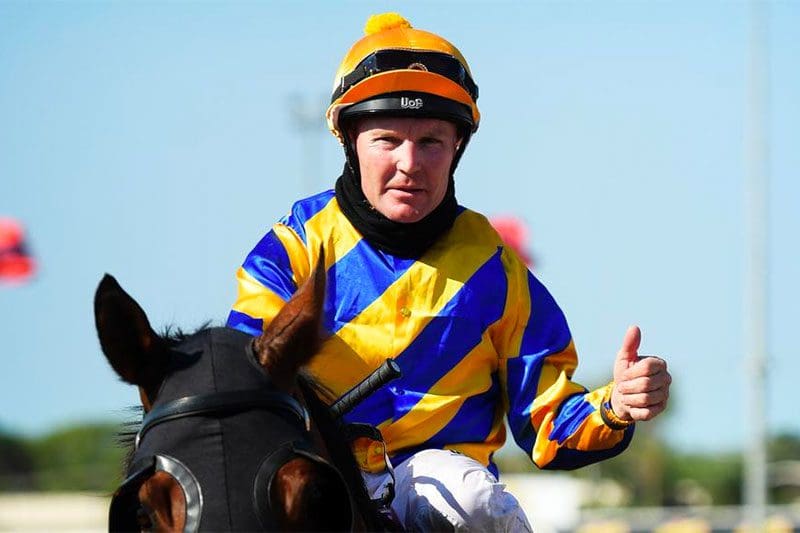 He was philosophical, but deep down he would still have that awful feeling in the pit of his stomach.
Veteran jockey Wayne 'Bulldog' Kerford arrived at the barriers on Sunday aboard the in-form Yowza on Alice Springs Cup Day at Pioneer Park.
The popular 49-year-old had already announced his retirement and there was every chance he would sail into the sunset in style by booting home a winner in his final race.
The Scott Whittle-trained Yowza from South Australia went into the $30,000 Hygain Curculain Pro 0-62 Handicap (1200m) as one of the top fancies after a second and two straight wins in the Red Centre.
The Strathalbyn six-year-old gelding also had the inside gate, so the stars were starting to align.
Then fate came walking through the door.
Jess Gleeson's Defactor (Ianish Luximon) refused to load and was scratched.
Time was getting away and other runners already locked away in the gates began to bristle – including Yowza.
He was backed out of the gates for a veterinary examination after rearing and getting both front legs over the top of the barriers.
The good news is that he was passed fit to run.
The bad news is that he refused to load a second time and was declared a late scratching.
A collective grown came over Pioneer Park.
Yowza did the same thing in a maiden on debut in the Alice on April 2 and was scratched.
For the record, the Phil Cole-trained Sedona (Jason Maskiell) became unruly in the barriers due to the lengthy delay and after undergoing a veterinary examination was declared a late scratching by order of the stewards acting on veterinary advice.
The race itself preceded the Pioneer Sprint (1200m) and Alice Springs Cup (2000m) – the two feature races on the nine-event program – where Kerford didn't have a ride.
Has Kerford come to terms with the fact that his exit from the racing game was ruined?
"Yeah, it's all good," he said.
"It was just one of those things.
"The horse can get a little bit fractious in the gates.
"It happened in his first run up here – same thing he got scratched.
"He got away with it the last couple of times.
"Four runs in four weeks sort of thing, he was a bit stirred up, you know what I mean.
"There were other horses playing up prior to that – it got a bit much for him.
"There was a lot happening.
"He was never going to go back in a second time, but it wasn't a total shock to me.
"The horse would have been super hard to beat, but he still had to win the race."
Kerford had four other rides, with Lisa Whittle's Omoplata and Scott Whittle's Liberty Blue finishing second.
Omplata finished well behind the leader in race one, but Liberty Blue led half way down the straight in race three before being overtaken by Lisa Whittle's $3.10 favourite, Harpuna (Paul Denton).
"Liberty Blue gave me a kick along beautifully, he tried his best," Kerford said.
"I could hear Dash (Paul Denton) coming, he got me – that's racing, it happens.
"As soon as I went across the line he looked across and said 'sorry mate'.
"I said 'I'm sure you are'."
So Kerford had two chances to make it a fairytale finish to his riding career, but it wasn't meant to be.
He had mixed feelings when he returned to the jockeys room after the Yowza mishap.
"It was a bit of a relief really, I suppose," he said.
"I was a bit sad in a sense that I was finishing.
"It was a good feeling to walk back to the jockeys room knowing what I had done for 33 years and walked away fit and healthy.
"I'm comfortable with the decision still."
Kerford had six winners in 2022, including four during the Alice Springs Cup Carnival.
"If I had had 10 rides and been unplaced or something it probably would not have been a good way to go out," he said.
"The last three or four weeks have been good, so I'm not complaining and Sunday wasn't a disaster."
Alice Springs Turf Club chief executive officer Tom Slattery was full of praise for Kerford and felt his pain when Yowza was scratched.
"Yeah, Bulldog will be missed," he said.
"When it was announced that it was Bully's last race a flock of money suddenly comes on his horse because he had been riding well.
"We'll miss him in the local industry, numbers wise and just that he's a great personality and a good rider."
Kerford appeared in 11,822 races throughout Australia, saluting on 868 occasions, after starting his apprenticeship in Victoria.
He will remain in Alice Springs where has a secure job, but is keen to assist the horse racing industry in Central Australia where possible in the future.
Rivals out on the track, Kerford couldn't speak highly enough of the jockeys on Sunday.
"The boys were pretty good. Went and a beer after the last," he said.
"For the whole day, everyone was pretty good about it.
"I couldn't ask for any more.
"It was quite enjoyable."