Nicholas scores Avondale treble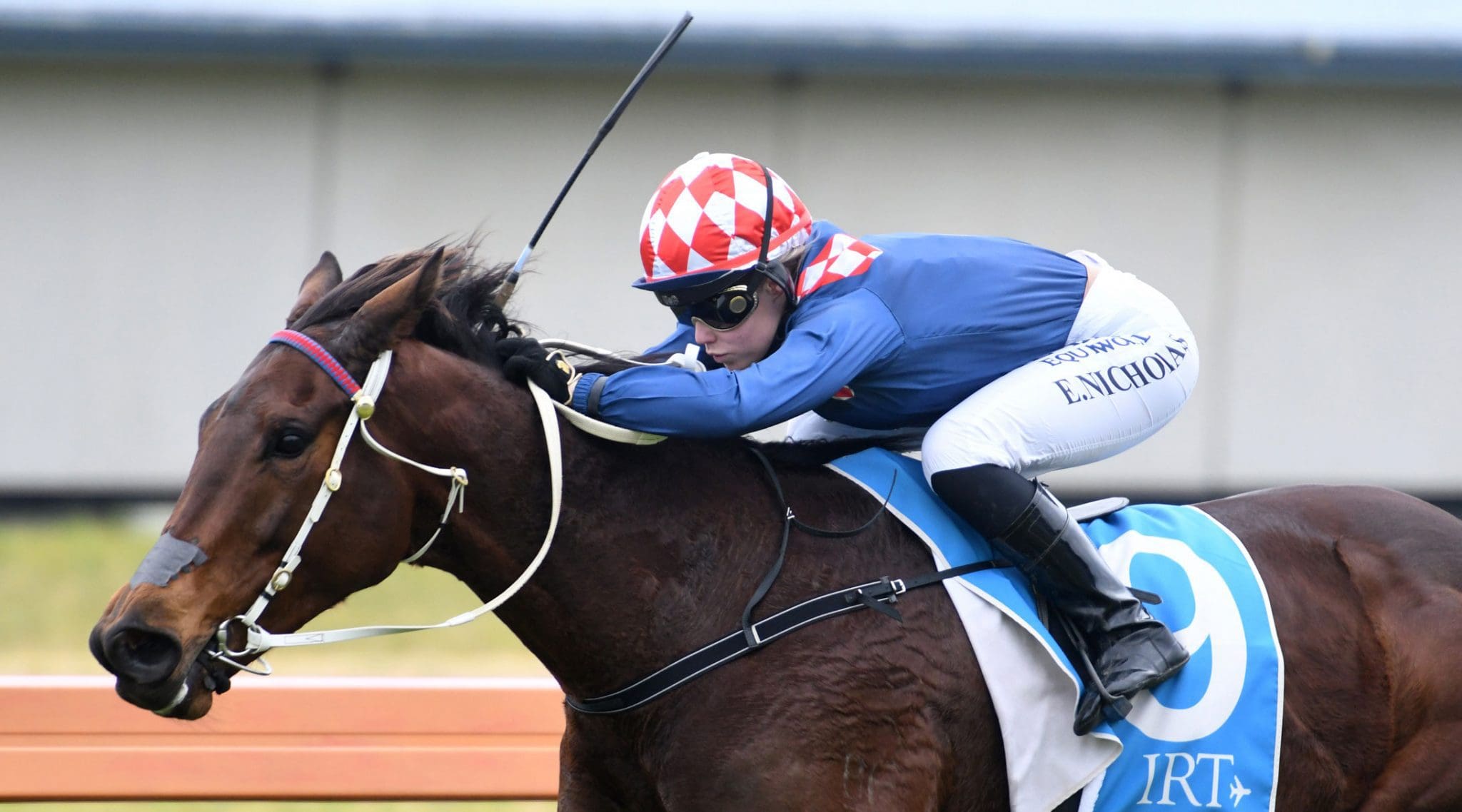 Apprentice jockey Elen Nicholas experienced her best day in the saddle at Avondale on Wednesday, riding home a treble of winners.
The Welsh national had yet to record a double, let alone a treble, prior to Wednesday, and was duly animated with her results.
"I was in a bit of shock," Nicholas said. "It was my first double and then to get one more later on the day, to get a treble, was great."
Nicholas recorded her first win of the day aboard Bouffant in the Westbrook Cellar Door 1600 before guiding Apatchee Power home to win the AJC Trials 9 September 1400. She was saluting the judge just two races later when victorious aboard Bergamo Fox in the Tulloch Café 1200.
"I was expecting Bergamo Fox to win, but the other two I was hoping that they would run a place, but I didn't expect them to win. It was a really great day."
Still coming down from the high of Wednesday, Nicholas is looking forward to a busy weekend where she will be riding at New Plymouth on Saturday and Oamaru on Sunday.
Nicholas has a handful of rides at New Plymouth, including last start winner Le Sablier in the Listed Powerworx Opunake Cup (1400m).
"It's pretty cool that I managed to get on Le Sablier in the Opunake Cup. She is a last start winner, so hopefully she will go well," she said.
"I am also excited about the horse of Aaron Bidlake's, Rocktilyoudrop (in the Sandfords Rural Carriers DC 100 Maiden, 1800m), I won on him at Waverley last start, and he will love that heavy track. I know it is a bit of a stronger race, but he should go well.
"Husk is a last start winner as well. I haven't ridden them, but he won well on a heavy track at Te Aroha, and My Gift is a really good horse and the three-kilo claim on him will help a lot."
After the conclusion of racing on Saturday, Nicholas will join fellow jockey Lisa Allpress on the long trek down to Oamaru.
"I am going to go down to Wellington after New Plymouth with Lisa Allpress. We are going to fly down on Sunday morning and David Walsh (former jockey and NZTR South Island riding master) is going to take us to the races," Nicholas said.
"That will be really interesting to talk with him. He offered to give me a hand at looking at the course. I have watched replays from there and it is pretty interesting, there is a bit of a rise as you come out of the gates and from the 800m you are downhill.
"The bit of insight will be good."
Nicholas will have four rides at the southern track, led by the Shaun and Craig Phelan-trained Quiz Kid in the Crombie And Price LTD Oamaru Cup (1600m).
"I am stoked to be riding him, he is such a cool horse. He should go well hopefully," she said.
Nicholas is enjoying a good run of late and is enjoying riding in her adopted home of New Zealand.
Hailing from Wales, the 24-year-old was first drawn to horses as a child.
"Since I was a little kid I have always wanted to be a jockey," Nicholas said.
"When I was 10-years-old I kept bugging my mum to get a pony and she said I should go up to the lady who lives up the road and ask her if I muck out her stables could I ride her horse?
"Her horse was a 16-year-old broodmare who hadn't been broken in. She taught me to ride on her and I ended up taking her to pony club, but I used to fall off all the time."
Aboard that mare, Nicholas fell in love with riding and was intent on making her passion a career. However, with no link to racing she took to the internet to find a pathway into the industry.
"I remember finishing my GCSEs and my parents were pretty keen for me to go off to university, but I was pretty stubborn not to," Nicholas said.
"I googled how to become a jockey and the British Racing School website came up. I enrolled in a six-week course and they put you in a racing stable at the end of the course. I worked for a trainer in Wales.
"I rode in point-to-point races, which is amateur jumps racing. I did that for a few years and loved it, but it was more of a hobby, you would never make any money out of it."
Like many young adults, Nicholas started to get itchy feet and felt the urge to travel, so answered a job advertisement from a jumps trainer on the opposite side of the globe.
"Paul Nelson put up an advert up on Facebook and I took that job and the rest is history," she said.
"I went back to Wales and sold all of my gear. I owned a few horses and sold them and came back out here and started to work for Andrew Campbell to begin my apprenticeship.
"I injured myself and I transferred over to Craig and Shaun Phelan when I came back from injury, and I am enjoying it.
"I have been in New Zealand for three years all up and I absolutely love it here."