New trainer Chloe Baxter ready for the challenge at Darwin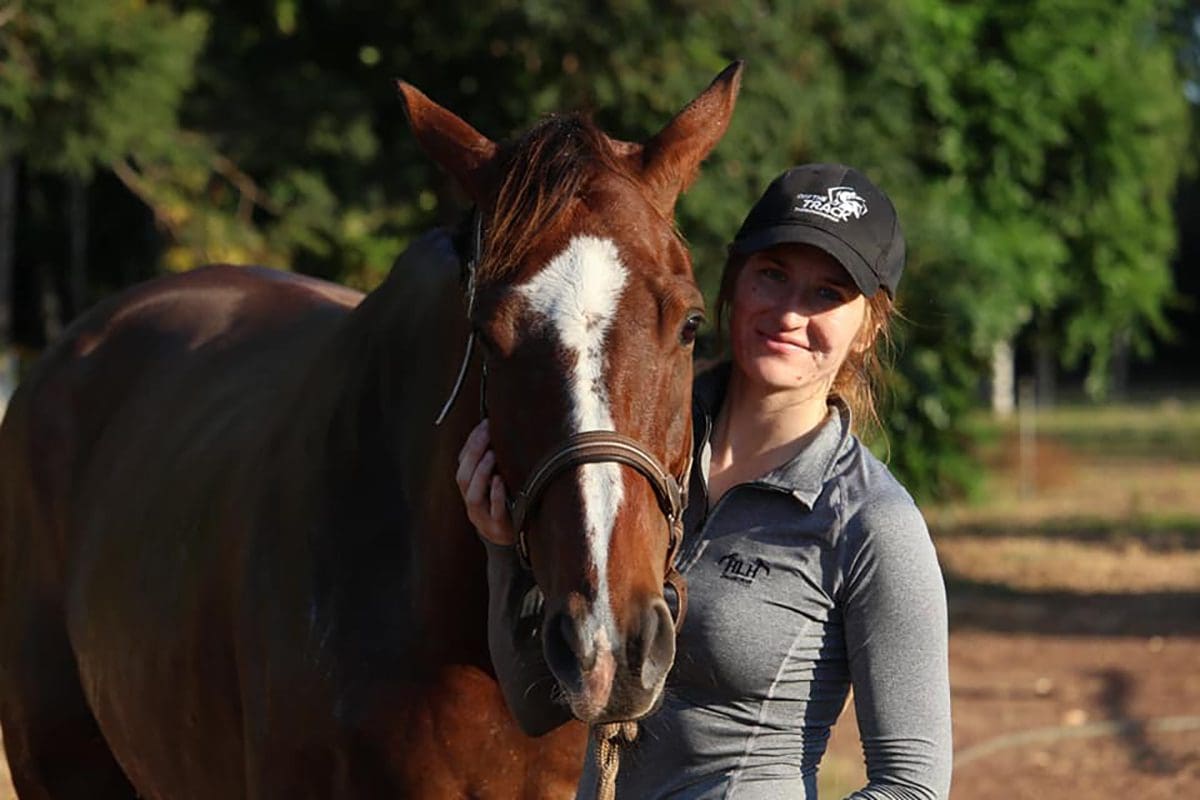 It's exciting times for Chloe Baxter, who is certainly looking forward to Saturday's race meeting at Fannie Bay.
The 30-year-old is the new addition to the Darwin training ranks and her horse First Crusade will match it against older horses in a very open ROANT Members 0-62 Handicap (1200m).
The three-year-old gelding has performed with distinction in the Top End since arriving in April with two wins and a second over 1100m – success achieved at 0-58 level followed by a narrow defeat against his own age group at a 0-56 level.
After seven starts in south-east Queensland and on the NSW far north coast, which saw him post a win in a 1410m maiden in Lismore last October, First Crusade landed in the NT under the guidance of top Darwin trainer Garry Lefoe.
Baxter actually purchased the horse in February and following First Crusade's last appearance on May 21 she has taken over as the horse's fulltime trainer.
It's not as if Baxter has had a falling out with Lefoe – in fact Baxter actually works for Lefoe.
It's just that after attaining the required accreditation and necessary skills the time has finally arrived where she feels comfortable kick-starting her training career.
"I've been in the racing industry now here in Darwin for about three or four years," Baxter said on Friday.
"I started with Phil and Rhonda Cole, just as a stable-hand and strapper with them.
"Phil taught me how to ride track work, which was really good.
"I currently work for Garry Lefoe, as well as for the Tayarn Halter and Lindsay Schmidt stable.
"They've really been incredible in my aspirations to start training.
"Garry has been great, he has taught everything I needed to know in regards to training wise.
"I've been working for those guys for just over a year now."
Baxter hasn't taken a backward step in her pursuit to achieve her ambition.
And there's no way you could question her desire and commitment.
Apart from her studies and responsibilities at respective stables, Baxter also juggles fulltime employment with betting agency Sportsbet.
After studying for her relevant certificates through Skillinvest – one of the largest providers of employment and training services in Victoria – she then applied for her owner-trainer license with Thoroughbred Racing Northern Territory.
First Crusade will be Baxter's first runner since acquiring her owner-trainer license.
"I've got my first runner tomorrow, which is very exciting," Chloe said.
"I've been very lucky with First Crusade.
"He's been an extremely handy horse and clearly likes the track and likes the dirt, so that's obviously the hardest things to find.
"He's had two wins and a second – and then I tipped him out for a couple of weeks in the paddock to give him a bit of a freshen up and he's come back really well and I couldn't be happier with him.
"The race on Saturday is a bit of a test for him – he's drawn 12 from 12, not much luck there.
"I don't think it will actually worry him too much – hopefully he can find a bit of cover."
Lumping 59.5kg is also one other hurdle.
Arriving in Darwin from Victoria a decade ago, Baxter has always had horses from a young age and used to participate in showjumping and dressage competition.
She met Phil Cole in Darwin where she stabled her own horse and eventually started working for him.
Additionally, Baxter ended up getting shares in a couple of racehorses with Cole.
So what gets Baxter's heart pumping when it comes to horse racing?
"I think it's probably just quite thrilling, I suppose," she said.
"And just seeing horses come from spelling and getting them to the races and everything that is involved, and then obviously any kind of result is just extremely exciting."
After cutting ties with Cole on good terms, Chloe now works fulltime for Garry Lefoe and rides for Tayarn Halter and Lindsay Schmidt in the mornings at Fannie Bay.
"Garry's really given me huge opportunities to help assist and run his stable," she said.
"Tayarn has been great – she's let me on a heap of her horses and along with Lindsay they've helped me a lot in the riding aspects.
"Gary, Tayarn and Lindsay knew coming in that training was my end goal – they've just been super open and supportive and just taught me an incredible amount of information."
Life will become increasingly busy for Baxter – if it hasn't already – but she is currently on holidays from her job at Sportsbet which has perhaps made the transition a lot easier.
"It's pretty full on hours from 4am to 5pm, but Sportsbet is very flexible and supportive of what I'm doing as well – so I'm very grateful for that," she added.
"I've got one horse now and I'm on the hunt for another one – probably wouldn't mind two or three to start with to tick me over.
"From the moment I started working for the Phil Cole stable, I just absolutely fell in love with it and I can't imagine doing anything else now."