McGillivray finds Winning Ways in Qld Oaks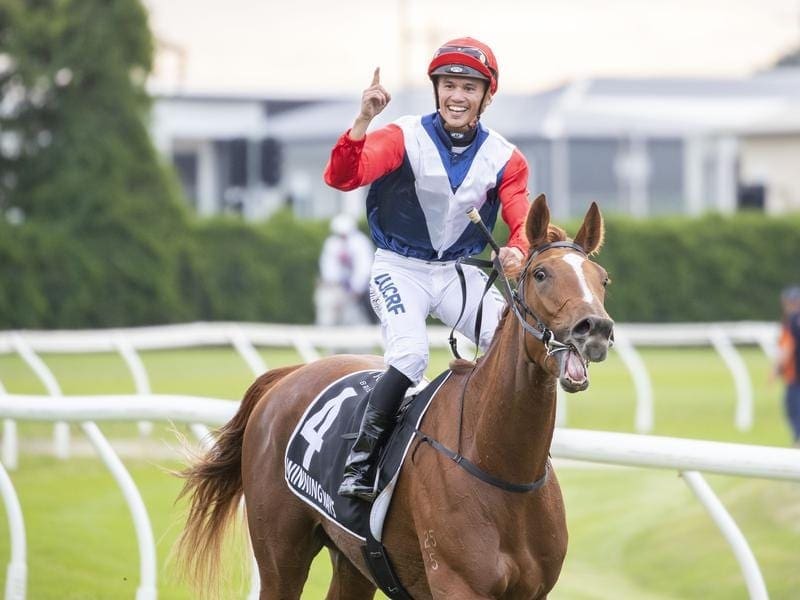 Matt McGillivray and Winning Ways have returned to emotional scenes after the Queensland Oaks.
Jockey Matt McGillivray produced the ride of his life to land a breakthrough Group One victory on Winning Ways in the Queensland Oaks amid highly emotional scenes at Doomben.
Winning Ways was owned by Paul Makin who died last weekend and the filly raced in the name of his company.
McGillivray got Winning Ways ($21) across from a wide barrier and was able to travel on the fence for much of the race before taking off at the 600m and sweeping up to the leaders.
Winning Ways held on to beat another Queensland horse in Dawson Diva ($151) by a half neck with a head to Lady Cuvee ($151) in third place.
But in a bitter-sweet aftermath, stewards reported Winning Ways had bled.
Chief steward Peter Chadwick said he had been told the filly had bled in the tie-up stalls.
"It means she is automatically banned for three months," Chadwick said.
The Oaks result was McGillivray's biggest moment in a career that started in country Queensland.
Winning trainer Garry Newham had tears, remembering his long-time friend Makin.
"Some things are meant to happen. I am sure he was looking down on us today. Paul was a great racing man and his was tremendous to me," Newham said.
He first trained for Makin when they met at the Gold Coast 20 years ago and they combined to have Group One success in Australia and New Zealand with the later international star Starcraft.
"When he scaled things back about a decade ago I trained in New Zealand for a while before taking a complete break driving floats," Newham said.
"But about two years ago he rang me and wanted me to come back to train some very well-bred horses he had bought.
"Six months ago I told him I thought we had an Oaks filly in Winning Ways and at first he didn't believe me. But as she gradually won six races Paul began to agree."
Newham said he had remained confident when Winning Ways was eighth in the lead-up race The Roses because she had no luck from a wide barrier.
"We decided when she drew wide to take the wide barrier out of play. Matt drove forward and got a position. It was a terrific ride," Newham said.
McGillivray said he was thrilled to have won the race and the filly had performed the way he had expected.
"I am just thankful Garry stuck with me. I know how much this win meant to Garry," McGillivray said.
Ryan Wiggins said Dawson Diva produced the run of her career and she had finished off strongly.
Oaks favourite Princess Jenni ran sixth and her jockey Damian Oliver said she had come to the end of her campaign.
"She was a little bit keen today but was still brave and toughed it out well," Oliver said.