Last Bid Liam out to take home Wellington Boot this Sunday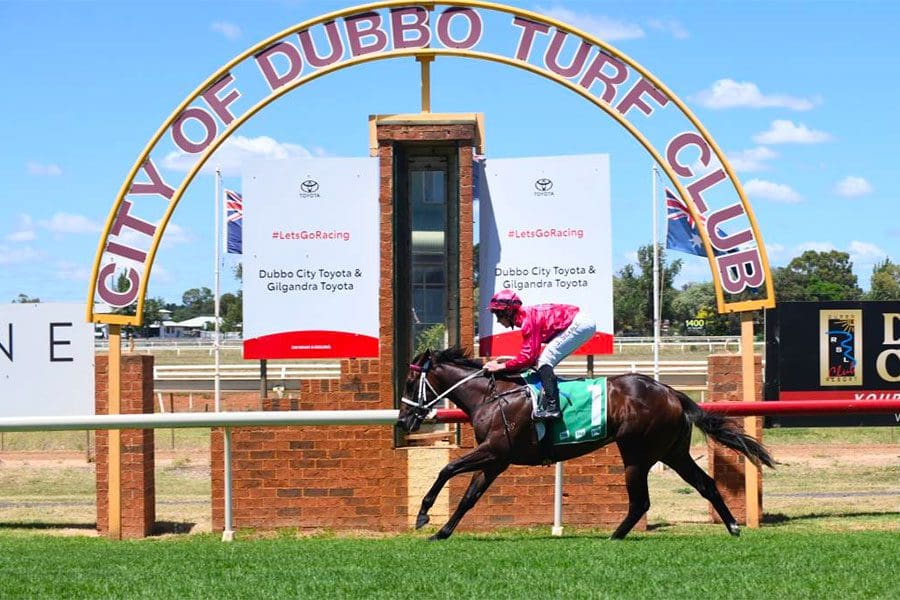 The Wellington Boot has been a popular fixture on the Country NSW racing calendar since its inception in 1981. Boasting $200,000 in prizemoney, the 1100m open two-year-old race attracts a mix of Country, Provincial and Metropolitan juveniles and garners attention from all over the globe because of its unusual name.
Situated 350km west of Sydney between Dubbo and Orange, the Wellington Race Club put on a terrific two-day racing carnival which draws in visitors from all over the country. With top-class racing, fashions on the field, live entertainment, dining, full TAB facilities and bookmakers ring, it is a much-loved event for visitors and locals alike.
Held this year on March 25-27, the carnival begins with a Friday race meeting along with entertainment and workshops throughout the community over the weekend and culminates on the Sunday with the running of 'The Boot' and also the $100,000 Wellington Cup.
The Wellington track can prove to be a little tricky with its oval shape and 1440m circumference. From the 1100m chute, there is a long straight run to the tight turn into the 400m straight.
Drawing barrier 15, this is the main concern for Scone trainer Lyle Chandler, who has Last Bid Liam engaged in the Welling Boot on Sunday after the Shalaa colt won the Boot Prelude (1100m) at Coonamble on March 13.
"The draw's not ideal, we're a bit wide. But I'm very happy with the horse," he said.
"Since his run at Coonamble he's eaten up and not missed a beat.
"There may be some more progressive horses, but he obviously has experience underneath the belt. And he is ten out of ten in terms of temperament and his professionalism.
"He's only a little horse, but all those things really matter in terms of experience in these two-year-old races."
Chandler received the colt to train just two weeks prior to the Prelude.
Previously trained out of Newcastle, his first start was in the $130,000 Max Lees Classic over 900m in November where he was just beaten into third by 0.78 lengths. After another two good runs either side of a let up he came out and broke his maiden at Dubbo over 1000m on February 13.
"I did a little bit of galloping with him, but it was quite wet in Scone and I was finding my way around the horse," Chandler said.
"So he went in the race four weeks between runs with limited galloping at home and then he did that on the day, which was fantastic.
"He'll improve a great deal from that, a good couple of lengths."
Jockey Jackson Searle will again partner Last Bid Liam on Sunday after steering him to victory in the Boot Prelude.
"Jackson knows the horse very well, he gave him a very good ride at Coonamble, so I am very happy to be continuing that association into Wellington," Chandler said.
The South African-born trainer spent time in England and other countries before arriving in Australia and working for some top Sydney stables.
Leaving his position as stable foreman for John O'Shea, Chandler moved to Scone at the end of 2019 to go out on his own with the support of his Swedish partner Emelie Larsson. The pair met while working for Gai Waterhouse and Emilie left her job as second foreman for John Thompson to make the move up to Scone.
Chandler is now looking to the future and working on building a top class stable.
"I was a country boy growing up in a farm in South Africa, then I moved to England before coming here to give it a real go," he told NSW Country and Picnic Racing in January.
"I'm getting on a bit, and it was nice to be involved with successful stables, but there is nothing better than having success in your own name, and I probably could have set up in Sydney, but being a country boy at heart, it was nice to get out of the city and set myself up in the country.
"Plus, in Australia, you can have the metropolitan grade horse, and with road networks and vehicles, you can easily travel down to Sydney.
"The incentive for country only horses are amazing. It gives people opportunities that you wouldn't get in England and other places and even paying to 10th place helps.
"For me, obviously it's all about taking those opportunities we can get.
"We want to try and get bigger, and we are mindful to try and increase the quality of our horses too, because there is no reason that we can't go down to Randwick to compete."
Chandler recently just missed out on getting his horse Banju into the NSW Country Championships Final, running third in both the Hunter & North West Qualifier and then also the Wild Card.
The five-year-old Benfica gelding was Chandler's first horse given to him to train and now boasts a 17:4-6-4 record and over $187,000 in prizemoney.
Banju became Chandler's first city winner when taking out the 1400m C3 TAB Highway at Randwick on January 1 before heading back down two weeks later and winning again at Rosehill in the 1500m C3 TAB Highway.
This year's running of the Wellington Boot has attracted the likes of Bjorn Baker, Gary Portelli and Gai Waterhouse out west to contest the highly sought-after Boot trophy.
The Wellington Boot will run at 4:40pm AEDT Sunday as race seven on the card amongst a top eight-race program.