Lasqueti Spirit shocks Flemington with Crown Oaks upset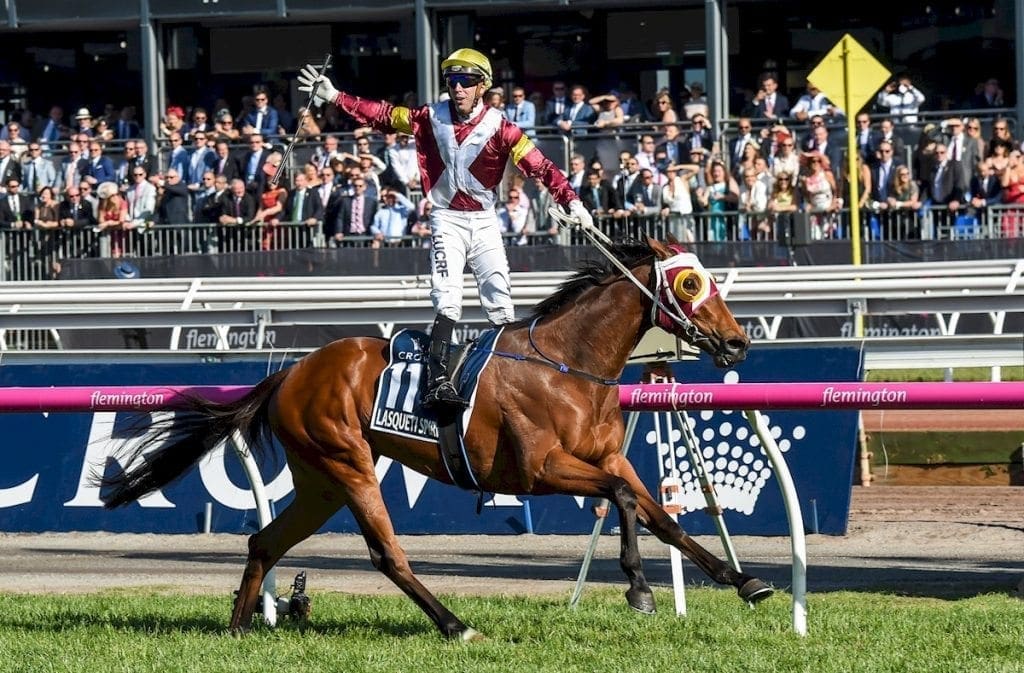 LASQUETI Spirit was a horse purchased to run in the Golden Slipper over 1200m, but on Thursday at Flemington it became a Crown Oaks winner in an upset for the ages.
The three-year-old filly was $120 to win at CrownBet.com.au with race-favourite Yankee Rose dominating the betting picture, but with an outstanding ride from Brenton Avdulla, Lasqueti Spirit was able to send shock waves around the track.
Avdulla let his filly stride freely in the lead in a tempo which looked very strong. Punters were expecting the filly to come back to the field, but the daughter of Beneteau kept kicking and broke the hearts of its opposition.
"I was surprised how well I got there (lead). She got into a lovely rhythm, I cranked up again at the 1000m, I was at my top at the 700m, I had a sneak peak at one of the TV's at the 300m and I was still four in front.
"I thought she was going to stop and I heard Greg Miles say, 'but Lasqueti Spirit's still five in front.'"
Part-owner Frank Cook stated that the filly was purchased for sprinting purposes, but his plan for today paid off at the very least.
"It was our plan to go forward, it was Brenton's plan, it was Lee's plan, it was my plan," Cook said. "We thought she's run the 2400m, let's make it a real staying test.
"I gave Lee Curtis the pedigree and said, 'buy us a horse for the Golden Slipper', we didn't.
"It's an unbelievable thrill. It's the greatest day in our racing history."
Lee Curtis was confident about its chances after finishing fourth at Kembla Grange last start, and despite its massive odds with bookmakers, Curtis wasn't ruling it out.
"We had a lot of confidence in her. She lacks the turn-of-foot, but she's got class in every other aspect at home," Curtis said.
"She just handles like a real professional. This is the race we wanted, this is the race we set for her. I think we went 1200m, 1400m, 1600m, 2000m, 2400m and she's had the run over 2400m and that's hardened her and she's right for today."
Curtis believed he had nothing to lose in the Oaks and being such a long-shot gave him freedom to try something out of left-field.
"We had nothing to lose. We're 150/1-200/1, one guy got 500/1 about her, we can afford to take a gamble and ride her a bit silly and if it comes off we're geniuses, and if not, who cares," he said.
"When we found out she couldn't sprint, she better stay otherwise we were going to be in trouble."
The eye-catching run came from Tavistock filly Harlow Gold which sprouted wings late to finish second ahead of second favourite Eleonora.
Race-favourite Yankee Rose showed nothing which could suggest the Cox Plate run took more out of it than originally thought.
"Honestly, it just appeasers that the Cox Plate took more out of it than we originally thought," jockey Blake Shinn said.
"We were a long way from them, I got rolling from the 1100m, I was in a position behind Harlow Gold, but it just didn't come right.
Big bets landed on Lasqueti Spirit
Some astute punters made plenty of cash when betting Lasqueti to win the Crown Oaks at Flemington on Thursday.
A total of $6,921 was placed on the three-year-old which pails in comparison to the seven-figure sum placed on favourite Yankee Rose.
One punter put $97 on Lasqueti Spirit at odds of $301 with Sportsbet which resulted in a healthy collect of $29,197 and another top punter had $40 at $301.
One punter placed 1 cent on the winner, resulting in a cool $3.01 payout.
"Wow! Lasqueti Spirit bolted and was never caught, delivering more than 1,800 brave punters a Thursday fill-up. The punter who staked $97 at odds of $301 yesterday will be celebrating hard into the night, while the punter who staked just 1 cent at the same odds will be wishing they'd had a little bit more," Sportsbet's Ben Bulmer said.

The big winners:
$97 at $301 for a $29,197 return
$200 each way ($151/$26) for a $17,700 return
$40 at $301 for a $12,040 return
$100 at $151 for a $15,100 return
$100 at $126 for a $12,600 return
Small collects:
$0.01 at $301 for a $3.01 return
$0.02 at $251 for a $5.02 return
$0.02 at $201 for a $4.02 return
$0.04 at $151 for a $6.04 return
$0.05 at $151 for a $7.55 return