Lacustre with 2018 Great Northern ambitions after Ellerslie win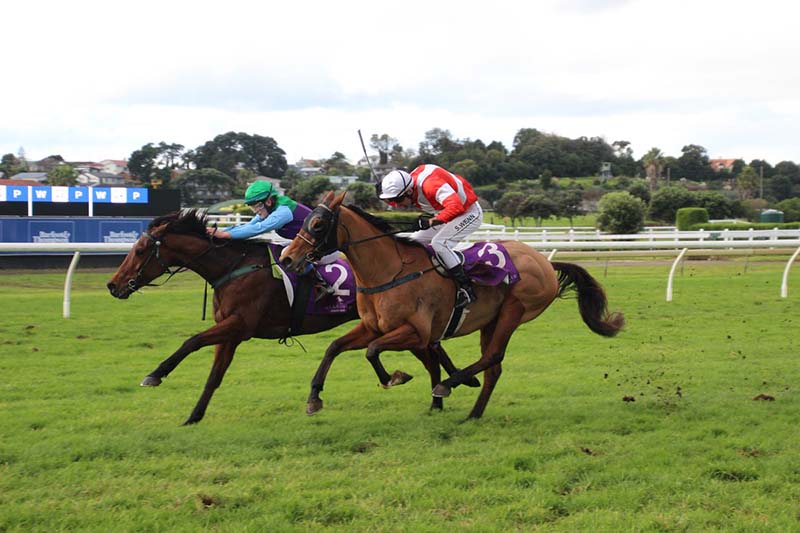 SIX-YEAR-OLD gelding Lacustre scored an overdue hurdle win at Ellerslie on Saturday and the 2018 Great Northern Hurdle could be on the agenda next season.
The Craig Thornton-trained son of Postponed was the $2.90 favourite at Sportsbet.com.au having finished second in two of its last three starts and the win never looked unlikely as jockey Charlie Studd cruised to the front around the home bend.
Thornton had thought about running it in this year's Great Northern, which runs later on the card at Ellerslie, but getting the maiden hurdle win out of the way was important and there's a big future to come for the talented jumper.
"It actually crossed my mind about running him in it (Great Northern), that's how much we think of him," Thornton said. "I always thought he was a good horse and it's a shame the race isn't at Ellerslie next year.
"He could be coming back for that race."
Thornton was pleased to see the perennial placegetter score its third win from 19 starts and first from four attempts over the hurdles.
"Finally he's put it together," he said. "He was a bit of a gunner.


"We'll just take him along quietly now."
It became a two-horse war over the top of the Ellerslie hill as the rest of the field was struggling through the mud, but Charlie Studd knew he had the horse underneath him and in a couple of strides he put multiple lengths on That's How It Goes.
"He handled the ground better than anything else," Studd said. "He's super fit and they've done a great job with him.
"Once he hit the front… he's a confidence horse and he filled up with confidence."
Studd took one big look behind him in the straight and barely had to move a muscle on the favourite.
"He's a different type of horse at that part of the race. Once I knew the others were beaten, I just nursed him home," he said.
Studd was pleased to be back aboard Lacustre after missing out on the ride due to Aaron Kuru's association with the stable.
"I rode him at the trials this time last year and he won, but I've never been able to ride him," Studd said.
"I've always thought a lot of him and it's worked out well."
Studd would make it a race-to-race double in the $125,000 Great Northern Hurdle when winning aboard Zedeedudadeeko.