Kelly Schweida misses big Group One moment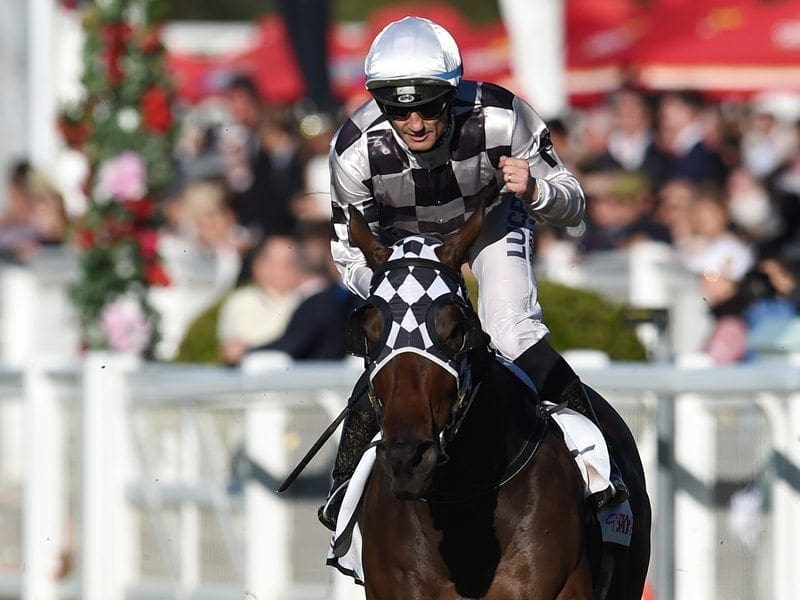 Miss Cover Girl has beaten Azkadellia in the final Group One race of the Australia season.
Kelly Schweida has missed one of the biggest days of his training career as Miss Cover Girl scored an upset win in the Group One Tattersall's Club Tiara.
Schweida has always thought Miss Cover Girl could win a Group One race and his confidence grew when she was fourth in the Group Two QTC Cup two weeks ago.
He was also boosted when jockey Damian Browne elected to ride Miss Cover Girl after being offered the mount on four other horses.
Miss Cover Girl ($21) proved both trainer and jockey good judges when she beat the favourite Azkadellia ($3) by a length with 1-1/4 lengths to Sultry Feeling ($26) in third.
Schweida attended the Rockhampton Cup meeting and won the rich country race with Ruling Force.
"I had a commitment to be in Rockhampton and I couldn't go back on it," Schweida said.
Miss Cover Girl was saddled up by Schweida's assistant Hayley Nichols who was among many to point out her boss was going to get plenty of jibes on his return on Sunday.

"Is he going to cop it! But he has had faith in this horse all along and things worked out just as we hoped," Nichols said.
"We knew she would be a lot better for the fourth in the QTC Cup because it had been three weeks between runs. Also the way the track was playing and the fact it was soft suited her."
Miss Cover Girl, who went past $800,000 in prize money from eight wins, is likely to be spelled and brought back for a spring campaign.
It was Schweida's second win the Tiara as he took the race in 2007 with Nova Star who was also his first Group One winner.
Browne recorded his third Group one win of the season in Australia and his fourth overall after also winning in elite class on Buffering in Dubai.
"Things worked out very well. She travelled well and then got to the outside into the best part of the track. She ran the 1400 metres right out," he said.
Azkadellia lost no friends with her strong-finishing second after giving Miss Cover Girl a big start.
"She was slow out and got a long way back so we had to make very long run," said jockey Nick Hall.