Jockey Stacey Callow goes one up against dad Noel Callow at Darwin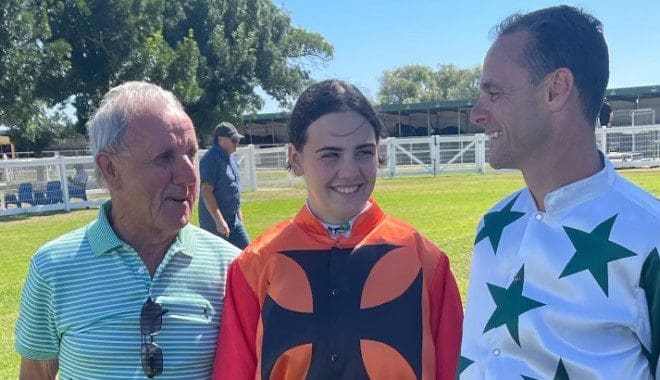 It's not every day you get one up on your father.
When it comes to the Callow family though, apprentice Stacey has managed something that well known Australian jockey and multiple Group 1-winning rider Noel has failed to achieve.
That's win a race at Fannie Bay in Darwin.
Based in Adelaide, Stacey arrived in the Northern Territory to ride at the Darwin meeting on Thursday before heading south to the Red Centre to ride on the opening day of the Alice Springs Cup Carnival on Saturday.
The 20-year-old had five rides in the Top End on the five-race program at Fannie Bay and won the opening race on the top weight Looking For You ($1.70 fav with online bookmakers) for trainer Phil Cole.
Callow was able to claim 3kg, which made the task a lot easier for her mount.
"I've done something that dad hasn't done – he hasn't ridden a winner in Darwin," she said.
"So it was good to get one up on him. First ride. First win."
Stacey then finished second on Kronos ($17) and fourth aboard Maxaway ($3.90) for Cole before coming second on Real Reason ($4.40) and seventh aboard Comogli ($10) for the Tayarn Halter stable.
"Phil Cole organised it for me to come up," she said.
"Something that I have been interested in doing.
"He messaged me and said did I want to come up – got a few nice horses.
"Yeah, that's how I ended up in Darwin.
Stacey, who is originally from Melbourne before relocating to Adelaide to work for Morphettville trainer Jon O'Connor, was tickled pink with her victory on Looking For You.
"Yeah, I was very lucky," she said.
"The horse had been going well.
"With the weight off his back it was easier for him."
Believe it or not, but Callow once considered becoming a lawyer.
Academically, Stacey excelled at high school and a future in the corporate world seemingly awaited.
In the end, she ended up following the path of her father Noel, who is based riding on the Gold Coast.
Although supportive as a parent, it was Noel who emphasised to Stacey that she would have to be totally committed and dedicated to pursue a career as a jockey.
She moved to South Australia after initialing missing out on a spot in Victoria's apprentice program before starting her four-year apprenticeship in Adelaide in December last year.
In regards to her first meeting at Fannie Bay, it's an occasion Stacey won't easily forget.
"I did have a good day," she said from her Alice Springs motel room on Friday.
"It's a very different style of riding.
"It's hard work. I've got a lot of respect for the people who ride up there.
"It just makes you realise the level of fitness that you need to ride up there.
"Because the horses don't jump and travel like you would in South Australia.
"In Darwin, it's just go go. So yeah, it was hard work, but I had a lot of fun.
"It was a lot hotter than I'm used to, which even made it more hard work."
Stacey has five rides in Alice Springs on Saturday for the Phil Cole, Kym Healy and Scott Whittle stables.
And after her first experience at Fannie Bay, she is very much looking forward to her first meeting at Pioneer Park.
"Hopefully my rides go alright," Stacey said.
"To have the chance to ride in Darwin and Alice Springs is fun. Absolutely.
"I would definitely like to come back.
"For the moment, I'm just up here for a few days.
"I fly back to Adelaide on Sunday night before the races at Port Lincoln on Wednesday."
Stacey is hoping to return to the Red Centre during the Alice Springs Cup Carnival, which ends on May 1 with the $110,000 Alice Springs Cup (2000m) and $100,000 Pioneer Sprint (1200m).
Significantly, Callow had already secured a ride in the Cup for a South Australian trainer before things turned pear-shaped.
"Kym Healy had a horse that he would have liked for me to ride in the Cup, but unfortunately it did a tendon and is out," she said.
"So it would be nice if I could find another ride."