Halter prepping strong team for Darwin Cup Carnival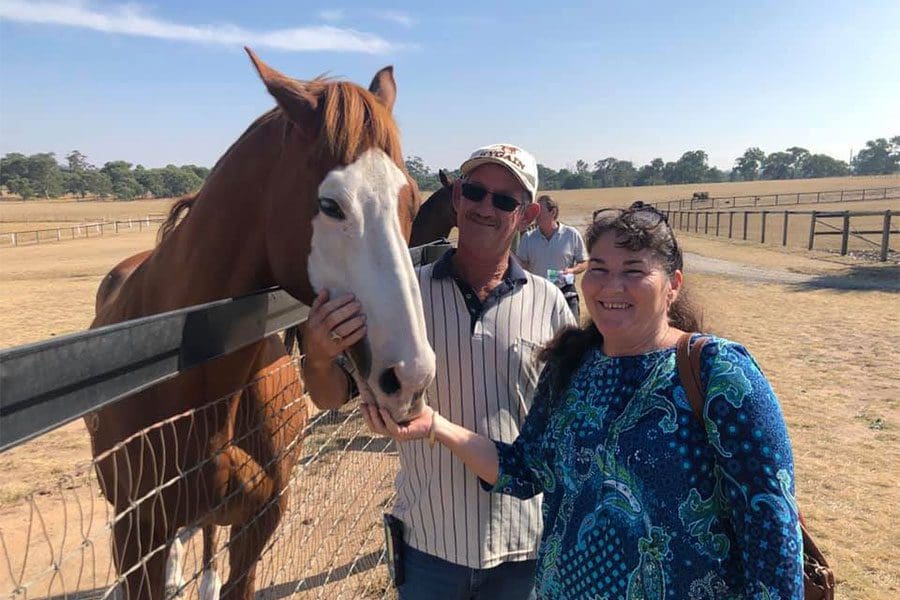 The Tayarn Halter stable continues to punch above its weight in Darwin.
It may not be the biggest yard, but it lands winners on a continual basis during the year and celebrates regularly during the Darwin Cup Carnival.
A trainer for almost 30 years, Halter and partner Lindsay Schmidt are seemingly always on the go when it comes to horse racing despite juggling the extra burden of fulltime employment.
"Lindsay and I work all year round," she said.
"We've got fulltime jobs and we do the horses all year round, so we're racing all the time.
"Lindsay has got his own business as a tradesman and I work fulltime for the government.
"The fact he can work for himself means he's at the stables – when I'm at work he's keeping an eye on things.
"We've also got great staff, I've had some fantastic staff – couldn't do it without them.
"I just couldn't be surrounded by better people."
Born in Queensland, Halter's parents moved to Darwin before she had turned two years of age.
Hence, she has basically resided in the Top End all her life, with the exception of brief stints in Adelaide and Melbourne.
"I've travelled and I've lived away, but Darwin is home – you always come back," she said.
Halter's association in the horse racing industry can be traced back to the 1980s.
"I had a dual licence, I had a trainer-jockey licence – I reckon I would have got that around 1993," Halter said.
"I rode for 10 years and eventually gave up after I got my trainer's licence.
"I probably only rode for maybe another two years after I got my trainer's licence because I started to do all the ground work – unless you can afford to pay staff you've got to do it yourself.
"I spent more time out of the saddle instead of in the saddle."
Halter has clocked up 16 winners for the 2021/22 season at Fannie Bay and sits fourth behind Gary Clarke (40), Phil Cole (28) and Garry Lefoe Jnr in the Top End trainers' premiership.
She in fact celebrated a win at the Darwin meeting last Saturday when unpredictable four-year-old gelding Real Reason won his first race since January last year in Victoria.
"He's a Nicconi," she said.
"I told the owners when we bought him that they're going to have to be patient because they're late maturers.
"He's just been a little bit in and out, but I think on Saturday the right horse showed up and hopefully he can put another one together.
"I'll then tip him out and give him another break, and let him grow up a bit."
Currently, Halter has 12 horses on her books – usually at this time of year on the eve of the Darwin Cup Carnival she'd have upwards of 18.
Admitting that it has been a quiet year, she believes quality is sometimes better than quantity and is always looking for the right kind of horse.
With a great bunch of owners, Halter is adamant she'll have continued success so long as there is an element of patience when it comes to identifying the right horses.
"We've only got a little team, but we get our share of winners," she said.
"I've got some nice horses, we're poking along very nicely."
It would be wise to keep an eye on Eastwood, Noble War, Defence Attorney, Don't Wait, Narrative Star, Hattan Man and Pointo's Pick, Fischer and Testino in coming weeks.
Zou Der Zee, who won on Darwin Cup Day last year, and Zouzouzalo, who Halter describes as a staying type, will arrive from Queensland in search of carnival success.
Former Adelaide, Singapore and Melbourne galloper Eastwood, who finished third (2020) and fourth (2021) in the Palmerston Sprint (1200m) in Darwin before finishing second in the Pioneer Sprint (1200m) in Alice Springs on May 1, is Halter's "feature horse" and the eight-year-old gelding will have another crack at the Palmerston.
As a trainer, Halter's biggest win was the 1994 Palmerston Sprint with Universe.
"I got my trainer's licence in 1993 and won the Sprint a year later," she said.
"And I've been trying to win another one ever since."
Not only does Halter think the NT capital is a great place to live, but that the Cup Carnival also puts Darwin racing on the map and makes people take notice.
She added that it's only onwards and upwards for Darwin racing if it can lift its profile in the off-season and the prizemoney can keep improving.
"People love coming here – usually most want to come to Darwin to get out of the winter, but the prizemoney is good too and that's just a bonus," she said.
"I seem to go well every year during carnival.
"I try and target my horses for the right races."
Halter and Schmidt also enjoyed a wild ride a few years ago as part-owners of Desert Lashes, who was purchased at the Alice Springs yearling sale as a two-year-old filly.
Debuting against her own age at Pioneer Park in April 2016 under the guidance of leading Alice Springs trainer Lisa Whittle, Desert Lashes won her first five races in the Red Centre before winning three straight at Morphettville in Adelaide as a three-year-old.
Her first loss – albeit by 0.2 lengths – was at Morphettville in September 2017.
Desert Lashes continued to perform with distinction in South Australia and Victoria tasting further success at Morphettville in April 2018 and Moonee Valley in March 2019 before retiring with a record of 20-10-4-0.
"Lisa took us through to wonderful heights with Desert Lashes and then it was time that she had to move down south because there was nothing left for her in Alice," Halter said.
"Lisa had a big stable and was the leading trainer in Alice – she couldn't do the job from Alice Springs, so she sent her down to her brother-in-law in South Australia and Shayne Cahill did a fantastic job with her.
"And then obviously when it was time for her to go over to Melbourne we sent her to Tony McEvoy.
"She won at Moonee Valley and then we retired her and she went off to be a broodmare, and she's had two foals now.
"Desert Lashes could gallop, she was a really good horse.
"Lindsay and I got to travel and go and see things we never imagined we'd ever be able to do.
"Going to Melbourne and watching her race, it was exciting times."