Grantham has high hopes for Kaptain Kaos after Hyperion win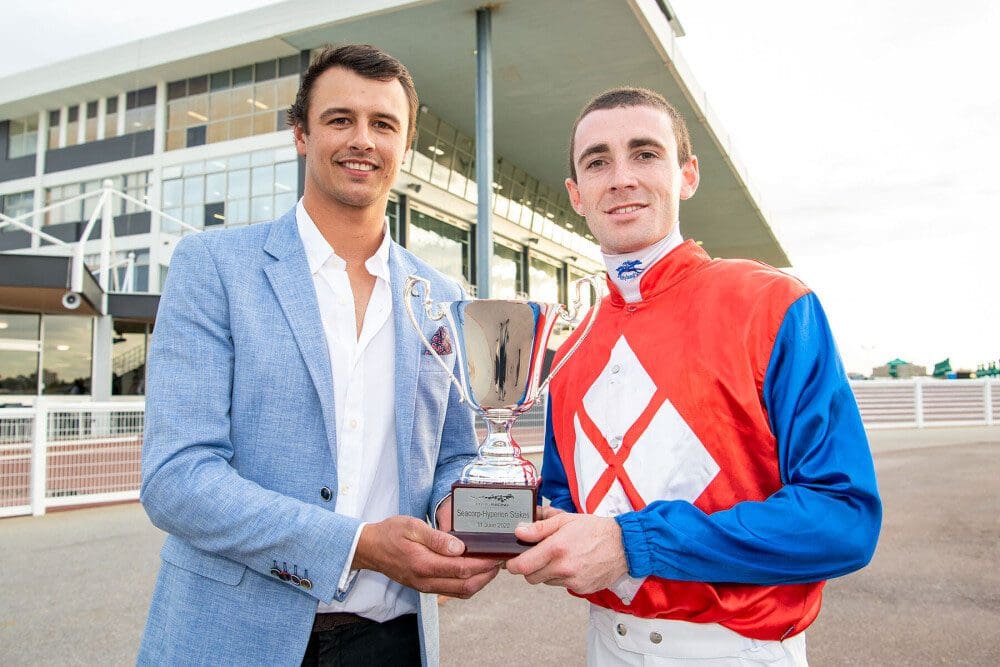 Talk to anyone who knows young trainer Michael Grantham well, and they'll tell you he works his backside off and deserves every bit of success he's already achieved at 27.
Which is just part of the reason why Kaptain Kaos' win in the $200,000 Hyperion Stakes (1600m) at Belmont on Saturday was so memorable, jockey Chris Parnham's record now seven wins from 11 starts on the four-year-old.
The gelding – super competitive like his trainer – shrugged off a disappointing 12th in the Belmont Sprint on May 28 to salute by almost half a length in the Group 3 feature.
"He's got the eye of the tiger in him. Even when I put him off the lead at home if I ride one and leave him, he always wants to have his head in front," Grantham told HorseBetting.com.au.
"Whenever a horse does come to his outside he really does fight.
"He's always got the will to win."
Grantham's mother, Kellie – also a horse trainer – saw those exact qualities in her son from a young age.
"He's got a great work ethic, so he deserves all the success he gets," she said.
"He's a really hard worker and he listens. He'll ask a lot of questions and take it all on board, and make his own decisions from that.
"He never stops asking questions, and I think that's a good thing for him.
"Being young and successful, usually they're pig-headed and think they know everything.
"But I'll give him credit where it's due – he does ask, takes things on board and then he makes his own decisions."
What makes Grantham's success early in his training career even more remarkable is the fact he is still driving trots winners for his uncle, Michael Brennan.
Grantham needs to be busy – he says it helps him relax better before a pressure-filled Saturday race meeting.
"He was such a hyper-active little kid. I had to wear him out. I sent him to good schools," Kellie Grantham said.
"He went to Mazenod College, and they were brilliant with him when he was riding.
"They allowed him to be an apprentice jockey and remain at school.
"He still gets asked to go back to football games as an old boy.
"It was a brilliant school and I think it helped him. He's always been busy and keen to learn, and was a good sportsman all the way through."
Brennan believes Grantham has so much potential to enjoy long-term success as a horse trainer, he might not be driving for him for much longer.
"He's been a talented kid from the get-go, no matter what he's turned his hand to – whether that's T-ball or footy," he said.
"But what stands out now is his work ethic and attention to detail. He's a perfectionist and it shows in the way he presents his horses at the races, and everything he does.
"And he's a sponge. He always takes things in and isn't afraid to ask questions.
"I think he'll be around for a long time and he's going to be very, very successful.
"I don't know how much longer I'll have him, to be honest. I think it's nearly time for him to hang up the driving colours and just concentrate on his horses.
"He deserves everything he gets. Kaos came through his grades really well.
"He had two runs against open-class horses, and he was able to turn him around after what he thought was a disappointing run and win on Saturday."
Adding a sentimental touch to Saturday's victory, Grantham recently drove a Group 2 winner for Stephen De Campo in Kaptain Kaos' colours.
De Campo is also a part-owner of the gelding.
"It was pretty good he could drive a Group 2 win for him, then turn around and train a Group 3-winning horse for him," Kellie Grantham said.
"Two Friday nights ago he drove a treble. He doesn't drive much during the week anymore – just maybe Friday nights.
"He concentrates more on his gallopers. He's driving a good horse at the moment for Ryan Bell – Swingband – so he wants to stay involved there.
"He reckons it'll win a Group 1."
Grantham's love of both racing codes is a throwback to the past before the professional era.
That was when athletes pursued their chosen sports mainly for the love of competing, while also working fulltime jobs.
He believes being a trots driver has helped him switch off from the rigours of horse training.
"I like driving the Friday nights because it's five to seven hours on a Friday arvo or night where I don't have to stress about Saturday races," Grantham said.
"So it helps me get to sleep when I get home.
"I'm not chasing as many drives anymore. I'm still driving every Friday, and Mondays and Tuesdays.
"But it will come to a time where I'll have to pull the pin on it."
The former jockey has great support around him which allows him to devote time to being a trots driver.
"It is busy, but I guess it's a choice and not a want. I've got to deal with it, but I've done it for a fair few years," he said.
"So you get used to the long days. I don't really nap during the day at all, or I never plan on one.
"You've just got to keep moving. But the biggest thing is to make sure you're organised with your horses at home, and make sure you've always got someone there to do your feeds.
"I've got 15 horses at the moment, and I've got a few extras coming in at the end of this week.
"I ride all my trackwork and I rode for 16 months as a jockey early on.
"I rode 99 winners and I had to bow out as weight got me. So I've done a bit.
"It (where I'm at right now) is only the start and we'll see what happens."
Grantham's attention to detail led to him sending Kaptain Kaos to pre-trainer Brandon Fiore before this preparation, which started with a seventh in the Roma Cup at Belmont on May 14.
It was a masterstroke because the sprinter's improvement has been clear for everyone to see.
Fiore – who carries out his work on former top trainer Justin Warwick's property at Myalup – was blown away by Kaptain Kaos' mental strength and natural ability.
"He was the first horse we got for our business. He set the bench so high – he was such a pleasure to work with," Fiore said.
"He's really nice to ride and he has a great ability. He's super strong.
"You can see the difference between him and the other ones after him. He's a real gentleman."
Grantham said Kaptain Kaos benefitted greatly from his work on Fiore's property, which includes a soft and hard track, plenty of different-sized hills and a 100m swimming pool.
"They did a great job. Lucy Warwick his jockey partner (and Justin's daughter) and her mum Carol come from a great equestrian background," Grantham said.
"They were able to build him up a slow way. They put a lot of top-line condition on him, which made him a lot stronger and he matured a lot more as well.
"But going there prior to coming to me just mellowed him out and helped him a lot."
Working for his father Mark's horse transport company before becoming a trainer also helped Grantham mature into the approachable and well-spoken person he is today.
"When the training took up my time I had to say 'Dad, this is what I want to do'," Grantham said.
"So he was very supportive of me, and he let me make my own decision.
"It teaches you to have patience. Some horses don't want to go on the float.
"It helps when a horse is being naughty when you're trying to ride the horse, or you're trying to get on it, or if it's fidgeting around.
"You learn to not be claustrophobic towards them, and that way you get a lot of trust.
"It's also your publicity and communication skills speaking to people you've never spoken to before.
"You're calling them up telling them you're dropping off their horse, or you're organising things with strangers."
Despite being a young trainer, Grantham is experienced enough to know there are plenty of ups and downs in racing.
He suffered eye socket, cheekbone and nose fractures, in addition to teeth damage and extensive bruising, in a race fall while driving Defy at Pinjarra six years ago.
But he reflects on it with a laugh.
"That was OK. I was a young fella then, so it was more a case of taking photos and sending snapchats and having people feeling sorry for me," Grantham said.
"It didn't knock me around – I just had 10 weeks on the sidelines and I couldn't do anything.
"But it wasn't the end of the world."
Like the way Grantham handled that setback, he also knows how to keep a lid on things when he's training winners.
"Last October I won the Northam Cup. That was my biggest win, and two weeks ago I won a Listed race (with Devoted in the $125,000 Raconteur Stakes)," he said.
"And on the weekend Kaos won the Hyperion Stakes. So if anything happens hopefully it goes up and not backwards.
"Fingers crossed that hopefully it's only the start and things can get bigger, and I can ride the wave."
The distance will go up from 1600m to 2000m for Kaptain Kaos' next assignment – the $200,000 Strickland Stakes on June 25.
But as he has done all his life, Grantham will embrace the challenge.
"While we're here we might as well have a crack," he said.
"The owners love to see the horse race, and he's pulled up good.
"It's probably a bit more pressure now because he's got the W next to his name. But I have no doubt over him running the 2000m. Hopefully it's genuine."