Goss delighted with home track victory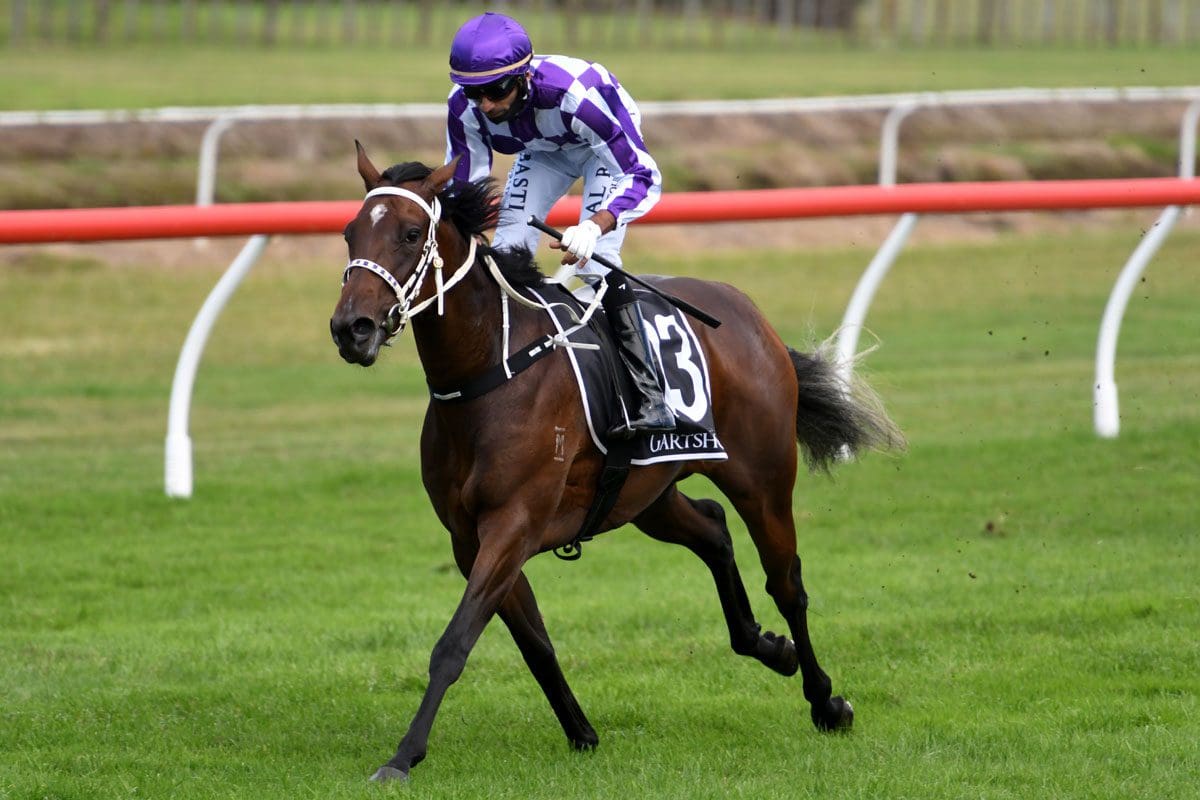 Trainer Cliff Goss appears to have another promising galloper on his hands after three-year-old filly Casino Princess shone with a seventh length victory at Tauranga on Saturday.
In the hands of apprentice Niranjan Parmar, the daughter of Casino Prince outclassed her ten maiden rivals in the 1400m contest, bolting clear in the home straight after enjoying an economical run on the fence throughout.
Goss, a Tauranga local, had walked the track prior to racing on Saturday and advised Parmar to angle wider in the home straight to seek better ground and the move worked a treat as Casino Princess quickly reeled in pacemaker Aperitif before racing away in the closing 200m.
"I had a walk on the track to see how heavy it was, and I thought it would be pretty tough against the rail," Goss said.
"I told Niranjan to make sure he could get into clear air out wider, and he did that nicely.
"He did say the filly wasn't really handling the ground that well, so she has done it on natural ability really.
"I think she can go on and win a few more, especially when she steps up to a mile as that will be her best distance.
"She is from a very nice family and is related to a Melbourne Cup winner in Empire Rose so I think she can excel over some ground when she matures.
"This was only her second start after she ran into all sorts of trouble on debut, so I'm delighted she could show her true worth this time."
Goss will now give the filly some time on the water walker to aid her recovery before looking for her next target which could be at Te Rapa in early May.
"I always like to give them an easy time after they race, so she will have about ten days on the walker before we get too serious about her next start," he said.
"She ate up everything I put in front of her last night, so she hasn't taken any harm from the run, especially as it was on her home track with no travelling involved.
"There is a suitable race for her at Te Rapa at the start of May, so I will be working towards getting her ready for that one."
The victory was made all the more special for 90-year-old Goss, as it was his first since losing star performer and best mate, Gold Watch to a tragic accident during the running of the Group 2 Rich Hill Mile (1600m) at Ellerslie on New Year's day.
"I've had so many people congratulating me since Saturday, it's been wonderful," he said.
"Danielle Johnson, who was riding Gold Watch that day, was so excited for me which was just lovely.
"He was a very special horse, Gold Watch, just one in a lifetime.
"I don't think this filly will be as good as he was, but if we can get a few more wins and have some fun with her then I will be pretty satisfied."