Flying Jess causes big upset in Magic Millions 3YO Guineas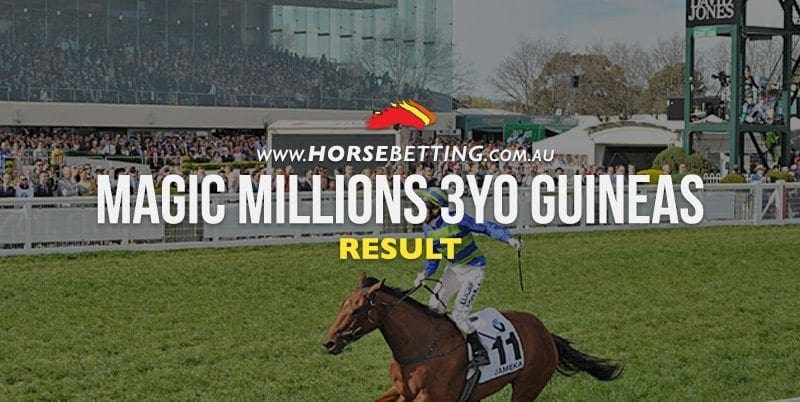 ALL the talk leading into the $2 million Magic Millions 3YO Guineas was about unbeaten colt Winning Rupert, but instead punters were stunned with a massive upset.
The John Moloney-trained Flying Jess entered the race as a $101 chance at Sportsbet.com.au, but the filly drastically exceeded expectations by flashing home late to down second favourite Global Glamour.
The three-year-old filly by Hinchinbrook was a $60,000 purchase for a large group of owners, which included John O'Neill who despite his runner having average form heading into the race, believed it had a serious winning chance.
"We were in the race, we were the third qualified horse," O'Neill said.
"John Moloney said this is the best filly he's ever trained, so we took her up to Sydney and gave her a nice run.
"I have been backing her for three weeks, I thought she was a great chance and I thought there were only two other horses in the race.
"I just thought they had forgotten about us."
The confidence was also prominent with Moloney who was training the filly in Melbourne with limited success before racing Flying Jess right handed at Sydney for some experience.
"You've got to be in it to win it," Moloney said.
"Her run in Sydney was okay, there was nothing wrong with it. So back to the 1400m, nice gate, nice ride – we're in the finish.
"She went to Sydney, didn't miss a beat. She's turned up here and all the lads said to me before 'mate I walk in the stables and everything's sweating and getting angry and she's just as cool as a cucumber' so she hasn't turned a hair.
"She's been fantastic."
Winning jockey Tye Angland continued his good day on the Gold Coast having won with Madotti in the Magic Millions Open and the was able to follow $1.50 favourite Winning Rupert into the race.
"In that sort of circumstance you want to be able to ride your horse to suit the race," Angland said.
"I drew next to Winning Rupert and he ended up being two pairs in front of me, but I always travelled strong through the race, I was able to peel off its back up the straight and the turn of foot that she showed was dynamite."
Angland was having his first ride aboard the three-year-old after getting a late call-up this week.
"I was lucky enough to get the call up from Prime Thoroughbreds. I've had somewhat a bit of success for them but this definitely takes the cake today," he added.
Multiple Group one-winning filly Global Glamour looked to have the race won at the 200m mark, but sitting on the hot pace told over the final strides.
The Waterhouse/Bott-trained runner lost no admirers with the performance and it signaled the return of the 1000 Guineas champion.
Eckstein continued its grand run of form by running on stylishly for fourth. The Kurt Goldman-trained filly had won four consecutive races leading into the Magic Millions 3YO Guineas and its connections will pick up a handy cheque for its efforts.
The disappointment of the race came from hot-favourite Winning Rupert which was unbeaten heading into the race. The Bjorn Baker-trained colt had been heavily-backed throughout the week, with reports of multiple $20,000 bets being placed, but after trailing the speed, Winning Rupert was unable to find a kick in the straight.