Emotional roller-coaster for Sonja Wiseman leading into race day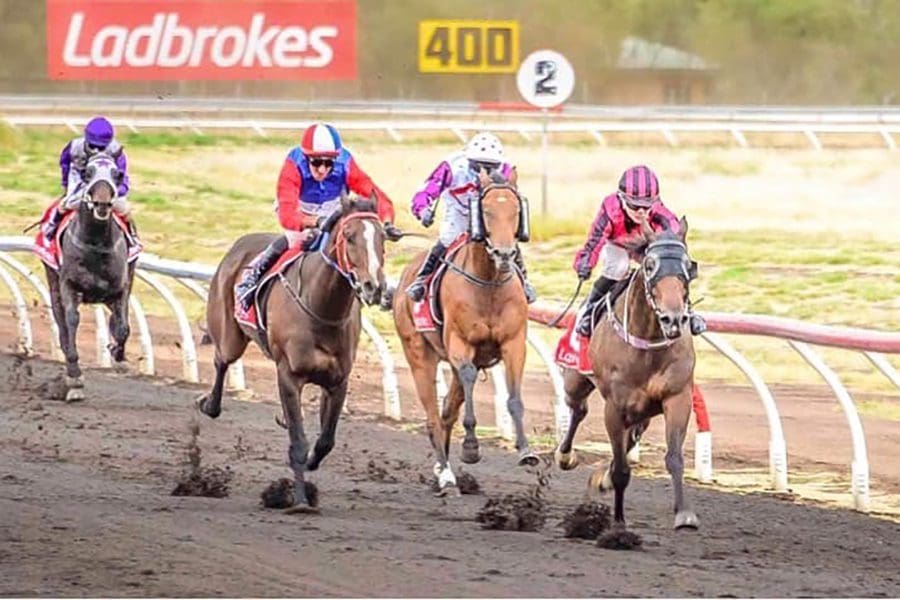 Not only has it been a dramatic 12 months for Darwin-based jockey Sonja Wiseman, but the past week has also proved to be an emotional roller-coaster.
Returning to the saddle on Melbourne Cup Day last year after a three month break following a serious fall in July during the Darwin Cup Carnival, the 30-year-old just couldn't stop riding winners in Darwin and Alice Springs.
Despite missing the first three months of the 2021/22 season, Wiseman still ended up finishing third in the Top End and Country jockey's premiership with 29 winners behind Jarrod Todd (44) and Paul Shiers (30.5).
Happy to commute to the Red Centre as well, she finished fourth in the Alice and Provincial jockey's premiership with 20 wins behind Stan Tsaikos (35), Paul Denton (28) and Jessie Philpot (23).
In the overall scheme of things, Wiseman rode the second most winners in the NT for the season with 49 to finish behind Tsaikos (53) and in front of Todd (48).
After seven meetings in July followed by the Darwin Cup on August 1, "Super Sonja" ended the 2022 Darwin Cup Carnival with eight winners to finish second behind the all-conquering Todd (15).
On Day 3 of the Darwin Cup Carnival she managed to win four races, which included victory in the Rose Bowl (1300m), a feature race for the fillies and mares, aboard the Nicole Irwin-trained Valentina Star.
She also rode four winners on Day 3 of the 2022 Alice Springs Cup Carnival in April and ended the five-day festival – which ended on May 1 with the running of the Alice Springs Cup (2000m) – as the leading rider with six wins.
One of those four horses Wiseman rode to victory at Pioneer Park on April 23 was the Mark Nyhan-trained four-year-old gelding Trident in the Chief Ministers Cup (1600m).
Trident, who won a week before the start of the Carnival in Central Australia in open company over 1600m, lined up in the Alice Springs Cup with Wiseman on board and finished fourth behind Count Of Essex.
Arriving back in the Top End, Trident – winner of the Darwin Guineas (1600m) last year with Jason Lyon in the saddle – finished third behind Niewand in open company (1000m) on June 18 before coming fourth behind eventual Darwin Cup winner Playoffs in the Chief Ministers Cup (1600m) on July 9.
Trident, labelled by Darwin-based trainer Nyhan as the best horse he has ever trained, celebrated his fifth birthday when he started in the $200,000 Ladbrokes Darwin Cup (2050m) at Fannie Bay on Monday as a $21 hope – he had never won beyond 1600m at three previous attempts.
Passing the 800m and camped mid field on the fence, Trident mistrode with Wiseman immediately pulling him up because it was obvious the former New Zealand galloper had sustained a significant injury.
It was confirmed that the Smart Missile gelding had injured the near fore in his 26th career start and as a consequence the highly-talented Trident was humanely euthanised.
Trident arrived at Nyhan's stables when he was based in Alice Springs before relocating to Darwin after racing three times in Adelaide for Murray Bridge trainer Michael Hickmott following his arrival from New Zealand.
The horse had five starts for Hickmott in New Zealand where he won his first race as a two-year-old over 880m at Ellerslie in October 2019.
Arriving in the NT towards the end of 2020, Nyhan weaved his magic with Trident winning four races in Darwin and three races in Alice Springs from 1200-1600m in 18 starts – which also included two seconds, three thirds and three fourths.
"He's developed into a good miler and has a fair amount of speed which helps," Nyhan, formerly of New Zealand, said in April.
"He's a very smart horse.
"I've had some alright horses, but he is far away the best I've ever had."
Wiseman also had an affinity with the horse both on and off the track describing Trident as one of the best horses she had ever ridden in her 13 year career.
Understandably, she was crestfallen following Monday's incident.
"Mark had him looking an absolute treat leading into the race," she said on Friday.
"Unfortunately he did some damage to one of his legs and I had to pull him up.
"He's a horse that is very close to my heart – he's been an incredible horse to me, an absolute sweetheart, so yeah, it's quite heartbreaking to lose him."
It capped off a shocking three days for Nyhan as he was transported to hospital by ambulance after collapsing in the tie-ups area at Fannie Bay during Saturday's meeting before he was later discharged.
The colourful NT trainer arrived back at the races on Monday and all seemed positive when his horse Mister Monaro won the opening event on Darwin Cup Day.
Naturally, the Trident incident would have knocked the stuffing out of Nyhan.
"Gunna (Nyhan) is going alright, he's chipping away – just keeps working the horses and keeps ticking them over," Wiseman said.
"I think he's got a couple of runners heading to Katherine (next week), so hopefully he'll have a bit of luck there and brighten up his spirits a little bit."
Meanwhile, after riding Glock to victory in the Montgomerie Lightning Plate (1000m) for Alice Springs trainer Jess Gleeson on Darwin Cup Day to kick off her 2022/23 campaign, Wiseman is every chance of having a good day in the Red Centre on Saturday.
With a full book of rides on the six-event card at Pioneer Park, Wiseman is on board five horses that are genuine contenders.
She will ride Zelring, Mathematics and Like A Heartbeat for Lisa Whittle – the Alice Springs and Provincial champion trainer from last season – and Speed Wheel for Will Savage.
Wiseman was unsure if she would be riding Liberty Blue or Harbour Express for Whittle in one other race, but was in no doubt that either horse was capable of saluting.
"Lisa was good to me last season," Wiseman said.
"She's put me on a lot of nice horses again coming into the new season.
"I've got a good book of rides this weekend.
"Probably lucky Dash (Paul Denton) isn't down there this week – he rides a lot for Lisa.
"Lisa's probably put all of her horses in races where they are capable of winning.
"She's very good placing a horse in the right race and I think she's done it again."
After missing the start of last season when forced to recover from a serious head injury, Wiseman is relishing the opportunity to start to the new season from scratch.
"Definitely going to stick to it now and keen to keep things going," she said.
"I'd rather not have a big break like I did last season.
"Hopefully we can kick this season off with a bit of style.
"Rode a winner on August 1, so hopefully we can keep those winners rolling for the new season and I can be a contender coming into the premiership."