Dominus stamps Darwin Cup credentials with record-breaking win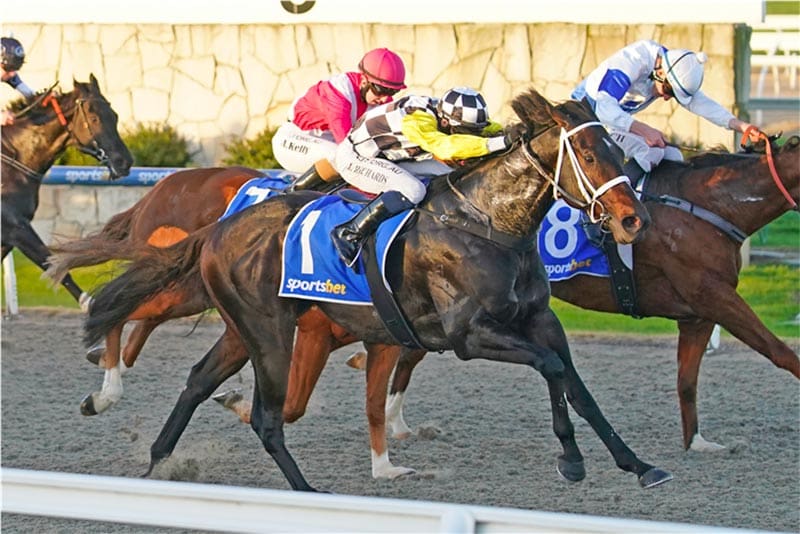 With the $200,000 Darwin Cup (2050m) looming on the horizon you certainly take notice when a horse suddenly breaks the track record for the 1600m.
The Chris Nash-trained Dominus had tongues wagging at Fannie Bay on Saturday when he eclipsed the record for the mile (1.34.53) by 0.31 seconds en route to victory in the Darwin Horse Floats 0-70 Handicap (1600m).
The previous mark was set by the Gary Clarke-trained Lightinthenite, ridden by Paul Shiers, in the Chief Ministers Cup (1600m) in July 2015 during the Darwin Cup Carnival.
Lightinthenite, more than just a handy performer in NSW, Queensland, Victoria, South Australia and NT during his career, backed up three weeks later with Hugh Bowman in the saddle to break the track record with victory in the Darwin Cup (2.00.23) when it was raced over 2000m.
Just like Lightinthenite seven years ago, Dominus carried 61kg on Saturday before prevailing by six lengths in a time of 1.34.22.
Jumping from gate seven in the eight-horse field – the first race of the day – Dominus (Adam Nicholls) was easily sitting five wide entering the back straight before taking over as leader.
The five-year-old gelding ($7.50) continued to dominant out in front turning for home before finding an extra gear to kick clear and post his first ever win in the Top End.
Gary Clarke's in-form $2.35 favourite Obligatory (Jarrod Todd) couldn't go with the Victorian galloper, who has also raced in NSW and South Australia, while the other runners in a competitive field were made to look second rate.
Purchased by Darwin owners from prominent Morphettville and Pakenham trainer Phillip Stokes, Dominus was a first up fifth in open company over 1200m on June 11 – a race won by champion NT sprinter The Captain.
"I wasn't too disappointed with his first effort, I just wanted him to have a good run and he had it," Nash, a Top End-based trainer, said.
"Then he trialed well on Tuesday morning before the races Saturday – I thought he would improve out to the mile, so I was pretty confident going into Saturday and he did the job.
"I was confident he could win, but I certainly didn't think he'd win like that and run the time he did – so that was an added bonus."
Without exaggerating, it was just one of those special wins – highlighted by the fact that he was clearly easing up on the line after covering so much ground for the first 500m.
Nash, who won the Palmerston Sprint (1200m) with Mayameen before finishing second in the Darwin Cup with Danon Roman last year, was just as amazed with Dominus' performance.
"I wasn't sure what to think when I was watching the race that first part," he said.
"I thought he might have been using too much petrol early, especially jumping straight from 1200m to a mile.
"I was hoping I had the miles in his legs – he was just too good, he just kept going and the clock backed him up too.
"He looked like he was galloping out really well.
"You'd have to say watching him stride out to the line you'd be happy with him going forward to the 2050m of the Cup because he certainly wasn't stopping, and he pulled up really well too.
"You nearly could have sent him around in the next race if you wanted to – he didn't even blow, so he's a really good athlete and I don't really see how the trip of the Cup is going to worry him.
"He probably eased up at the finish to be honest, which makes breaking the track record even more impressive."
Nash plans to start Dominus next in the $50,000 Bridge Toyota Cup (1600m) for the 0-76 class on July 13 and should he win that he may go straight to the Darwin Cup without having another run.
Following his success on Saturday, Dominus has now won six races from 25 starts.
It was a winning double for Nash on Saturday when four-year-old gelding Ideas Man (Paul Shiers) produced a late burst down the outside to record a narrow win in the Nicefro Group 0-76 Handicap (1000m).
Starting as a $2.25 favourite in a race that also included the in-form Poupee, Ideas Man made it back to wins after blitzing his 0-70 rivals by six lengths rivals over 1000m on June 4 – that followed a close first up second to El Magnificence at Fannie Bay over 1100m (0-64) on May 7.
"Ideas Man, well, he won last start, just hoped he would back up," Nash said.
"It was a good run – he has a bit of habit of stepping a bit slowly from the gates, but he's very quick into stride.
"He did it again on Saturday, but in hindsight you know he can sit back and handle the kick back.
"Paul (Shiers) couldn't have given him a more glowing report about how hit the line.
"We'll see how we go with Ideas Man – he's still got to qualify for the Palmerston Sprint.
"He probably has to win his next start to make sure he gets a run in the Sprint.
"That will probably be Toyota Cup Day, I'd say – an 1100m race, which is the race Mayameen won last year to get her into the Sprint."
In regards to the Darwin Cup on August 1, Nash is preparing Danon Roman – who finished third in the Alice Springs Cup (2000m) on May 1 – for another shot at the biggest race on the NT calendar.
On his return to Darwin from the Michael Hickmott stable in South Australia, the eight-year-old gelding finished seventh behind Victorian raider Our Destrier in the Adelaide River Cup (1600m) at Fannie Bay on June 4.
"Danon Roman is going around in a mile race this Saturday," Nash said.
"If he shows a bit of form we'll push on and he can go on to maybe like the Buntine (2050m) on July 16 and then the Cup.
"He was a bit disappointing the other day in the Adelaide River Cup, but he sort of got buried away on the fence and the horses that ran the placings made sweeping runs around him mid-race and left him behind.
"You couldn't get too upset about that – he's trained on well."
Meanwhile, Nash has confirmed that Mayameen – the Horse of the Year, Sprinter of the Year and Three-Year-Old of the Year at the 2021 Top End Racing Awards after excelling in Darwin from April-July – has been retired after just 16 starts.
The four-year-old mare had eight starts in South Australia, six starts in Darwin, and just one start in Alice Springs and Victoria for six wins.
That included four wins at Fannie Bay, and that one and only start in the Red Centre was on May 1 when she finished seventh in the Pioneer Sprint (1200m).
In her next race on June 4, Mayameen finished fifth in 0-79 class over 1200m behind 2021 Darwin Cup winner Highly Decorated.
"She had that ordinary run the other day – she pulled up alright, but probably needed a spell or something like that and there's obviously no time to stop and start again between now and the Sprint," Nash said.
"We just decided to retire her – she's done her job and she'll head on a truck south soon to be a broodmare."