Danon Smash, Resistencia headline Takamatsunomiya Kinen hopefuls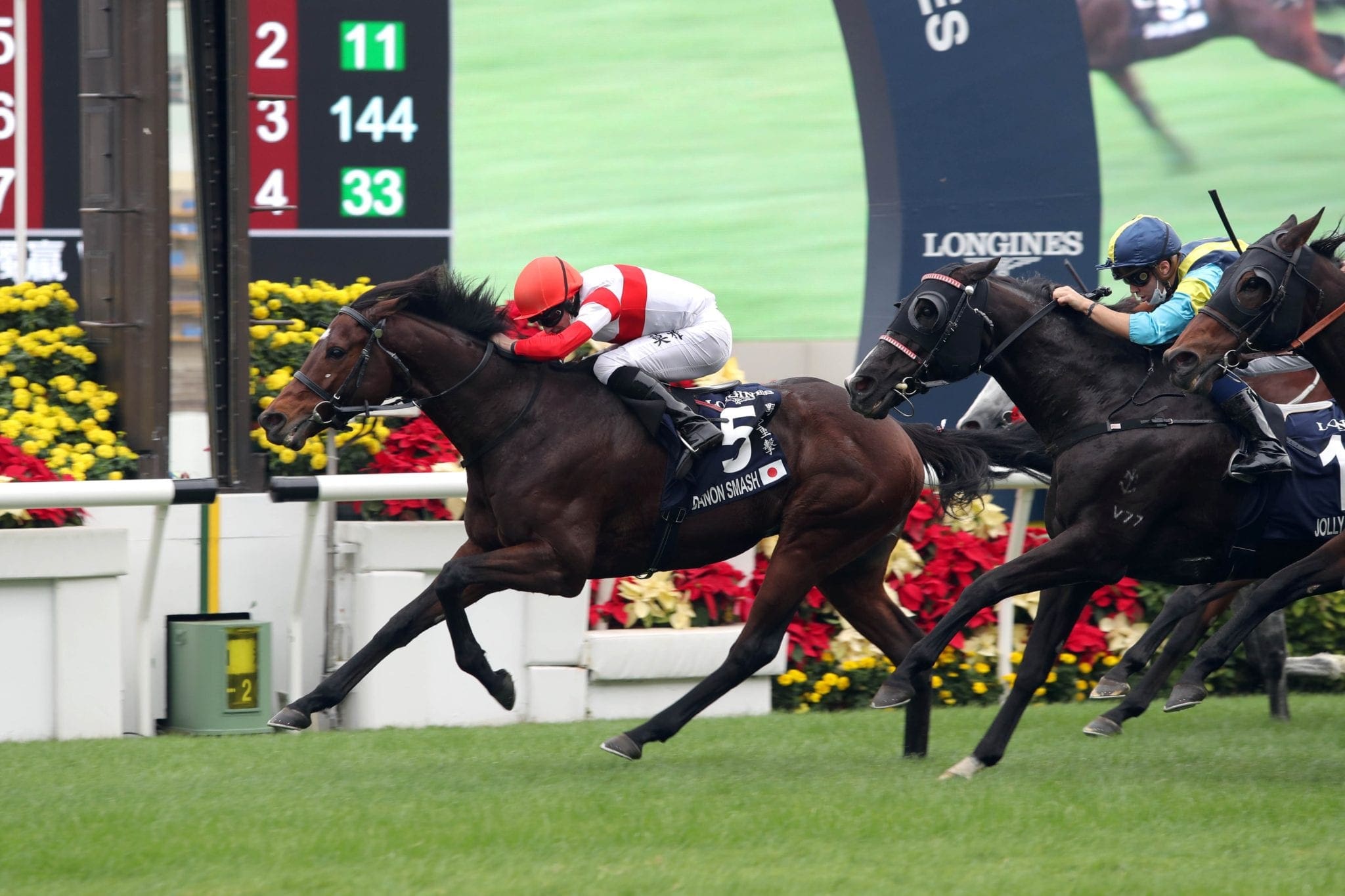 The Group 1 Takamatsunomiya Kinen (1200m) is the first big turf race of the year in Japan and will be held at Chukyo Racecourse this Sunday (28 March).
Last year's finish raised goosebumps as Mozu Superflare, Gran Alegria and Diatonic went nose for nose in the final strides. Mozu Superflare managed to prevail by a nose. Of those three, Mozu Superflare is the only one back this year, but is now a six-year-old and, after finishing out of the money in her last three starts, a surprise form reversal is unlikely.
Final nominations for the race's 51st running number 19 with a capacity field of 18 and top billing is likely to go Resistencia, Danon Smash, Lauda Sion, Indy Champ and Right On Cue.
Two contenders stand out far and above the others. The first is proven sprinter Danon Smash, who in his last start aced the HK$22 million Group 1 LONGINES Hong Kong Sprint (1200m) and second is Resistencia, a big four-year-old filly who captured the Group 1 Hanshin Juvenile Fillies (1600m) as a two-year-old.
Danon Smash maintained his grip on headlines Thursday after final workouts when he worked up the hill course Wednesday (24 March) at Ritto, starting slowly and gradually picking up speed for a time of 54.1s over 800 metres, gaining a nod of approval from trainer Takayuki Yasuda, who said: "He looked sharp and his movement was good."
From 22 career starts, six-year-old Danon Smash has won 10, seven at Group level and six of them over 1200 metres. Though this will be his first race since returning from Hong Kong, Danon Smash has always fared well after layoffs, so there is little concern there.
It will, however, be his third Takamatsunomiya Kinen bid and his previous two attempts ended in a fourth and 10th place.
The doubts surrounding his biggest rival Resistencia's chances of beating him remain, however. Other than it being Resistencia's first time at Chukyo and her first time over 1200m, she has also lost not only her regular rider, but also her previous partner Yutaka Take.
Take had to cancel his Takamatsunomiya Kinen booking after sustaining injuries in the starting gate on 20 March. The filly is now to be paired with new jockey Suguru Hamanaka.
Resistencia's final drill, an 800 metres breeze up the hill course in 53.8s this week, was undertaken with an assistant to trainer Takeshi Matsushita in the plate. The filly looked sharp with no signs of fatigue. "She clocked 11 seconds something over the last furlong and it was a good workout," Matsushita said, looking pleased.
Matsushita also showed no sign of concern regarding the sudden change in riders. "This is not a horse you have to choose riders for, besides, he is a Derby jockey," the Ritto-based trainer said of the 32-year-old Hamanaka, who has won not only the 2019 Japanese Derby (2400m) with Roger Barows, but has eight other Group 1 races to his credit as well.
The winner's circle has eluded Resistencia in her three top-level events since the Juvenile Fillies, but she's come close with two seconds. Last out on 28 February, she grabbed the Hankyu Hai, a Group 3 over 1400m, by two lengths, doing it in record time and topping a number of Takamatsunomiya Kinen hopefuls, including Indy Champ and Danon Fantasy.
Contenders other than those mentioned above as possibles to fill out a trifecta are Danon Fantasy, Maltese Diosa, and Sound Chiara.