Count Of Essex salutes for Clarke in St Patrick's Day Cup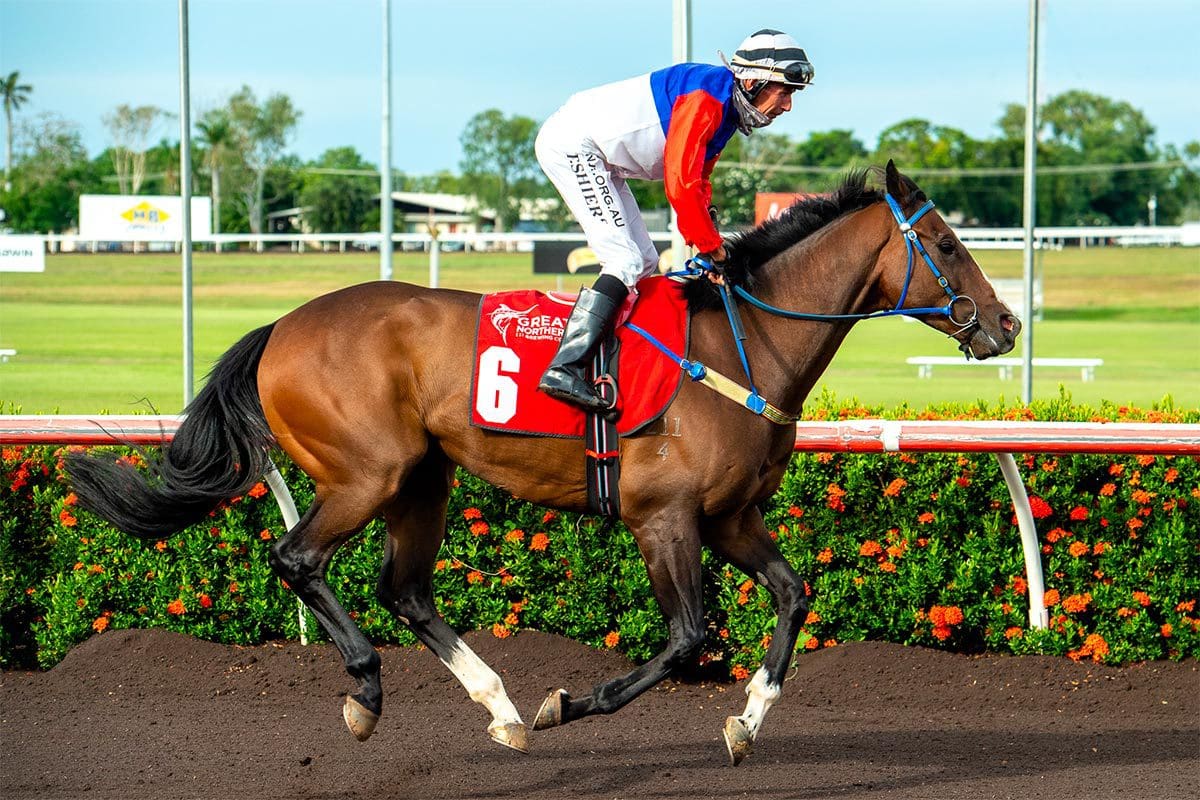 He might not be a world beater, but Count Of Essex was rewarded for his persistence with victory in the $40,000 St Patrick's Day Cup (1600m) at Fannie Bay on Saturday.
The versatile seven-year-old – expertly ridden by star Northern Territory jockey Jarrod Todd – waited until the 150m before making his move. And it wasn't a simple move, either, given he was on the rail while in traffic.
But according to co-trainer Sharlene Clarke, Count Of Essex can prevail across a handful of distances and racing conditions if he really wants to.
"He's always thereabouts when he wants to be. He's pretty versatile and we were pretty happy with him," Clarke told HorseBetting.com.au of her runner, who was quoted at $4.40 with online bookmakers.
"He can do anything. He's just one of those horses. When you least expect him to win he'll pop up.
"In the past he'd level up with other horses and he didn't want to go past them. And when he did get past them everyone would get excited.
"You always want Jarrod on your horses. He's one of the top riders up here."
Despite the classy finish on Saturday, the Clarke stable – the premier team in Darwin – is not getting carried away with the victory.
Count Of Essex will be loaded on a truck to head down to Alice Springs tomorrow, but the expectations are not high for the gelding who has now won over $185,000 in prizemoney.
"He's no world beater. It wasn't an overly strong Paddy's field," Clarke said.
"We're going to take him down to Alice Springs. He is a bit of a puffer and doesn't handle the heat up here a lot.
"There isn't much coming up for him, so we thought we'd take him down there and let him have a feel of a bit of cold weather.
"It was very, very hot on the weekend. So it'll be cooler weather in Alice. He might have a few races down there and we'll see how he goes.
"If he's up to the step up (feature Alice Springs Carnival races) we'll give him a crack at it."
It is remarkable the Clarkes – who have had a stranglehold on the Darwin trainers' premiership in recent years – are continuing to train winners after tragedy struck the family in November last year.
That was when Sharlene and her husband and co-trainer Gary Clarke lost their son Guy, a talented rider at Territory rodeos, to suicide.
Sharlene said it has been the support of her family and friends, stable staff and the fact she needs to care for a lot of horses which has helped her get through it.
"It's really hard but thank God we've got the horses. They make us get up out of bed every morning and go do our work," Clarke said.
"If we didn't have our horses I don't know if we'd even get out of bed or the house.
"With the horses you have to get up and care for them. They can't look after themselves. It gets us all out of bed and gets us moving.
"You've got to keep soldiering on and keep going forward, not backwards."
For anyone else doing it tough, Clarke said it was important to continue being challenged by what you love every day.
"Just get out of bed. You need to keep doing things whether it's hard or not," she said.
"You've got to keep going. You can't sit around and think. We think about it every minute of every day, but you've got to keep yourself busy."