Busy week for Darwin trainer Phil Cole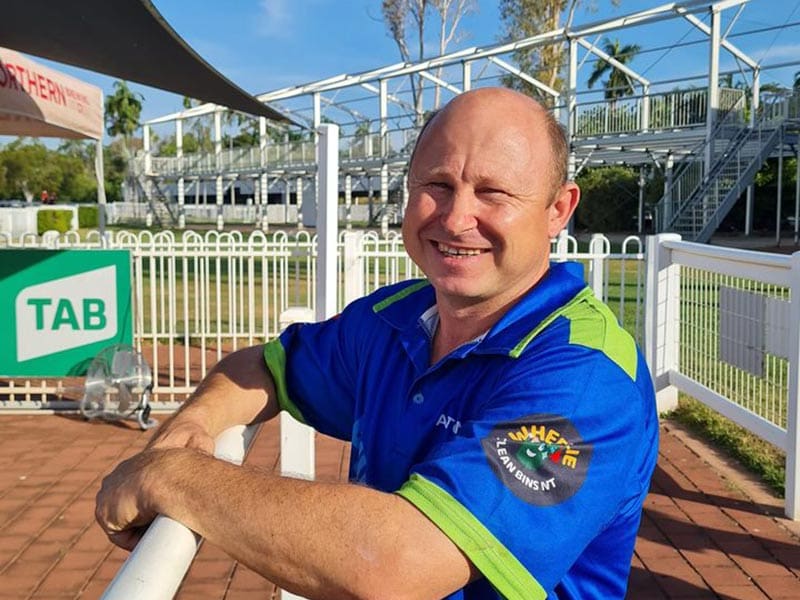 It certainly has been a hectic week or so for successful Darwin trainer Phil Cole.
He had runners in Darwin on the Thursday, Alice Springs on the Saturday, and Birdsville in Queensland on the Sunday and Monday.
Naturally, he couldn't possibly be in all three places at the same time.
His staff kept an eye on things at his home base of Fannie Bay, where Looking For You and Wildfire Rose made it a winning double for the stable.
"Last week, I jumped in the truck and towed the float and dropped those horses off at Tennant Creek," Cole said.
"My wife Rhonda followed behind in the car – she picked them up and headed to Birdsville.
"I then headed south to Glendambo in South Australia and I met up with Kym Healy and picked up his horses and mine and got them back to Alice Springs.
"I stayed in Alice Springs for the races on the Saturday and flew back to Darwin on the Sunday."
After a busy week Cole is back home preparing his team for Thursday's meeting at Fannie Bay and Saturday's meeting at Pioneer Park, which is Day 2 of the Alice Springs Cup Carnival.
Sending the wife to Birdsville proved a masterstroke as five-year-old mare Faith And Love was victorious on the Monday.
That's after five-year-old gelding Sedona got the cash in the opening race at Alice Springs last Saturday.
"Got a couple of horses here in Darwin who haven't been paying their way – it was a good opportunity for their owners to reap some benefits and get some prizemoney in Birdsville," Cole said.
"A lot of organising goes into getting everything rolling and going the right way, but it paid dividends as we had a good week really.
"We sent Faith And Love to Birdsville because we're just struggling to find 1000m races for her in the Territory – there's none around.
"There's one on Alice Springs Cup Day and she is currently on the way to Alice Springs.
"There are big numbers down there and I was a bit reluctant to send her there if she wasn't guaranteed a start, but after winning on Monday she's guaranteed a start on May 1 in a 0-58 race over 1000m."
Looking ahead to Alice Springs on Saturday, Cole has suggested that punters keep an eye on two horses that he has only just recently acquired.
"I've got Military Zone. He had his first start in the NT recently (April 2) and he was out to the mile and ran third and just probably peaked on his run a little bit out," Cole said.
"I think he will show a vast improvement on Saturday.
"And I've got a new horse called Bartolini having his first run in the Territory – he's running in the Guineas on Saturday.
"In the short time I've had him he might be a genuine Guineas chance."
Unbeaten three-year-old filly Dakota Lee from the Terry Gillett stable will take a power of stopping in the $50,000 Imparja NT Guineas (1600m).
Although Bartolini is still a maiden after three starts in Victoria he has raced from 1450-2000m.
Dakota Lee is contesting 1600m for the first time, but in her first trip over 1400m at her last start on April 2 the filly won by five lengths.
Apart from his busy regime and schedule, Cole is enjoying life.
"Can't complain when you keep training winners," the former jockey said.
"Last season I had 46 winners in Darwin, and this season we've had 20 in Darwin and I reckon I've probably had 10 in Queensland as well.
"There's still a long time to go before the end of the season, but the stable is going very well.
"We had a real light patch over the wet season this year.
"A lot of my good horses went to the paddock for a spell.
"The second graders weren't really winning races, but they're all now starting to hit their straps now which is probably the right time of year.
"I've had a few winners in Alice Springs and although I was training them they were under Sarah Robbins' name.
"She was helping us out.
"Had a couple here I had to send to Alice because it got so hot and humid in Darwin.
"For the past six months I've had at least a minimum of six horses in Alice Springs."