Bluey's Chance heads to synthetic track for Winter Cup lead-up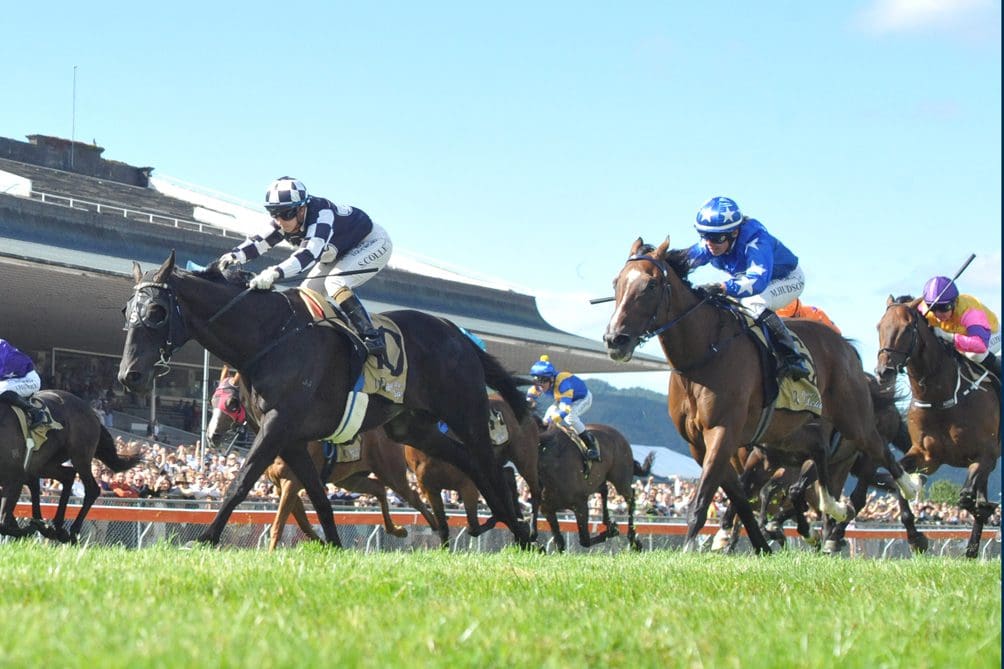 Kenny Moore is only half kidding when he says he'd like to welcome his versatile galloper Bluey's Chance into his home to watch TV.
The Rangiora trainer has formed a special bond with the Remind eight-year-old, who went so close to pulling off a $130 upset in last year's Group 3 Wellington Cup (3200m) at Trentham.
Bluey's Chance was run down by Waisake that day but still finished second beaten just half a length and seven months later he nearly pulled off a Group 3 Winter Cup (1600m) upset at Riccarton, run down in the closing stages to finish fifth.
Moore again has his sights set on Saturday week's Winter Cup and feels a final conditioning run in Friday's El Doute At Leithfield Lodge 1600 on the Riccarton synthetic track won't hurt his preparation.
"He's nine next week but nobody has told him that and I honestly don't think I've had him any better," Moore said.
"He's running around the paddock like a two-year-old. I'd probably have rather gone into the Winter Cup without another run but the field hasn't dropped away like I'd have liked.
"We're number 23 in order (for an 18-horse field). I think we'll still make the field because a Rating 70 horse made it last year but just in case, we'll try and get a few more points on Friday."
Bluey's Chance was rated 79 when he finished fifth to Ritani in last year's Winter Cup but has dropped to 70 going into Friday's race, despite picking up two points for a fast-finishing last start second at Ashburton earlier this month.
"He's just really well at the moment. He's got better every year and a large part of that is mentally," Moore said.
"He was such a handful as a young horse. He was a monster but now he's a dream horse to have in the stable. He's everyone's best mate. It was just a maturity thing."
Moore has no qualms about using a synthetic track race as his final lead-in race to the Winter Cup, having used the surface for his final three weeks' trackwork preparing for last year's Group 3 New Zealand Cup (3200m), a race in which he was unplaced and later found to have pulled up lame.
"He's worked on the poly a lot and handles it fine," Moore said.
"Dry tracks, wet tracks – it just doesn't worry him. He's won at 1200m and very nearly won at 3200m. He's just such a grand horse. I can't believe my luck having a best mate like him.
"He's part of the family. If I had my way, he'd have a stable door into the lounge and he'd sit there and watch telly with me."
Riccarton apprentice Sanu Toolooa will ride Bluey's Chance on Friday as he aims for a sixth win at his 70th start.
"I just want to see him running on really well. He's a live chance but finishing in the first three is the aim without having a gutbuster ahead of the Winter Cup," Moore said.
"He's just so well that another run under his belt won't hurt him. We've really struggled to get fast work into him with the weather we've had. The points would be a bonus but we think we'd make it into the Winter Cup with 70 regardless."