Bivouac Thrashes Rivals To Win VRC Sprint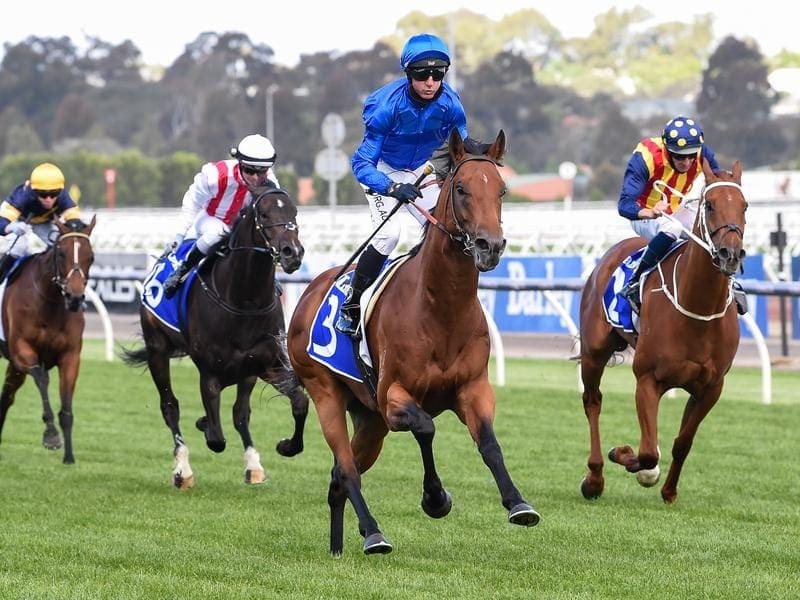 Glen Boss' arrogance over the closing stages summed up Bivouac's domination of the VRC Sprint Classic, which proved to be a one-act affair.
Boss plotted a course out wide on the James Cummings-trained sprinter and with 200 metres to go he hadn't moved on him.
The jockey took a sustained look to his inside at Nature Strip and then turned his head behind to check what, if anything, was chasing.
Boss then asked Bivouac to go and the horse burst clear and as he did, the jockey rose in the saddle as only he can, standing higher and higher as he approached the finish.
By the time he crossed the line, Boss was virtually standing and doing his trademark headshake to signify how good Bivouac's effort was to behold.
If he bothered to look behind him, he would have found superstar sprinter and easy winner of the race last year, Nature Strip, more than three lengths astern with Libertini third.
Two weeks ago, the 51-year-old jockey won his 81st Group One race when he took out the Cox Plate on Sir Dragonet and was fined $1000 by Racing Victoria stewards for his celebrations.
Saturday's effort at Flemington invited them to fine him again.
Post-race, the superlatives flowed from Boss regarding Bivouac's talent.
"You don't see them win a Newmarket and a Darley Classic like that," Boss said.
"They're good horses. There's a sprinter of the year right beside him and he went straight past it and said, 'see you later boys'."
Boss described Bivouac as a special sprinter and pointed out that the best was yet to come as he was still maturing.
He said Godolphin, who sponsored the race, had a very valuable stallion proposition on their hands in Bivouac, who was the first entire to win the race in modern times.
"I'm very privileged to be sitting on this very good colt," Boss said.
"Everyone knows how many good colts I've been associated with in my career and this one is right up there with them, I'll tell you.
"He's a very special animal."
Boss said he had ridden horses such as Snitzel and Fastnet Rock who went on to become successful stallions and predicted Bivouac would follow in their footsteps.
The feature Flemington sprint was Bivouac's third victory at the elite level and James Cummings' Melbourne foreman Sean Keogh said his future could be overseas.