Asathought tastes Ascot gold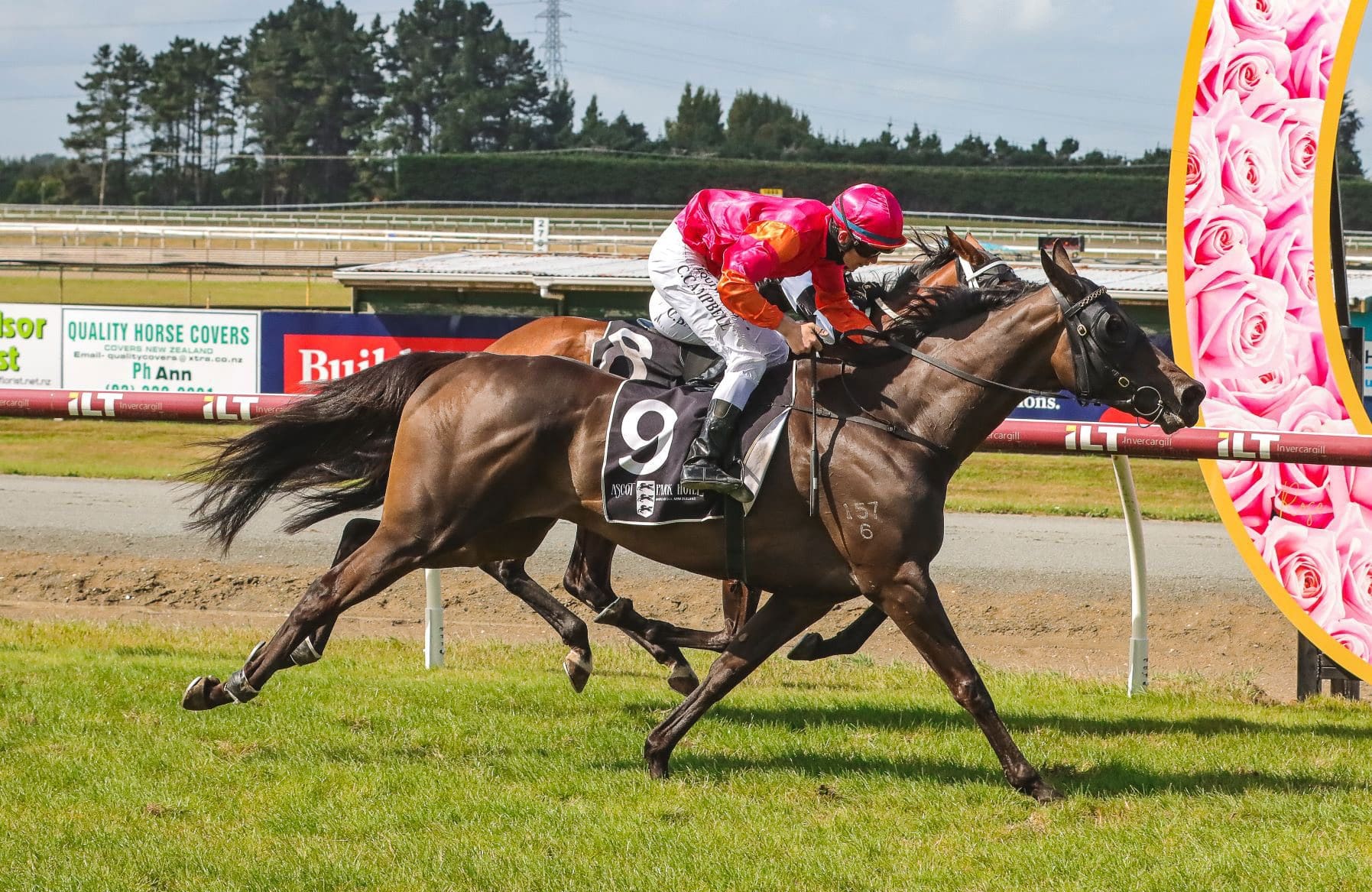 Southland trainer Lisa Vaughan is on the lookout for black type success for Asathought after the well-related mare won the Baillie & Lewis Pharmacy Invercargill Gold Cup (2600m) on Saturday.
Asathought benefited from settling closer than usual to the speed at Ascot Park, trailing and then sitting one off the fence for jockey Corey Campbell before wearing down pacemaker Wannabe 'N' Paris to win by a neck. The pair were more than six lengths ahead of their rivals.
Raced by her breeders Willie and Karen Calder, Asathought is already valuable as she is a half-sister to Avantage, the multiple Group One-winning mare who sold for NZD$4.1 million on New Zealand Bloodstock's Gavelhouse Plus platform last year.
To date the five-year-old Asathought has won five of her 24 starts but her best effort in black type races is two third placings, in the Listed Southland Guineas (1600m) and the Dunedin Gold Cup (2400m).
Vaughan said she had three black type races in mind this autumn: the Group 3 Valachi Downs South Island Thoroughbred Breeders' Stakes (1600m) at Riccarton on March 26, the Listed Carriers Arms Riverton Cup (2147m) at Riverton on April 16, and the Group 3 Canterbury Gold Cup (2000m) at Riccarton on April 23.
"I know the Breeders' Stakes is probably going to be too short over a mile, but she can go those fast sectional times so if she starts better, you never know how she might go after a freshen up," Vaughan said.
Vaughan, who part-owns the Southland GJ Gardner franchise with her husband, former All Black Simon Culhane, said it was a big thrill to win the Invercargill Gold Cup on her home track.
Asathought had been running good races but she had been very tardy out of the gates, but being reunited with Campbell helped her find a handy position and it likely played a big part in her success at the weekend.
"We have been trying to put her in the race but she's not been jumping out any good. Her last sectional times are normally always the fastest but when you're that far back against those open stayers it's just too difficult," Vaughan said.
"It was great to have Corey back on. He's got a bit of a rapport with the mare, and he rode her beautifully on Saturday, and got her off the fence at the right time – she doesn't like being amongst the other horses so much, she doesn't tend to finish her races off otherwise.
"Also the starter's assistants have done a great job because she can get a bit fractious in the gates."
Vaughan was given Asathought to train after an initial preparation with Matamata trainer Jamie Richards.
"I don't think she suited the big environment up there and Jamie recommended she come down here," Vaughan said.
"We're actually friends with the Calders. I've had a few horses for them over the years, and I was fortunate enough to be given her to train. We only have a handful of horses and we do a lot of beach training, and she loves her paddock."
Despite Asathought's value as a broodmare, Vaughan said she is likely to race on next season, and she expects her to improve further.
"I think as a six-year-old she's going to be better. She's still a little bit weak in behind and she's just mentally and physically getting better as she gets older," she said.
"At this stage, the Calders would like to race her next season and she'll go to stud after that I'd imagine."