Another One goes one better in Country Championships Final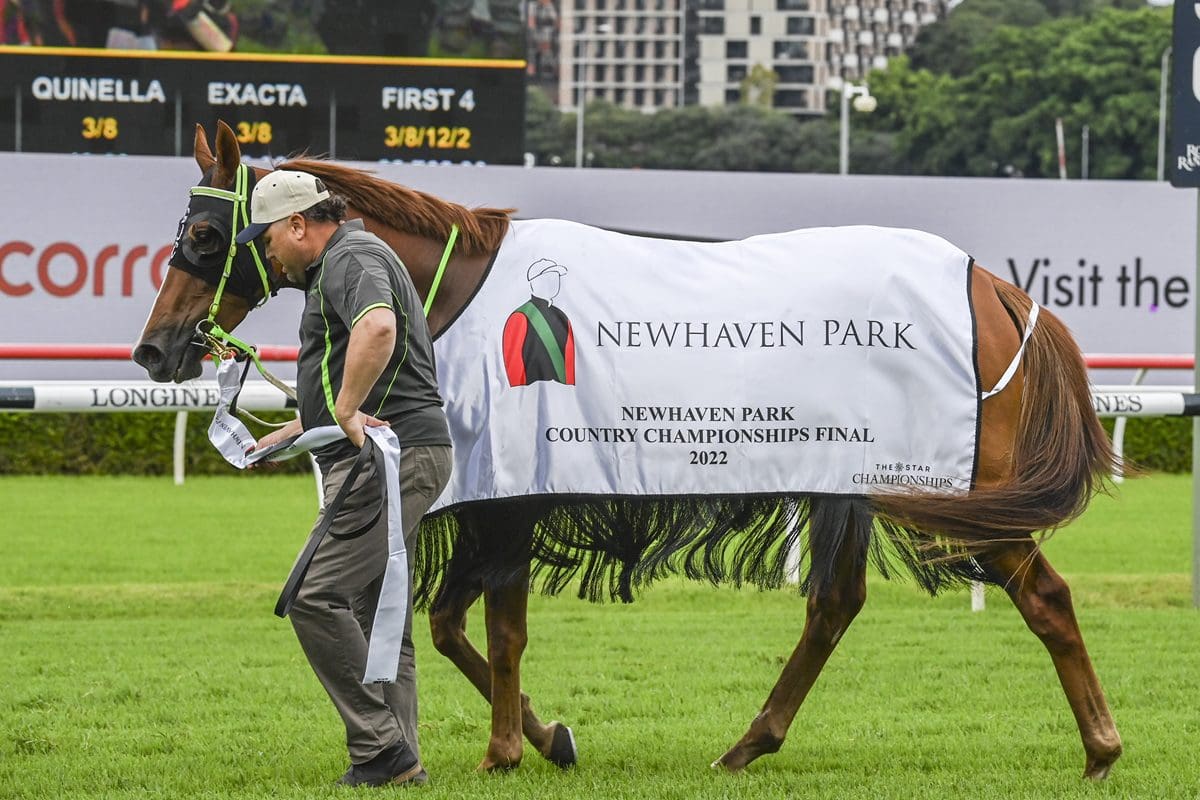 They came from far and wide. From the North, South,West and everywhere in between.
The $500,000 Country Championships Final (1400m) has become a crowd favourite on Day 1 of The Championships and on Saturday a new champion was crowned when Another One claimed the coveted trophy for Wagga Wagga trainer Gary Colvin.
After finishing 2nd to Art Cadeau in last year's Final, the four-year-old Super One gelding went one better this year under the guidance of top country jockey Nick Heywood.
From barrier 8, Another One was forced to the rear of the field as they closed up in front of him after the jump, settling worse than midfield on the rail.
Race favourite Far Too Easy ($4.40F) claimed the lead at the top of the straight with Amulet Street challenging him on the outside.
But Heywood had taken the chance on Another One, staying closer to the rail when the others moved to the middle of the track in the straight and was eating up the heavy ground to appear inside the leaders to hit the front at the 100m, pulling away to win by 0.26-lengths to Commando Hunt ($9) who put in a phenomenal run for Scone trainer Cameron Crocket and Amulet Street ($51) who hung on for 3rd with Far Too Easy in 4th.
2022 Country Championships Final Replay
---
Commando Hunt was still second last in the sixteen horse field with 600m to go before Nash Rawiller was able to squeeze out and find clear running at the 300m. From there he bounded out of the ground, not quite getting to the eventual winner before the line.
"It was a terrific win. I was a bit worried, he got back a bit and I'm going 'Ooohh, that wasn't our plan" but he was very relaxed before the race and I started to worry a bit he was just so relaxed" Colvin said.
"I suppose it's good to have him relaxed like that for a tough 1400m but Nick was very patient on him and he made the right decision to come to the inside which worked out pretty well.
"This horse has improved and matured and they were all asking me 'is he better than last year?' well I said 'I think so'. Before we tried him over a bit of ground and he was going alright, but I think he's a fresh horse, keep him a bit fresh.
"I was thinking about probably having a crack at the Town Plate at Wagga then he'll go for a spell and I hope someone picks him up for the Kosciuszko," said Colvin on his future plans for the horse.
Winning jockey Heywood couldn't have been more pleased to get the win,
"They always say about timing and obviously last year was the same sort of time and buffer. He's a better horse this prep and his work at home and everything like that has just been phenomenal. I knew he'd get through the track," he said.
"He put a dip in around the 800 there and once I clicked him back up and put him back on the bridle, I just had a lap full of horse. When you're on a heavy track and you can pick back up, you're going to be in with a chance of winning."
"Full credit to Gary Colvin and his team, they look after this horse like their own son and he paid off for all the owners here today."