Alice Springs veteran jockey Wayne Kerford announces retirement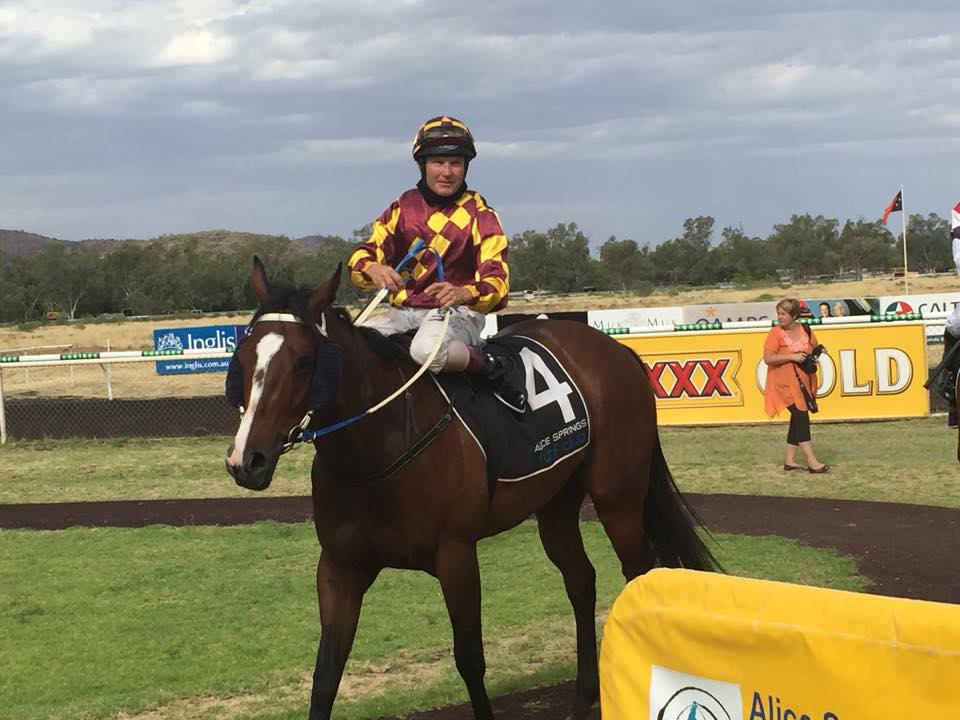 After a riding career that has spanned 33 years, Wayne "Bulldog" Kerford will retire following the Alice Springs Turf Club's Cup Day meeting at Pioneer Park on Sunday.
They're also racing in the Red Centre on Friday, so Kerford's exit will become official when the curtain is drawn on the 2022 Alice Springs Cup Carnival.
Kerford, 49, has ridden 878 winners from 11,818 appearances in the saddle according to the most updated statistics available after starting his apprenticeship in Victoria.
He can still boot home a winner and just happened to land a double on Saturday to make it 11 wins for the season.
The Scott Whittle-trained Yowza ($3.30 fav with thoroughbred betting sites) was an impressive winner of the $20,000 Centre Plumbing 0-58 Handicap (1100m) after the six-year-old gelding from Strathalbyn finally broke his maiden status at the 19th attempt the previous week over 1400m.
$20,000 Centre Plumbing 0-58 Handicap (Pioneer Park, Alice Springs, 1100m) Race 3 April 23, 2022 – Yowza
---
Then the locally trained Sweet As Scandi ($6 with horse racing apps) snuck home by the narrowest of margins for the Kevin Lamprecht stable in the $20,000 Restaurant 1690 0-58 Handicap (1400m) after rolling similar opposition over 1200m on March 20.
$20,000 Restaurant 1690 0-58 Handicap (Pioneer Park, Alice Springs, 1400m) Race 6 April 23, 2022 – Sweet As Scandi
---
Kerford was the pilot when Yowza and Sweet As Scandi both achieved back to back wins.
"It was a good day. Only had three rides. They were nice chances and two of them won," he said.
His other ride was on the Dick Leech-trained Coin Collector ($101), who contested the $40,000 Red Centre Technology Partners Chief Ministers Cup (1600m) won by Mark Nyhan's Trident.
There were certain factors as to why Kerford decided to call it a day.
"I have a good job with Toll – an Adelaide based company – at the airport and with the racing I have been putting in a lot of hours," he said.
"I'm working weekends and there are probably days where I'm still working and I'm getting to the races late.
"If I'm at the races and something comes off a late plane then I can't be at two places at once.
"In the end retiring as a jockey was a no-brainer.
"I always wanted to go out on my terms while I'm still riding well and riding winners.
"Last few weeks have been good.
"Just probably in the last few months prior to that weren't as good and I decided to call it.
"It was one thing or the other – racing or my job and I chose the latter.
"I love the game, it has been my life. I will miss it.
"I'm looking for my next chapter."
Kerford ended up in NSW as a jockey before making his way to South Australia where he remained for the next 22 years.
Then came the opportunity to ride at the Alice Springs Cup Carnival.
"It was then I met my current partner and that was the main reason I stayed," Kerford said.
"That was seven years ago."
The jockey numbers in Alice Springs are down with Paul Denton, Lorelle Crow, Jessie Philpot and Ianish Luximon the only other permanent riders in the Red Centre, while travelling Victorian hoop Stan Tsaikos has spent more time in town due to Covid.
"It's a little bit of a worry for the club," Kerford said.
"Sometimes the local trainers say that they haven't got any riders in Alice then as soon as they get the opportunity they get other jockeys.
"I just don't think the trainers are totally behind the local riders."
That left Kerford feeling disheartened, but he is unlikely to ever get the racing bug out of his system and is more than happy to assist the ASTC in the future.
"Basically, what I'll do I'll do as much as I can whether it be helping young kids coming through or if I've got a spare afternoon then go and help them behind the gates – or anything like that I will be involved 100 per cent," he said.
"Sunday is my last day.
"I have already taken three of rides and if a good ride comes up in one of the features I'll take it.
"I'm not going around though just to go around in it."
It is expected that Kerford will also ride at Friday's meeting.
Kerford has endured plenty of success and highlights since arriving and settling in Central Australia.
He considers his triumph in the 2018 Pioneer Sprint (1200m) – the second biggest race in Alice Springs for the year – on the Mark Nyhan-trained Pyxis as his best win.