Alaskan God off for well earned spell after WATC Derby success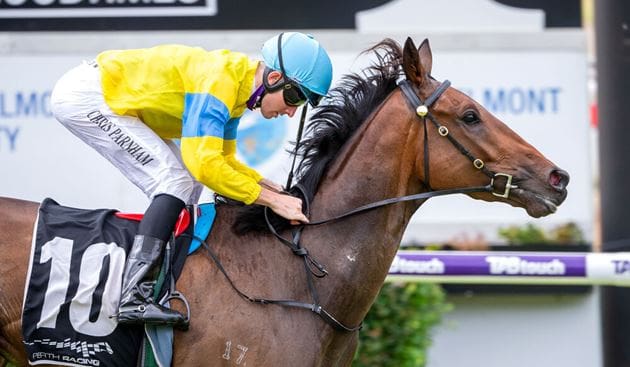 Daniel Morton's Perth stable has thrived in his absence, with No.1 foreman Vince Collica stepping up to oversee a comfortable triumph in the $400,000 Schweppes WATC Derby (2400m) at Ascot on Saturday.
Sent out +150 second favourite with horse racing bookmakers, three-year-old Alaskan God overcame some early setbacks to salute by just over three lengths, with Ted Martinovich's Pale Rider second.
Morton is in Melbourne with KissOnAllForCheeks in preparation for this Saturday's $200,000 Victoria Handicap (1400m) at Caulfield.
He is third in the current WA trainers' premiership season with 43 wins, but Collica and the rest of the stable have stepped up in his absence.
Indeed, they had a great night celebrating thanks to Chris Parnham's brilliant ride.
That, and a "she'll be right" positive attitude without overthinking race tactics with Morton away.
"It was hard to watch early on. The horse drew (barrier) three and Chris pushed him out trying to keep that three-deep line, and there was a bit of ducks-and-drakes. Trix Of The Trade tried to keep him in the pocket," Collica told horsebetting.com.au.
"Everywhere he went, Trix Of The Trade (who finished 11th for Colin Webster) tried to be on the outside. But being the horse that he is – a big, long-striding horse – he got pocketed in on the fence and it was hard to watch.
"But once Chris got out in the clear to the outside it was pretty much game over. He just sprinted well and exploded, and put them away.
"That's the reason why Dan has great confidence in him (Parnham). He's very cool and calm-headed. He just relaxes in the run and just doesn't really have a game plan to be honest.
"He plays it by the race. I kept on saying to him before the race 'just back yourself, know the horse and back your own judgment. If the horse is good enough he'll do it for you'."
And that was exactly what happened.
After five consecutive wins this preparation – all with Parnham aboard – Alaskan God will now enjoy a well-earned spell.
Collica believes the young stayer has a bright future.
"That was his grand final. He'll go to the paddock on Tuesday. Dan will sit down with the owners in the next few days and map out a program for him next prep," he said.
"He's got big upside. He's a genuine stayer. He's got a great turn of foot at the end of his races, which separates the good stayers from the elite stayers.
"Once they've got a turn of foot it separates the elite from the good."
Collica thanked his stable staff for all stepping up with Morton away.
"The team has done a great job. It makes my job easier," he said.
"Dan's son Luke is part of the team as well. He'll be heading up to Broome shortly with his nine horses.
"The whole team has been fantastic. It just makes my job easier. The team has been going really good and the horses have been performing well.
"We've had six or seven runners win for us since Dan's been away, so I'm proud of the team.
"I've been with Dan for 12 years with no intentions of taking out my own licence. I'm happy being Dan's number-one foreman and I'll just keep doing what I've been doing until my days are up."
2022 WA Derby (Ascot, 2400m) – Alaskan God
---