Adam Nicholls walks away with a treble in the seven-race card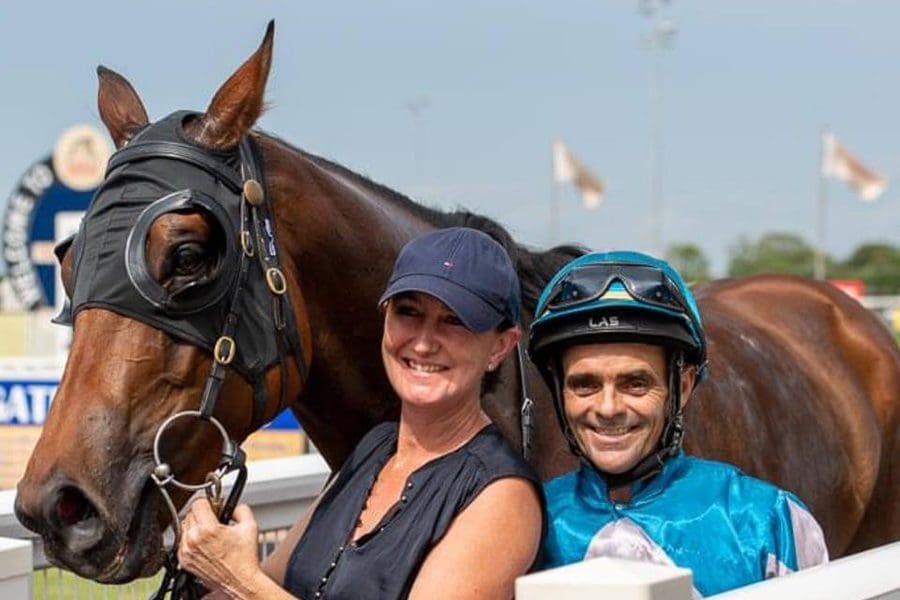 Last Saturday was just one of those great days for Darwin jockey Adam Nicholls.
The 42-year-old put on a master class with a fabulous display of horsemanship that saw him land a treble on the seven-race program at Fannie Bay.
"It was a really good day," he said.
He kicked the day off with victory in the opening race when the Chris Nash-trained Dominus produced a stunning performance against 0-70 opposition over 1600m in which the five-year-old gelding broke the track record by lowering the mark from 1.34.53 to 1.34.22.
Starting at $7.50 with the top bookmakers, Dominus (61kg) was sitting five-wide when they jumped and it took him easily 500m to find the lead once entering the back straight.
From that point he was never headed before sprinting clear in the home straight to win by six lengths.
The fact that he was easing up at the winning post indicates that Dominus could be a major player during the Darwin Cup Carnival, which starts this weekend.
The previous track record for the 1600m was set by 2015 Darwin Cup winner Lightinthenite in the Chief Ministers Cup during the Cup Carnival that same year.
"He was unbelievable," the quietly spoken Nicholls said of Dominus.
"He actually travelled really nice throughout the race – got to the home turn and he gave a really nice kick."
It was only when he returned to scale that Nicholls was made aware that Dominus had set the record.
"He trialed that week on Tuesday and he trialed really nice," Nicholls added.
"I thought he was a good chance in the race – just let him free roll and he was good."
Nash has identified the Bridge Toyota Cup (1600m) at 0-76 level on July 13 and then perhaps the Darwin Cup (2050m) on August 1 as the path for Dominus.
"The way he is progressing that would be right," Nicholls said.
"He should perform again in his next start.
"As long as everything goes right he should be in the money next time as well."
The day only got better for Nicholls when he saluted aboard John Peacock's eight-year-old gelding Star Of Monsoon ($6) over 1100m (0-62) and Nicole Irwin's three-year-old gelding Kentucky Ruler ($11) in a 1300m maiden.
Both wins basically mirrored each other – sitting midfield along the rails and kicking into gear once leaving the back straight before finishing strongly in the home straight.
Star Of Monsoon and Kentucky Ruler also won by the same margin – 1.3 lengths.
In regards to Star Of Monsoon's win, Nicholls said: "He travelled into the race beautiful – just got a nice opening and away he went.
"He's getting better and better every day, so he should kick a couple of more goals."
When it came to Kentucky Ruler, Nicholls said: "He jumped out and settled nice.
"He got a really nice rails run as well and hit the line strong – things are going good there."
Irwin described Nicholls' effort in the saddle on Kentucky Ruler as amazing.
"It probably was," Nicholls said with a laugh.
"It took him a couple of strides to get used to the kick back.
"After that he just settled and ran on."
Nicholls, who has always battled with his weight, has now ridden 14 winners for the 2021/22 season (13 in Darwin and one in Alice Springs) and is now looking forward to the Darwin Cup Carnival.
Originally from Brisbane, he was based in Port Macquarie (NSW) for about 15 years and actually rode during the 2012 and 2013 Darwin Cup Carnivals.
He ended up in Finland for three and a half years after breaking his back before returning to Darwin to continue his riding career.
"John Peacock was my connection there – I knew him from 2012 and 2013 when he first introduced me to Darwin," Nicholls said.
"He's a funny old man, he's a good bloke.
"He is always bringing horses to Darwin at this time of year from Murray Bridge in South Australia.
"He's only brought two up this year, but both Super Famous and Star Of Monsoon are performing super."
Affectionately known as Chippy, Nicholls is enjoying life in the Top End and is currently the stable rider for Darwin trainer Emma Steel.
Apart from track work in the morning, he is also doing track maintenance at Fannie Bay during the day for the Darwin Turf Club.
"Darwin is a good place to be at this time of year," he said.
"Emma has purchased a horse called Gone Bye from NSW – he should go alright during the Carnival.
"I've also got Super Famous for John Peacock, he'll be going in the three-year-old sprints.
"Things are going well, but I hope to pick up more rides during the Carnival."
That should not be a problem if last Saturday at Fannie Bay is any guide.
More horse racing news