Yeung tips hat to Lee after Namjong's sweeping success at Happy Valley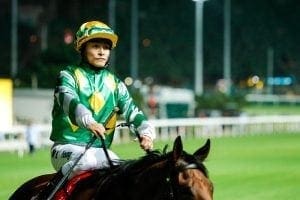 A relieved, effusive Keith Yeung paid special tribute to retired trainer Almond Lee after the jockey broke a frustrating run of outs with his victory on Namjong Plus in the Class 3 Kwoon Chung Macau Express Handicap (1800m) at Happy Valley tonight (Wednesday, 3 October).
Yeung became the 18th of 21 active riders to get on the scoreboard this season with his win on the Me Tsui-trained Namjong Plus. For Yeung, though, it was a first victory since he triumphed aboard Top Score on 25 April – although the 30-year-old jockey said that he felt the six-month gap was overstated.
"There were a lot of people writing that I hadn't had a winner in six months, and that's true if you look at it simply," Yeung said.
"However, I didn't ride for most of June and we didn't race for most of July and also in August so it really has only been a month or two. It was annoying me a bit, but you can't control it. There's not much you can do as a jockey, we do our job and that's the best we can do.
"When it comes to a race, all you can do is make as few mistakes as possible. For the most part, I've been riding well and so I knew my luck would turn around, it always does, but it's a matter of waiting for that to happen. In the meantime, I've been riding plenty of work – 10 horses at least every morning, sometimes up to 16 – I've been doing yoga and also plenty of homework. I wanted to make sure I was ready for the opportunities that came my way."
The win of Namjong Plus was also bittersweet for Yeung, as the Zacinto five-year-old was one horse who had been transferred away from his former mentor Lee when the trainer's licence was withdrawn at the end of last season.
"It was nice and not nice at the same time," Yeung said.
"It hurts me a little bit, of course, because I am close to Almond, but the work he did with this horse had him ready to progress this season. I owe a lot to Almond, both professionally and personally.
"Almond has always been a great teacher to me, during my apprenticeship we would always spend hours at the stables checking every horse. I also feel that he made a big change with me; when I was a kid, I was arrogant, I was terrible, I was not nice and I hated myself. I did so many things wrong but, over the years, he corrected me and I eventually became a better person, and I will never forget that."
Namjong Plus (121lb) showed his trademark turn-of-foot late to defeat Dynamic Eagle (111lb) by a neck, with Brave Legend (128lb) third, two lengths behind the winner.
Insayshable stamps promise with feature win
The night's feature, the Class 2 Kwoon Chung Bus Cup Handicap (1800m), was taken by the John Size-trained Insayshable (119lb).
The one-time Derby prospect overraced early under Zac Purton behind a slow tempo, but the 1.8 favourite had enough in hand to see off the late charge of a pair of greys, Super Chic (113lb) and Packing Dragon (124lb).
"It's not easy when they overrace like he did," Purton said.
"He doesn't help himself, but in saying that, the pace was so slow. They rolled quite quickly to get to the lead and then they just dropped the anchor. It wasn't just him, every horse seemed to be up on the bridle and doing a bit too much.
"I was really lucky though, from the top of the Rock, the right runs just presented themselves and I was able to come into it at the right time. He was the best horse in the race."
While Purton was satisfied to take the victory, the Champion Jockey also admitted that he thought Insayshable would win more comfortably than his eventual margin of three-quarters of a length and says that the Rajj four-year-old needs to add to his skill-set if he is to progress higher than Class 2 company.
"He was the best horse in the race but I thought he would do it a bit easier than that," Purton said. "He made hard work of it in the end, but it was his first start of the season over 1800m so that's probably the telling factor. He will improve.
"It's hard to say where he will get to in the end. He didn't have much of a turn of foot today, and in Hong Kong, if you haven't got much of a turn of foot, you get found out a little bit. As he gets fitter, if he can sprint a bit better, maybe he can progress a bit more."
Insayshable was the second leg of a Purton double, with the David Hall-trained Mr Picasso providing the Australian rider with his first winner of the night in the Class 4 Kwoon Chung Hengqin Express Handicap (1200m).
Mr Picasso has proven his own worst enemy at times, but the 2015 Hong Kong International Sale graduate did enough things right to score his third win at his 20th start.
"We all know that he's shown Class 3 ability and for him, in Class 4, he's always dangerous," Hall said.
"He has had a few issues and it's been hard to keep him on track and everyone has seen his behavior too, he can be a bit hot. When things fall right though, he is talented, and tonight was one of those nights."
Another Hong Kong International Sale purchase, 2017 graduate Impeccable Fellow, scored a first career victory in the Class 4 Kwoon Chung Guangzhou Express Handicap (1650m).
Trainer Richard Gibson said that he brought the Acclamation four-year-old to Happy Valley in an attempt to find a more forgiving surface.
"The horse needs softer ground," Gibson said.
"He's been running well at Sha Tin but I thought Happy Valley could be more suitable. Chad (Schofield) knows the horse well and he produced a cool, patient ride. It is good to have Chad back riding winners for the team again."