Winners & losers from Twitter on Newmarket Handicap weekend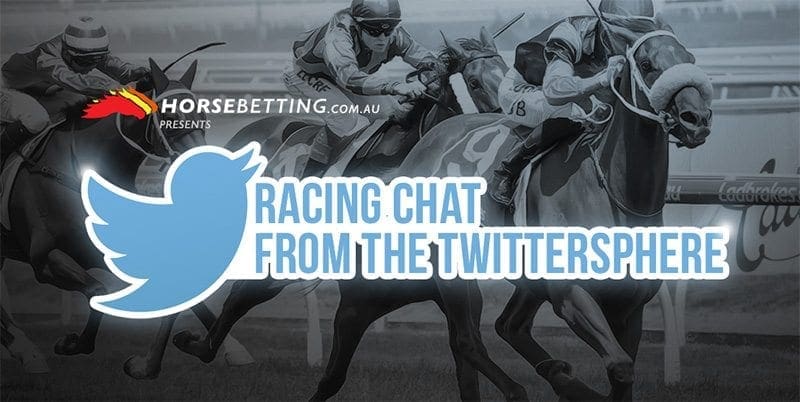 A HUGE long weekend of racing was enjoyed by punters and as always, the thoroughbred community let their voices be heard on Twitter.
Whether it was bemoaning the fact that Matthew Poon is no longer riding in Australia, the double figure winners that ruined many a punter's Saturday at Flemington or even taking a cheeky pot-shot at racing identity Michelle Payne, it was a great three-day period on social media for racing enthusiasts.

Shaky start for punters on Super Saturday at Flemington
It was a spectacular day at Flemington for a huge Saturday of racing, but it was an absolute bloodbath for punters after four straight races of double figure winners to kick off the card.
One of the best bets of the day for punters was $2.90 favourite at Crownbet.com.au Hursley in race two, but the Kiwi import failed to hit the line hard after refusing to take the split presented to it at the 200m under Joao Moreira.
ABSOLUTELY SICKENING!!!!

HURSLEY!!! #DISGUSTING #Flemington pic.twitter.com/3fyYqupEL2

— Lachlan Mosley BBR (@BlackBookRacing) March 11, 2017
After the Flemington track controversy during the week, all eyes were on the turf just to see if Michelle Payne's concerns were correct.
Track manager Mick Goodie copped the wrath of the former Melbourne Cup winning jockey Payne, and a Twitter user thought she may have a point.
How's @mj_payne looking now. I know only 2 races in but horses back in the field are under pressure 700m to make ground #flemington

— Joel (@joeldavies12) March 11, 2017
Adulation flows for birthday boy Regan Bayliss
All eyes were on the "Magic Man" Joao Moreira at the start of the card after his incredible run at Sha Tin, but young gun Regan Bayliss was the talk of the town after his sensational win in the Newmarket Handicap.
What a magic moment this was to watch, well done @Reganbayliss on an incredible achievement, group 1 at just 19! 🐎🐎🏆🏆 https://t.co/N3EFBFN5oy

— Adam Clarke (@ladzyclarke) March 13, 2017
Not content notching up a group 1 win on Saturday, the star on the rise capped off an amazing 48 hours by winning the Adelaide Cup on his 20th birthday aboard Annus Mirabilis.
He might be just beginning what could be an incredible career, but Bayliss is already supremely-confident.
@SomeAreBent post the Roy Higgins @Reganbayliss said "don't worry boys, I will win the Adelaide Cup for you" – mission accomplished 👍👌🏆

— Mike Symons (@SomeAreBent) March 13, 2017
It was the second big name race win in two days, and the praise came thick and fast for Australia's best young jockey.
Backed Adelaide cup winner yesterday. Why wouldn't ya, ReganBayliss riding. Also Burning Fronts Dam by Melb Cup champ Kingston Rule.

— MadDog (@PhillMueller) March 13, 2017
@Reganbayliss happy birthday jock and well done today. I have a few in Kalgoorlie that might need your touch later in the year. #midastouch

— Jezza (@jezzaeasthope) March 13, 2017
Popular jockey Matthew Poon departs Australia
It was a bitter-sweet weekend of racing for Matthew Poon enthusiasts as the "Poon Train" left to take up the challenge of riding in Hong Kong.
In the mounting yard for Matthew Poon's last ride here in Aus. On his fav horse optimize #poontrain #farewell pic.twitter.com/mhqeOp42B0

— Richard Jolly Racing (@RJollyRacing) March 13, 2017
Poon had a hugely successful stint in Adelaide, and one Twitter user had an interesting variation on Rick McIntosh's famous "Back Weir, Drink Beer" catchphrase.
Back Poon, drink goon!#poontrain

— Rory Cunningham (@cunningrory) March 13, 2017
One thing is for certain. The former South Australian favourite will gain a strong Aussie following anywhere he rides.
Matthew Poon claiming 10 pounds in HK!!! This is going to be a period of unbridled prosperity!!!!!! #poontrain 🚂

— Alistair L Adams (@Punta_Palooza) March 13, 2017