What makes Derby Day special? HorseBetting chats with the punters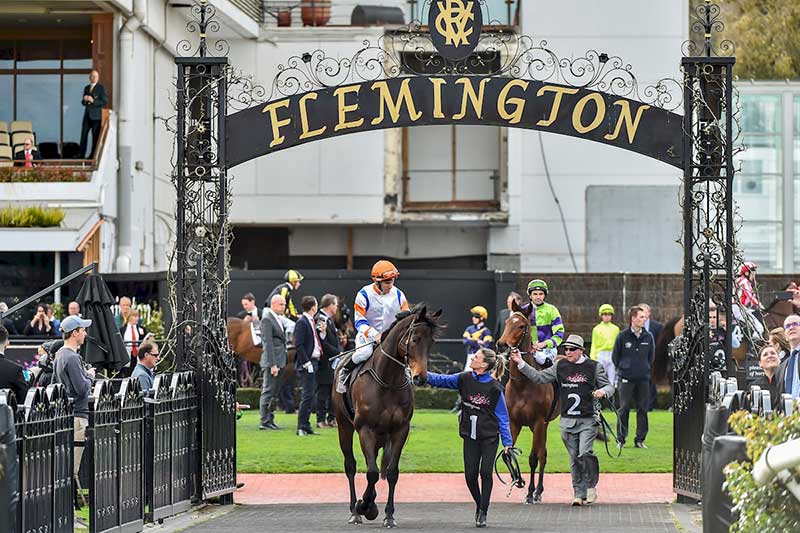 AS a sea of black and white suits descends on Flemington for the first day of the Melbourne Cup Carnival, the Flemington faithful knows they're in for one of the biggest race days of the spring.
The Melbourne Cup is deservedly the crown jewel of the racing week, but Derby Day is widely recognised as the must-attend event of the year.
It's easy to see why.
Hundreds and even thousands of people line up from the entrance to nearby Epsom Road, impatiently waiting for their chance to walk through the famous Flemington gates.
Those who left it to the last minute are sprinting through the packs to get a look at the action from the fence, while others are content just soaking up the atmosphere.
For first-time attendees like Jason Harris, the day exceeds expectations.
"I've never been to Derby Day before, this is something else," Harris told HorseBetting.com.au.
"We've only just had the first race, but already the joint is packed out.
"It's like nothing I've seen at Flemington, and I love the black and white dress code. It brings something different to the experience.
"Can't imagine I won't be coming to this event year-after-year."
In terms of fashion and crowd experience, Derby Day is unparalleled, but the race card is what makes the event such a great day for punters and casuals alike.
Multiple group races keep the hardcore fans happy, like Greg Simmons who said he "makes it (his) business" to attend the event like every year.
"Mate, does racing get better than this?"

"Coolmore Stud, the Derby… while the experience is what a lot of punters come for, blokes like me are in attendance to see those big races," he said.
"Not to mention the Lexus, which gives those horses a last chance to jump into the Cup.
For others, their motivations lie in a slightly different area.
Matthew Gerrard is here to "party", and he believes there is no better race day all year.
"The sun is shining, there's plenty of fillies around and the beers are flowing. What more could you ask for?"
While admitting he knows "next to nothing" about horse racing, Gerrard said he will be using the betting ring for the first time ever.
"I'll be having a cheeky punt, don't worry about that.
"If I can get a winner today I'll be happy. The old blokes on my tram to Flemington wouldn't shut up about how tough this card is, but they gave me a few sneaky tips on the way in, so I'll be getting around that.
"It's mostly about the beers though."
Whether patrons are here for the tradition of the day, the massive crowd, the amazing card of racing or simply to have a drink or two, Derby Day is a proven winner.