Wall Of Fire leaves it late to confirm Cup run for Palmer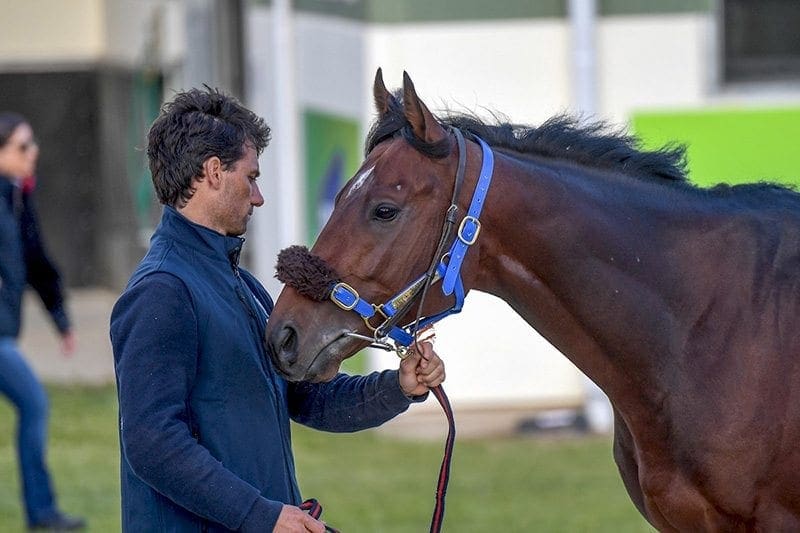 TRAINER Hugo Palmer can now breathe easy after Irish import Wall Of Fire found its way into the top 24 ballot for the Melbourne Cup, following the withdrawals of a star duo.
The five-year-old now takes its place after it was confirmed today that both Bendigo Cup-winner Qewy and ATC Derby-winner Jon Snow will not take their place in the race that stops a nation.
Palmer said he had a nervous wait to see if Wall Of Fire would make the final field, but had some inside word that the horse could find itself climbing the ballot.
"Charlie Appleby is a good friend of mine and I've been with him at the Breeders' Cup all week," Palmer told HorseBetting.com.au at Flemington.
"I had been seeing him every day. My horse out there is a Godolphin horse, so they were stablemates. I was saying every morning 'come on Charlie, what's the go? Make a decision' and I was getting the feeling off him all week that we might be okay.
"You never know until you know though, so it was a huge relief when he rang me and said 'I've made the decision and Qwey's not going to run'.
"As it happens we would have been in anyway, but it was a big moment."
Wall Of Fire firmed into $11 at Ladbrokes for the Melbourne Cup after confirmation came it will be a guaranteed starter in the 24 horse field.
Unlike a number of other international imports, Wall Of Fire will come into Tuesday with an Australian run under its belt.
The horse delivered a strong performance in the Hebert Power Stakes at Caulfield to finish second on October 14, and while Palmer did subscribe to the theory the horse will benefit greatly from the run, he did admit it helped allay some of his fears coming into the Cup.
"I don't know how important that run at Caulfield was, but it certainly was good for my nerves," the trainer said.
"I would have been a bit nervous about running him on a track as fast as Caulfield, and he ran a huge race on that track, and it will likely be a similar surface here at Flemington."

The horse is one of the more well-travelled elects in the field after featuring in events in England, Ireland, America and now Australia.
Palmer said it was important to give the horse a rest to ensure it will be cherry-ripe coming into Tuesday.
"We gave him a break after America, then he ran big at Newbury, but then after quarantine and everything it had been a long time between drinks.
"So it was good for him to have that run at Caulfield and hopefully he'll be in great shape. I don't think he's ever going to have a better chance at winning the Melbourne Cup."
Palmer believes the stable has Wall Of Fire in the best shape it can be heading into the race.
"I don't think he'll ever race off 53kg in a Melbourne Cup again, which gives him his best chance.
"You can never be confident coming into a race like this, but I am confident he's in the best form we can have him in and we can't do anymore than that."
There are no concrete plans in place for Wall Of Fire after its Melbourne Cup run, but there is a distinct possibility the horse remains in Australia to attack The Championships in Sydney.
Palmer believes another staying trip could be in the works in the Sydney autumn.
"I believe the plan is for the horse to stay in Melbourne for the autumn to then in turn aim at a Sydney Cup, but we'll see."