Twitter punters celebrate the Magic Man and big Guineas weekend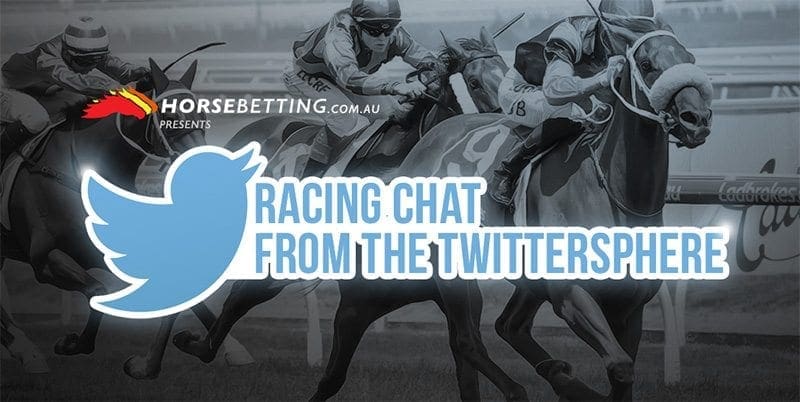 IT was touted as the biggest weekend of racing of the autumn so far and it didn't disappoint.
The Australian and Randwick Guineas were barnstorming races which were entertaining for very different reasons in Melbourne and Sydney.
Hey Doc saluted in the Australian Guineas underneath a sensational ride from Luke Currie, while Inference got the job done in the Randwick Guineas after Tommy Berry timed Inference's rail-hugging run to perfection.
We also got to see a virtuoso performance from a certain jockey we all know and love over in Sha Tin on Sunday.
Hey Doc threads the needle to take out the Australian Guineas
The Australian Guineas was the showpiece event at Flemington on Saturday, and favourite Hey Doc looked the pre-race winner on paper, providing it could do two things – settle well and see out the mile.
Hey Doc got the job done for Tony McEvoy, handing the veteran trainer his first group one glory since going out on his own.
Big congrats to @mcevoymitchell – first Group 1 since Tony stepped out in his own right. Terrific trainer, rapt for him. #HeyDoc

— Tom Biddington (@TomBiddington) March 4, 2017
The day was all about Hey Doc.
The horse might have been the clear-cut standout in the field, but it took an exceptional ride from Luke Currie to get Hey Doc over the line. Currie hugged the inside rails and took the opening when it appeared, booting the galloper clear.
Twitter lit up in their adulation for Currie's ride.
Luke Currie, what a ride ?#heydoc

— Nicholas Harrington (@bazzanick) March 4, 2017
Luke Currie good on ya! Big 24hours for a good guy #heydoc #bigmemory

— Shane Edwards (@edwardsracing1) March 4, 2017
Not everything went according to plan across the board though.
One punter got a stark reminder why people are turning their backs on the TAB and signing up at our trusted sites.
Thanks a lot for going dark @tabcomau and ensuring I missed getting on #HeyDoc for the win. No error message when declining bets either… pic.twitter.com/YcHLZEhhpi

— Kris Robinson (@kris_robinson) March 4, 2017
Inference comes from the clouds to take out the Randwick Guineas
It took a track inspection at 5am to confirm that Randwick Guineas would be happening on Saturday, and one punter had a bit of a laugh at the horse's expense in the build-up.
The field heading out for the Randwick Guineas tomorrow pic.twitter.com/0PW1TfPLXI

— Gerard Williamson (@Weight_For_Age) March 3, 2017
So You Think product Inference was given a sensational ride from Tommy Berry, who settled it at the back of the field before unleashing it for a blistering run down the outside rail to claim the prize in the shadows of the post.
The popular jockey got to celebrate the win with his family.
.@TommyBerry21 celebrates Inference's Randwick Guineas win with wife Sharnee, son Kaiden and daughter Charlise. pic.twitter.com/TCqATaNa5e

— Matt Kelly (@matty_kel) March 4, 2017
The race was all about the galloper however, and it is fair to say the star of the moment enjoyed its moment in the sun and the aftermath of the win.
Someone has pulled up well after their G1 win #randwickguineas #inference pic.twitter.com/I94OhXP2kp

— Hawkes Racing (@HawkesRacing) March 4, 2017
Joao Moreira lights up Twitter after riding eight winners from ten rides at Sha Tin
What more can you say about Joao "The Magic Man" Moreira?
The Brazilian jockey is without question the best hoop in the world, and he confirmed that on Sunday after piloting eight winners from ten rides at Sha Tin.
The man himself was incredibly humble post-racing.
Joao Moreira puts his eight win performance in perspective, says it is "sharing the top spot" when it comes to his many career achievements pic.twitter.com/N4pYL0vUJY

— Michael Cox (@KemblaCoxy) March 5, 2017
But we all know better.
The admiration for the Magic Man flowed like the ancient rivers of Babylon.
80% strike rate in one race meeting is pretty damn good

You'd love to have him on your horse, instant confidence boost #Moreira #MagicMan

— Allana Burns (@allanaburns) March 5, 2017
Just a lazy 8 winners at Sha Tin for Joao Moreira, looking forward to him riding Magnatti at Flemington on Saturday #MagicMan #supersaturday

— Wez Hunter (@HunterWez) March 5, 2017
One Twitter user even worked out what a return would have yielded if a punter was astute enough to get around the Moreira.
$1 all up on his 8 winners would have netted a tidy $32,391 #MagicMan

— Jase Pritchard (@BlueBagGlory) March 5, 2017
Another Twitter user was even went as far to say the great one could ride an inanimate object to victory.
Hey Joao Moreira, I'm happy to pay the $600k nomination fee if you'll ride my rocking horse in The Everest. @SkyRacingAU #MagicMan #8winners

— Michael Cowley (@mick_cowley) March 5, 2017
#MagicMan was the number one trending hashtag in Australia on Sunday, and it is safe to assume it will not be the last time we see that happening.