Twelve months on and Kuru still can't believe it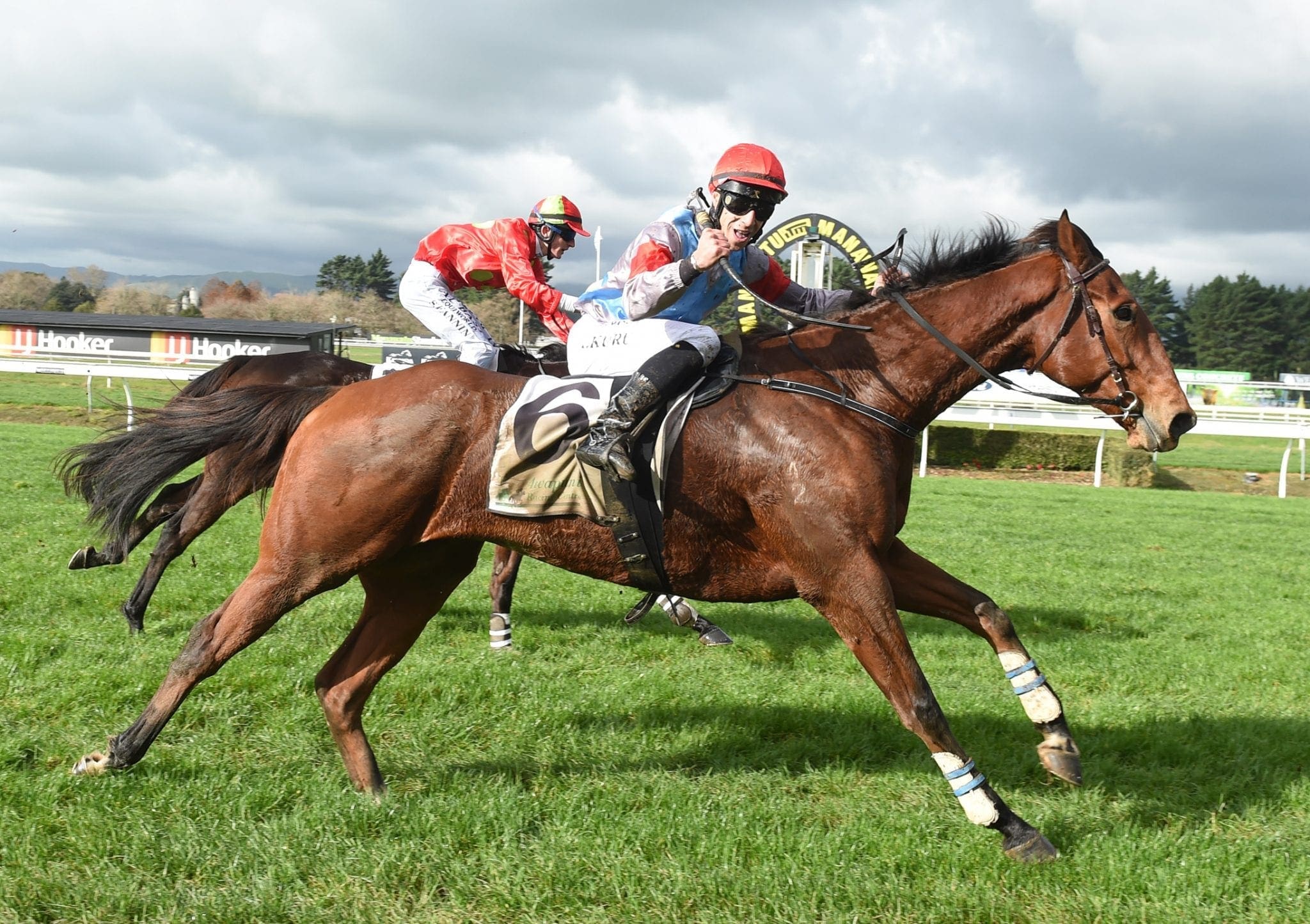 Saturday's Awapuni racemeeting marks 12 months since jumps jockey Aaron Kuru and steeplechaser Des De Jeu became the talk of the racing world and the duo will be reunited when they contest the L J Hooker Manawatu Steeplechase (4200m).
The low-key rider became a media sensation after staging one of the most remarkable comebacks ever witnessed on a racecourse. Kuru and Des De Jeu fell at the first of 13 jumps to seemingly extinguish his prospects in a maiden steeplechase. But showing incredible horsemanship, Kuru was able to keep hold of the horse's reins and remount the jumper as he scrambled to his feet. Despite losing more than 10 lengths, the pair went onto win by half a length.
Video and images of Kuru's spectacular feat traversed the world on both traditional and social media and the usually reserved horseman was thrust into the spotlight. "It was all a bit of a blur really," Kuru said. "It was the first race of the day but I didn't really reflect too much on what happened because I had the Awapuni Steeplechase and Hurdles coming up. "I was focussed on those two races but after that I had time to reflect on what happened and it obviously didn't hit me at first but it was a great feeling. "I enjoyed it more because my main supporter, Paul Nelson, didn't have a single runner there but I still managed to ride two winners and two seconds on the day."
Kuru was initially overwhelmed by the public interest in the story and the 27-year-old went to ground for a few days. "I had no choice but to turn my phone off for a few days," he said. "It absolutely buggered my phone, it went berserk. Luckily (fellow jumps jockey) Matt Cropp and I went out hunting the next day and it took my mind off things."
Although not a natural media performer, Kuru was the subject of numerous radio and television interviews across Australia and New Zealand and said the publicity was good for the sport he loves. "I didn't really want to do it but going forward it put New Zealand jumps racing on the map and in a good light as well," he said. "I've got a lot of mates that live around the world and a lot of their friends didn't realise there was jumps racing in New Zealand. As a result we have had a few more point to point riders that were interested in coming to New Zealand, so that has got to be a positive."
Twelve months on from the incident, Kuru, who was New Zealand Champion jumps jockey two seasons ago, was still pinching himself. "I still don't believe what happened, but it happened," the modest horseman said. "I want to say it didn't change my life, but it did. It didn't interfere with the rest of my season because I was pretty focused on riding as many winners as I could. "But because of what happened, Racing Victoria wanted me to go over and ride in the Grand National.
They got me a couple of rides and I ended up running third in a maiden hurdle and I just missed out on winning the Grand National. "There are plenty of opportunities for me to go over there but I learnt my craft here and I am pretty happy to stay in New Zealand. "My partner and I are trying to set up a few of our own things here so mainly I am just focussing on New Zealand jumps racing. I love it here and it is where I learnt how to ride."
Kuru rode Des De Jeu twice last season and greeted the judge first on both occasions, but he isn't expecting the winning run to continue when the gelding steps out in an open steeplechase for the first time this year. "It will be his third run for the prep. He had one run on the flat leading into last Saturday's third in the maiden hurdle," Kuru, who partnered No Tip to victory in that event, said. "Looking at the replay, it was a really good third. He should be thereabouts on Saturday but we will be trying to get him back and settle him and find the line late."
Despite having a jumps jockeys' premiership to his name, Kuru said that was not his main mission. "I never try and ride for the premiership. I just try and ride as many winners as I can and if that happened then that is just a bonus," he said. "What excites me are maiden hurdle winners, like what we saw with No Tip down in Wellington, that have a future. "A lot of our older horses at Paul Nelson's have retired so we have a stable full of young maiden hurdlers, so I am just excited about getting them up and going. They are the future. "I love seeing a nice young maiden hurdle winner that wins well because they go through the grades like Napoleon."
Before Saturday's meeting, Kuru will ride at Wanganui on Thursday where he partners Look Out and Teapot in Highweights but he is equally as enthusiastic about the prospects of a horse he is not riding. "Paul Nelson and Corrina McDougal have a horse called Revolution who had an outing at the same meeting last year that No Tip ran in and showed quite a lot, so he is quite exciting," Kuru said. "He has had a couple of schooling sessions so he will probably have a spin around at the end of the year."
An all-round good sport, Kuru has previously represented New Zealand at softball and revealed he has recently ventured back into one of his favourite pastimes. "I took a few years off from softball because I wasn't enjoying it like I used to," he said. "I got back into it again over the summer at a club up in Northcote on Auckland's North Shore. They got hold of me and managed to twist my arm. "I actually really enjoyed it and we had a great season. I will be going back again this summer. "It is quite demanding like any kind of sport and it is pretty hard to perform at the top level when I am trying to ride because I have to keep the weight down."
Kuru said he did not harbour ambitions of representing his country again at softball but was loving watching his friends compete on the world stage. "I don't think I would have a look in with the team anymore. They have a great culture, they are over in Prague at the moment getting ready for the World Series, which starts in a few days. "I have been tuned in to the racing and I have been tuned into following the Black Sox. They have been going really well. They just finished a pre-tournament and they came out on top."
Kuru said the balance between putting on enough weight to compete at the highest level at softball and then getting his weight down again to ride in winter was one of the reasons he walked away from the sport. Between softball and riding over jumps, Kuru also rides work for Cambridge trainer Tony Pike but makes regular visits to Hawke's Bay to ride for Nelson and McDougal. "It actually all fits in really well," he said. "My family all live down in Hastings and I go down three or four times before the season starts to school the horses. I will do that on a Saturday so I can spend Sunday with my parents. Tony is really good about being flexible and very understanding."