Top tips & handy hints for first-timers at the racing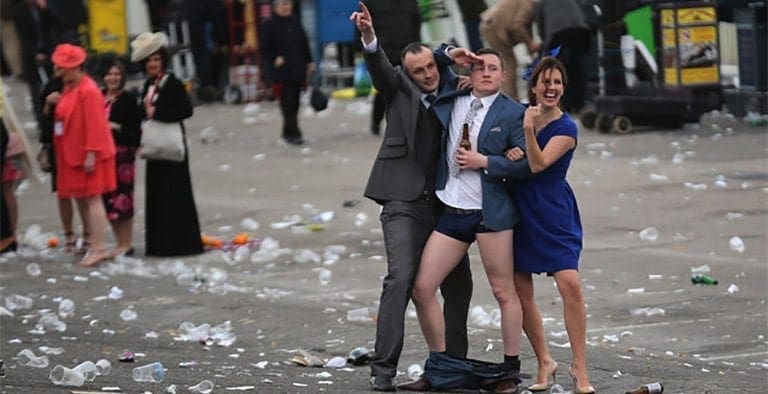 THE Spring carnival racing is a perennial highlight on the Australian sporting calendar.
Hundreds of thousands flock to metro and country tracks every year for the major race meets.
These are veritable melting pots for diehard punters, celebrity socialites and lads about town looking for a good day out.
For all its charms, however, a day at the races can quickly turn sour for those who are ill-equipped for its genteel social mores.
If you have yet to make your Flemington debut, these tips and tricks will help you blend right in.

Racing fashion 101
For many, a day at the races is all about the fashions on the field.
The trick for first-timers is to hit all the essential sartorial notes without straying out of key and into the wrong tune altogether.
The fellas can take one of two routes: dress sharper than you would for your own wedding, or else do the absolute bare minimum to get you through the turnstiles.
Pinstripe suits are a firm favourite, best paired with a pastel-coloured shirt that is at least one size too small.
If you are on a budget, or simply worried about looking like a posh knob, slap a tie on your work polo and grab some Julius Marlowe slip-ons from the discount bin at your local footwear emporium.
Leave the Ray Bans at home, as those $3 sunglasses from the Shell station rack will do you just fine.
For the ladies, it is all about that fine line – so often ignored – between classy and slutty.
Appropriate footwear is key for those grassy trackside surfaces, so put on your tallest heels for optimal traction and comfort.
Those inclined towards a fascinator should live by the 'bigger is better' motto, to ensure nobody within a 20-metre radius can see anything else.
Get there sooner with pre-drinks
If anyone ever tells you 9am on a Saturday is too early for a drink, delete their phone number and unfriend them on Facebook immediately.
Major Australian race meetings such as the Melbourne Cup, Cox Plate, Caulfield Cup, Victoria Derby and Golden Slipper always draw bumper crowds.
As such, you might find yourself spending a lot of time in line at the bar – especially on a general admission ticket.
To make that burden more bearable, it always helps to get half-cut before you reach the gates.
Crack a bottle of champers at home, bring a flask on the train, find an accommodating pub en route – make it happen.
For the enjoyment of everyone involved, please pre-drink responsibly.
You do not want to be that idiot who is ejected after the second race for taking a swing at a horse.
Sun smart, schmun schmart
Unless you have the grave misfortune of living in Melbourne, spring and summer racing in Australia is all about fun in the sun.
We recommend wearing the darkest, heaviest materials available, thus ensuring maximum heat absorpsion.
On particularly warm days, the gents may roll up those trouser legs to cool the calves and encourage a sweet tan from the knee down.
No practical headwear is permitted – any hats or fascinators worn must be absolutely devoid of protective properties.
Make sure those servo sunnies are for decoration only, offering the lowest possible UV protection rating.
Sunscreen is also a big no-no, as the greasy residue that lingers on the fingers after application makes it difficult to manoeuvre a betting pencil, use a smartphone, or work a cigarette lighter.
For an unfettered and sun-soaked viewing experience, always situate yourself in an exposed area away from marquees, grandstands, or any other feature that might cause obstructive shade.
Remember avoid the racing cliches and do what YOU want to do at the races, don't just follow the crowd.

---
Betting at the races
Among the biggest drawcards of a day at the races is the inimitable experience of betting at the track and cheering your horses home from the rails.
Never mind lining up at the bookie window early and making sure you get your bets on in a timely manner – wait until the very last minute.
This adds an extra element of risk and excitement to proceedings while allowing you to watch the odds in the hope that your pick's price goes up an extra few cents.
Whether you are out on course or in the sheds, always look for the busiest vendor – all those people can't be wrong, can they?
If you want to look like an authentic punter and impress everyone in the vicinity, wait until you get to the window before making any decisions on races, horses and bet types.
Don't worry about keeping your bet slips in a safe, secure place – if you happen to drop a ticket, a fellow race-goer is sure to seek you out and return it.
---
A brief guide to social etiquette
If you are still in any doubt about how to conduct yourself at the races, here are a few quick pointers to live by:
Louder is better. Whether you are in the members' lounge or out in the boondocks, bring your A-game. Worry not about outmoded trivialities such as decorum, common courtesy, or appropriate language – it all adds to the atmosphere.
Eating is cheating. Why waste valuable time and money on food? You should have plenty of flat beer, warm champagne and pre-mix spirits in your belly to see you through the day. There will be plenty of time for a kebab and a Double Whopper later on.
Take the party with you. The meet might be over, but that does not mean the fun has to stop. Commuter trains are ideal for post-race revelries, as they have the added advantage of doubling as public bathrooms if that last Bundy isn't sitting quite right.
Bet online: Wagering with Australian online betting sites can be a good idea, even if you are on-course, with this meaning you will have more time to take in the atmosphere, rather than standing in the betting ring. This is particularly a good idea if you take your non-racing partner to the meeting.