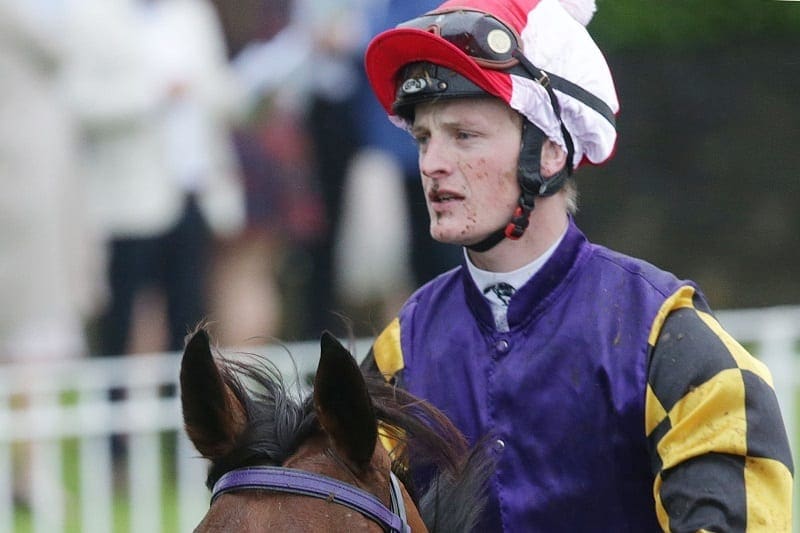 A phone call from Cambridge trainer Shane Crawford last week led to a major turnaround in fortune for jockey Jordan Nason.
He registered his first win as a fully-fledged jockey when guiding the Crawford-trained Fancy More to a runaway win in the Ezgo Platinum Rentals (1600m) at Ellerslie on Saturday.
The 25-year-old Englishman rode 21 winners last season and beforehand he recorded almost 50 wins in England. But he hadn't ridden a winner since Wonderful Barbie at Waverley on June 28.
In the last five months he had been at a crossroads in his riding career with a sickening trackwork crash five weeks ago all but ending his race-riding days.
"I had been struggling to get (race) rides and I just couldn't get a winner," he said.
"I kept hitting the cross bar and ended up with placings. "I'm not a natural lightweight and had been finding it hard with my weight." Nason completed his apprenticeship on July 31 and has been travelling from Cambridge to Matamata to ride trackwork for Te Akau Racing.
But not long after he started he got injured in a terrible trackwork accident. Nason was riding a filly in a gallop with a stablemate when another stablemate dropped his rider at the completion of his work and turned around and bolted towards them.
"It was terrifying," Nason said. "Both horses died and I ended up injuring my left wrist. It popped out of its socket and was turned inward. But I was lucky it wasn't worse.
BEST ONLINE BOOKMAKERS FOR HORSE RACING
"Fortunately there were no breaks, just nerve damage to the top of my hand and my wrist. But it's taken a while to come right.
"With that happening and my struggle to get rides I all but gave up."
Once recovered, Nason continued riding trackwork for Te Akau Racing and stepped it up with his first day back at the trials at Matamata last Tuesday. Then came the phone call from Crawford with the offer to ride Fancy More and the pep talk which lifted his spirits.
"Shane and Kara (Crawford's wife) have been good to me and put me on when they can," he said. "When Shane rang for me to ride Fancy More he gave me a bit of a push. He said don't give up, make the most of your opportunities."
Nason heeded that advice on Fancy More, a Tavistock mare he holds in high regard.
"I knew she'd be a good ride," he said. "I won on her in her first start (last February) and had ridden her three other times for a couple of seconds and a fifth in a stakes race.
"Opie (Bosson) rode her last time and he said she was locked away on the fence and was unlucky.
"She's quite a classy mare and just needs a bit of cut in the track and everything fell into place on Saturday."
After being back in the field, Fancy More dived through along the inside early in the run home and raced clear to win by three and a half lengths.
"She won it so well," Nason said. "She's definitely up to winning a stakes race, probably in the autumn."
With his first win as a senior jockey under his belt, Nason is looking to capitalise on the overdue success. "Hopefully I can get some more good rides," he said. "Anyway I'm enjoying riding some nice horses for Te Akau in work and at the trials.
"Jamie (Richards) put me on Our Abbadean at last week's trials and she felt great (when second to Jon Snow). She should be a good chance in the Captain Cook Stakes."