Sales success for Windsor Park debutant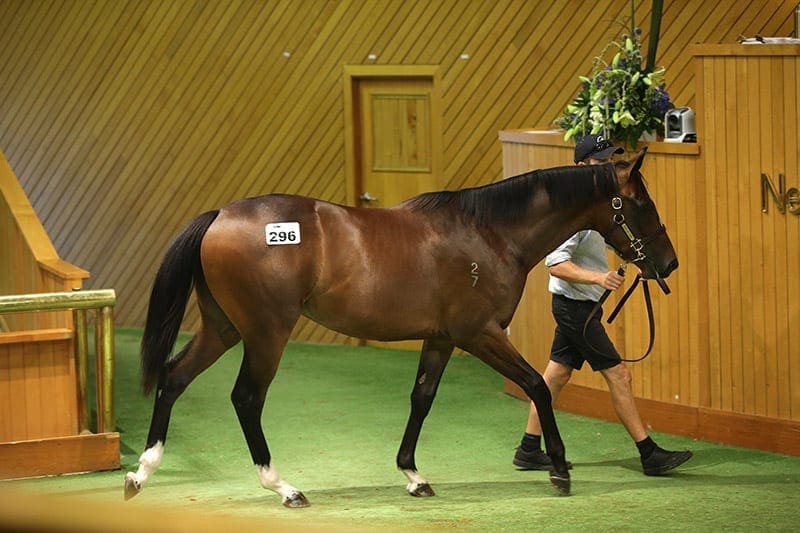 As the dust settled at the completion of the Book 1 catalogue at the National Yearling Sale, the results for sales debutant stallion Mongolian Khan have brought a wide smile to the faces at his Windsor Park Stud base.
The three-time Group One winner and dual New Zealand Horse of the Year had eighteen of his 24 catalogued yearlings sell during the Book 1 session at an average price of $107,778 off the back of his $10,000 service fee.
Lot 296, a colt from Encosta de Lago mare Phocis, was knocked down to the $200,000 bid of Chris Waller Racing while he had another ten individuals fetch $100,000 or more.
Twelve of the sold lots came from the Windsor Park draft with General Manager Steve Till summing up the positive feeling 24 hours after the last of their Book 1 draft went through the auction ring.
"Delighted with their acceptance by the buying fraternity in Australia, Asia and here at home," Till said. "They have been extremely well-received.
"They are very good types of horses, as he was himself, so they sell themselves when you have a horse like him that is well understood in the market.
"He was a champion racehorse here and in Australia, a history making horse that did things that no other horse has done through his dual Derby wins as well as a Caulfield Cup.
"That obviously helps but you still have to have the individuals.
"It is now in the lap of the gods and up to the trainers that have bought them to turn them into the good racehorses that they look like they are."
Till was especially pleased with the comments received from the buying bench regarding the overall physique and temperament of the 2019 consignment.
"He's a beautiful type of horse himself, a dark bay and a lot of his progeny are striking like that," he said.
BEST BOOKMAKERS FOR HORSE RACING
"They have good bone, are correct and they use themselves well.
"I've been around the complex and taken a look at the other ones that are not in our draft and been very impressed by their presentation.
"A lot of the buyers like to see them walk and use themselves well, these horses have good attitudes and move very nicely and sell themselves that way."
Till is confident that, while there could be a market adjustment with next year's sale crop, there will still be strong demand for the Mongolian Khan progeny.
"Traditionally they come back a little in the market," he said.
"We're not expecting them to be two-year-olds by any stretch, however we expect them to develop as he did into top-class three-year-olds.
"Sometimes you get a few that are classy and they out-run their genetics. There are some sharper types around that could do something a little bit earlier, but I think you will see them come into their own as autumn three-year-olds.
"He is an absolute trooper as a stallion and has averaged over 100 mares every year. His fertility is great, and he is uncomplicated and does his job well.
"Breeding support for him has been tremendous and here he is averaging $107,000 out of Book 1, off a $10,000 service fee, so those who have supported him have got a very good return."
A further sixteen yearlings by Mongolian Khan will be offered during the Book 2 and Book 3 sessions at Karaka with the sale concluding on Sunday February 3.