Ruby Walsh says he's ridden all the greats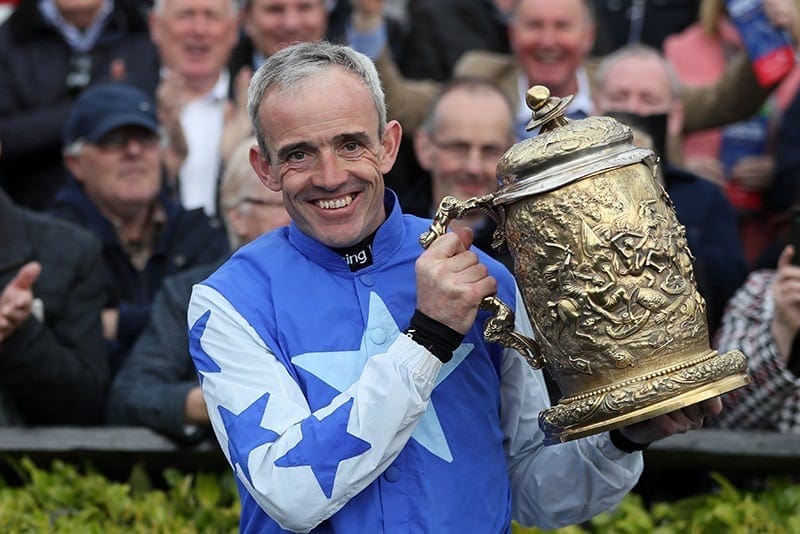 Ruby Walsh reflected on the equine superstars he partnered during his stellar career after announcing his immediate retirement from the saddle at the Punchestown Festival on Wednesday.
The 39-year-old rider called time on his 24 years in the saddle following a two-length victory aboard the Willie Mullins-trained Kemboy in the feature Coral Punchestown Gold Cup.
Walsh was seen to wave goodbye to the crowd as Kemboy passed the post and he bows out having ridden over 2,500 winners and with more Cheltenham Festival successes to his name than any other rider in history.
He has partnered many household names during his lengthy career and was quick to pay tribute to the likes of dual Cheltenham Gold Cup winner Kauto Star and Champion Hurdle hero Hurricane Fly.
Walsh said: "I've been so lucky from day one to ride so many incredible horses. I never dreamt that I'd get to ride the likes of the equine athletes that I rode.
"No jockey is any good without the horses – the horses are such a huge part of it. From the very beginning – Imperial Call here 20 years ago to Alexander Banquet, Kauto Star, Big Buck's, Master Minded, Denman, Hurricane Fly, Quevega, Annie Power, Kemboy, Un De Sceaux – you name them!
"In anyone's lifetime, I rode all the best ones."
BEST BOOKMAKERS FOR HORSE RACING
Walsh admitted he felt the time was right to hang up his saddle and is now planning to expand his burgeoning media career, rather than switching to the training ranks.
He said: "Everyone gets their fair share (of injuries) and I probably got a fraction more than my fair share. Someone has to have a high average for the lads at the low end and I was probably at the higher end of that. That's racing.
"To me, as I was always taught as a kid, it was all about the big day – my father taught that to me.
"I'd suppose if Rathvinden had won the Grand National, I probably would have bowed out on him – there's no bigger stage than that.
"That didn't happen, but after speaking to (wife) Gillian about it a good while ago, there comes a time when you just want to do something else.
"I've been a jump jockey for 24 years – I'm nearly 40 – and I thought I want to do something else for the next 24 or 25 years.
"I'm lucky enough to have great contacts and sponsors in Racing TV, the Irish Examiner and Paddy Power. Instead of them being bit part players in my life, they are going to be my life now.
"I think it's very unfair to compare horses from different generations – it's like comparing athletes or footballers or rugby players or anything.
"You can only be the best in your day, or on your day. Is Kemboy a better horse than Al Boum Photo? He was today but he mightn't be next March.
"That's what drives sport. Who is the best footballer – Messi or Ronaldo? Who knows – they are two brilliant footballers. That's the debate and argument and that's why people love sport.
"I don't think I'll be going training – not in the environment in this country. Horses will always be part of my life. I love working for Willie and I'll continue to do so."
Despite his great days in the saddle, Walsh believes he was on borrowed time in physical terms.
He said: "I don't think I'm going to miss the riding. When I broke my leg off Al Boum Photo in Cheltenham last year, the thoughts of another four months of rehab (did not appeal).
"I'll be honest, without (physiotherapist) Enda King's help in Santry, I wouldn't have even got the last three years out of my career.
"Physically what I've put my body through. (Dr) Brendan Doyle for 20 odd years, Lord have mercy on him. It was those guys that got an extra three or four years out of me that physically were amazing.
"I look across the weigh-room at Richard Johnson and I marvel at him. How at his age he has such commitment and drive to do what he does, to me, is amazing.
"You can't get inside a horse's mind and to think that you can master or control the horse – you can't.
"You're 10st and you're trying to control half a tonne. You can only try to get it to cooperate slightly in the way you want it.
"You can't get inside its mind or master it. You have to try and guide it and hope you get it right."