Rising rookie Ryan Elliot bags Ellerslie treble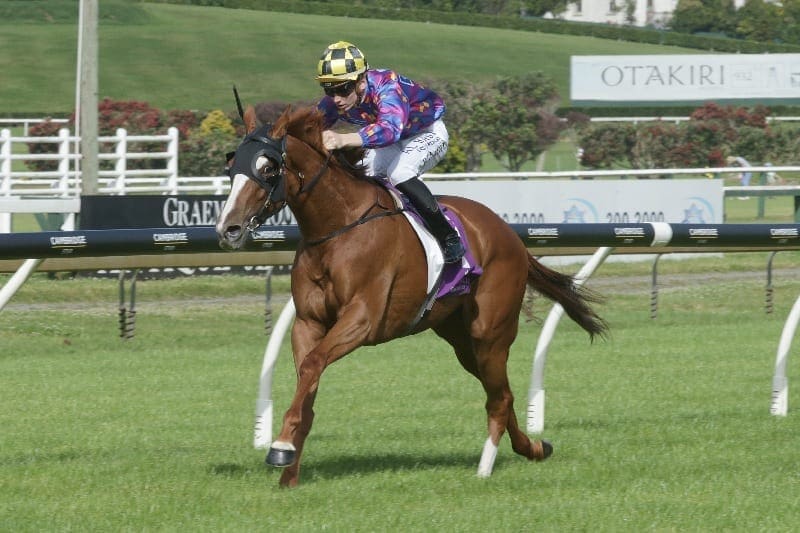 One of the budding stars of the New Zealand riding ranks took the honours at Ellerslie's Barfoot & Thompson Jockeys' World Cup on Thursday night in front of a bumper twilight crowd at Auckland's premier course.
Nineteen-year-old apprentice Ryan Elliot rode a treble of winners from just five rides, upstaging some of the international stars which included Sydney hoop Tommy Berry and South Australian champion rider Jamie Kah.
Elliot struck early, partnering Chief Sequoyah to victory for Stephen Marsh in the opener, before producing a gem of a ride to score on the Nigel Tiley-trained Standing Ovation in race two.
Without a ride in the third event, Elliot notched his third winner in race four with a well-timed ride on $20-chance Spancilhill for Mark Forbes.
"I thought two of them looked alright on paper, but I was a bit surprised by the other one," Elliot said.
"It was a great experience. It was really good to ride with the international jockeys.
"I had a pretty good chat with Tommy Berry all day. He's a very nice guy.
"He spoke about his time in Hong Kong and what a good experience it was for him and he encouraged me to have a go in Australia at some stage.
"I guess the main things I learned from him was to take your chances while you've got them."
While it wasn't the first time the talented apprentice had ridden a treble, it was the first time he'd achieved the feat at Ellerslie, with the added challenge of the rail being out 9.5 metres.
"It was pretty satisfying," Elliot said. "The last couple of meetings at Ellerslie I had been riding a bit average but going to that meeting and coming away with a treble was really good.
"It can be a bit tricky with the rail out because the front runners get a bit more of an advantage, so you need to get going just before the corner to help your chances."
BEST ONLINE BOOKMAKERS FOR HORSE RACING
Elliot, who is apprenticed to Graeme and Debbie Rogerson, said the chance to ride for other stables might help him get greater support from outside stables in the future.
"I think it will provide me with some opportunities," he said. "Especially with Danielle (Johnson) out at the moment. I might be able to pick up a few more rides for Stephen Marsh and hopefully Nigel Tiley might be able to put me on a couple."
Amongst the treble was impressive maiden winner Standing Ovation, with trainer Nigel Tiley labelling the daughter of Showcasing as a potential Oaks filly.
"She's a really nice horse," Elliot said. "She is a straight-forward horse that has got a lot of potential and a bright future.
"She relaxes very well and does everything right and she has got a really good turn of foot which will help her."
Elliot's aim is to out-ride his claim this season, with the tall, but slightly-built rider currently in 16th place on the jockeys' premiership.
"I'm still riding at 53kgs which is the main thing," he said.
Elliot was looking forward to a solid book of rides over the next three days, labelling Express Call at Tauranga on Friday and Elate in the Gr.3 Lawnmaster Eulogy Stakes at Awapuni on Saturday as two of his better chances.
The son of former jockeys Grant and Leanne Elliot, the talented apprentice has already notched 118 wins to date.
"I always get a text or a message from my dad after every meeting on every race and mum does the same," Elliot said.
"I did showjumping and rode ponies, but with mum and dad both being jockeys it was just the thing I wanted to do."
The polished apprentice credits Graeme and Debbie Rogerson with guiding his riding career.
"They have been the biggest influence in my career," Elliot said. "They have given me so many opportunities. Even when I've butchered them, they have still put me on and given me a chance."
While Elliot caught up with Sydney-based apprentice Sam Weatherley at Ellerslie on Thursday, he said he would take a patient approach before looking at any options across the Tasman.
"Sam and I are pretty good mates and he's going well over there at the moment," Elliot said.
"He said it is really good and hopefully at some stage I will get over there. But Graeme will help me when the time is right, and we will just see how it goes from now on."