Rae happy to be proven wrong with Respin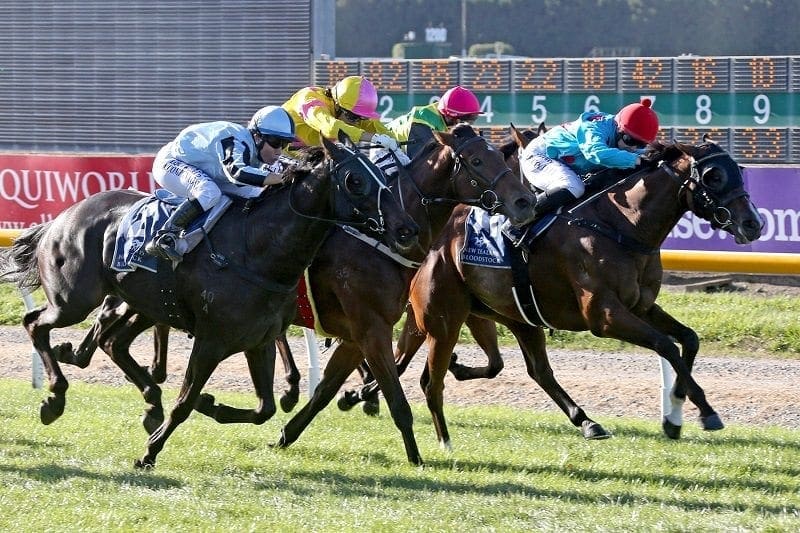 Local trainer Terri Rae was quietly cursing her bad luck at Riccarton on Saturday afternoon when she received a pleasant surprise.
Rae was waiting in the fourth-placed stall in the Riccarton birdcage, convinced her promising three- year-old filly Respin had been knocked out of the placings in a frantic finish to the Listed NZB Insurance Stakes (1600m).
Frustration instantly turned to joy when the judge announced Respin in first place by a bare nose over Beneficial with a further nose back to Courte Zarindi.
"I was watching a wee way off the line, but I was convinced we had missed the placings," she said.
"I was standing in the stall where the fourth placed runner returns, cursing away, when they announced the result and I got a very pleasant surprise.
"I asked Alysha (Collett) when she came back in whether she thought she had won and she had been convinced she had been swamped on the post as well."
Respin found her way to Rae's Riccarton operation after having one start as a two-year-old from Tony Pike's Cambridge stable for well-known owners Jim and Anne Gibbs.
"Tony had said to me he thought she would really show her class when she matured a little more and stepped out over ground," said Rae.
"He was dead right as she has just got better and better as we have gone along and the step up to 1600m on Saturday was perfect for her.
"She hasn't had a lot of luck in this campaign, but Alysha gave her a great ride and she got the job done even though it was a heart-stopper at the finish.
"She is just a lovely filly to do anything with and I'm delighted we could get the win for Mr and Mrs Gibbs." Rae will now look to the Listed NZ Bloodstock Warstep Stakes (2000m) on 21 April to complete Respin's current campaign before turning her out for a spell.
"Provided she comes through Saturday's exertions okay we will head to the Warstep next," she said.
"She was bucking and squealing when we put her out in the paddock on Sunday morning after eating everything we put in front of her on Saturday night, so she looks to have handled things in good fashion.
"Actually, keeping the weight off her is one of the issues we have as she doesn't seem to think about anything but food. That's quite unusual for a three-year-old filly but it's a great problem to have as keeping condition on them is normally the main challenge."