Purton's Happy after powerful night at the Valley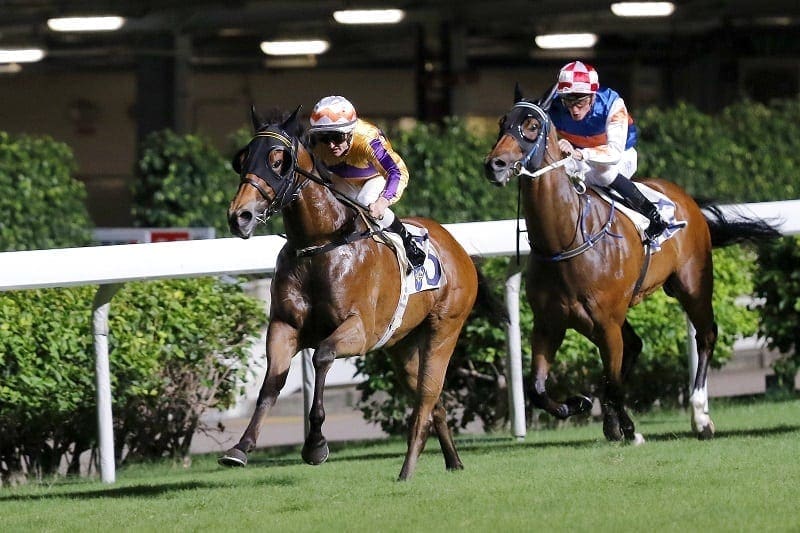 The Fat Lady may not be singing just yet, but she is cueing up her aria after Zac Purton all but sealed his second Champion Jockey title with a double at the penultimate meeting of the Hong Kong season tonight (Wednesday, 11 July) at Happy Valley.
Purton's brace aboard the Danny Shum-trained Charity Wings and Saul's Special for Michael Chang took him to 135 wins for the season, with rival and defending champion Joao Moreira moving to 131 after drawing first blood aboard the Caspar Fownes-trained Letsgofree in the opener.
With Purton successful in the event of an overall tie, having ridden nine more second-placed finishers than
Moreira, the equation heading into the 11-race Season Finale at Sha Tin on Sunday (15 July) sees Moreira needing to ride five more winners than Purton if he is to pull off an improbable victory.
Still, Purton himself was not ready to declare the race over.
"It's not over until it's over. I'm in a nice position, no doubt, but there are still 11 races to go and Joao has a nice book on Sunday," Purton said.
"I still feel that I've got to ride at least one winner, two would be fantastic, and we'll just see what happens. I want the post to come, that's for sure.
"Joao's had the better books of rides for the last month, so I've been coming to a few of the meetings just trying to weather the storm. Tonight, I thought we had a balanced book of rides, as I did at the weekend, and to ride one more winner than what he did and just to extend the lead a little bit further is pleasing."
Purton says that he has been encouraged by support from his homeland, with Australian fans vocal in their support for the boy from Lismore.
"Social media all over the world has been going mad," he said. "Everyone from back home in Australia has been tuning in and supporting me as I'm sure Joao's fans are supporting him back in Brazil. I'm grateful for their support, it means a lot and hopefully we are able to bring it home.
"I've enjoyed the challenge, I've enjoyed the position that we're both in, I said long ago I hoped that it would go down to the last meeting and that neither of us would get another suspension and neither of us has. It's been entertaining, it's the talk around town and a great advertisement for Hong Kong racing. Now, we've got one more day to battle it out. I can't wait."
The dominant win of Saul's Special in the Class 3 Let Me Fight Handicap (1000m) didn't just prove crucial for Purton, but it also held particular meaning for his trainer Chang. With that victory, Chang passed the minimum benchmark of 16 wins for handlers, narrowly avoiding his first strike.
"It is a great relief to score my 16th win of the season," Chang said. "The team and our jockeys have done a great job and I would not say our stable's performance has been because of bad luck but because our horses just weren't good enough. Hopefully, we can be more competitive next season."
Trainer Almond Lee has been in a more precarious position than Chang, needing to reach 16 wins to avoid a Licensing Committee show cause hearing after twice failing to meet the benchmark in the past. He is not out of the woods yet, but the victory of Namjong Plus in the Class 3 Sweet Orange Handicap (1800m) took the handler to 15 wins for the season.
"He is a horse I have hope for next season," Lee said of the Matthew Poon-ridden galloper.
"I think even 1800m will be too short, but maybe 2200m around here will be good for him in time. I think he'll be a good horse for my stable over the next 12 months."
Poon, chasing his first Tony Cruz Award as the leading homegrown rider, took his total to 35 wins for the season with victories on Namjong Plus and the Manfred Man-prepared Buoyant Boy, who won the final Happy Valley race of the term, the Class 3 Silver Grecian Handicap (1200m).
However, front-runner and defending Tony Cruz Award winner Derek Leung scored a success of his own aboard the Benno Yung-trained Flying Monkey in the Class 4 Kings Falcon Handicap (1000m) to hold a two-win break over Poon heading into Sunday's meeting.
Super record continues at Happy Valley finale
The night's highest-rated race, the Class 2 Sun Jewellery Handicap (1200m), went to the David Hall-trained Super Turbo, who continued his great record at this meeting with a strong victory under Vincent Ho.
Super Turbo won the Class 3 over 1200m at the last Happy Valley card of the season two years back, also with Ho in the saddle, while he finished second to subsequent Kranji Mile winner Southern Legend last year in the same race he won tonight.
The grey had missed most of the 2017/18 season through injury, but Hall holds high hopes that he could take his rating into triple-figure territory next term.
"To be honest, we probably wouldn't have been here at this meeting if it hadn't been for the injury midway through the season, so it's funny how things work out," Hall said.
"He was off for quite a while so it's taken him a couple of runs to get back fit; he's a colt and quite a gross little horse. His last couple of runs have been OK but he's progressively improved in fitness and we expected him from a good draw to be quite competitive tonight.
"I'm looking forward to doing a bit more with him next season. He's only had one run at 1650m and he went super, so next year, if he doesn't have an injury, we'll be able to test him a little more at that distance. I think he won with a bit of authority tonight, he's not overly raced and so I hope there might still be a little bit more to come with him."
Umberto Rispoli also tasted success at the last city track meeting of the term aboard the Dennis Yip-trained Fantastic Fabio in the Class 4 Bulldozer Handicap (1200m).
The Hong Kong racing season concludes at Sha Tin on Sunday with the Season Finale meeting. The first is scheduled for 12.30pm, with the annual Season Finale Parade to dazzle racegoers after the last.