Plenty of love for Jennifer Eccles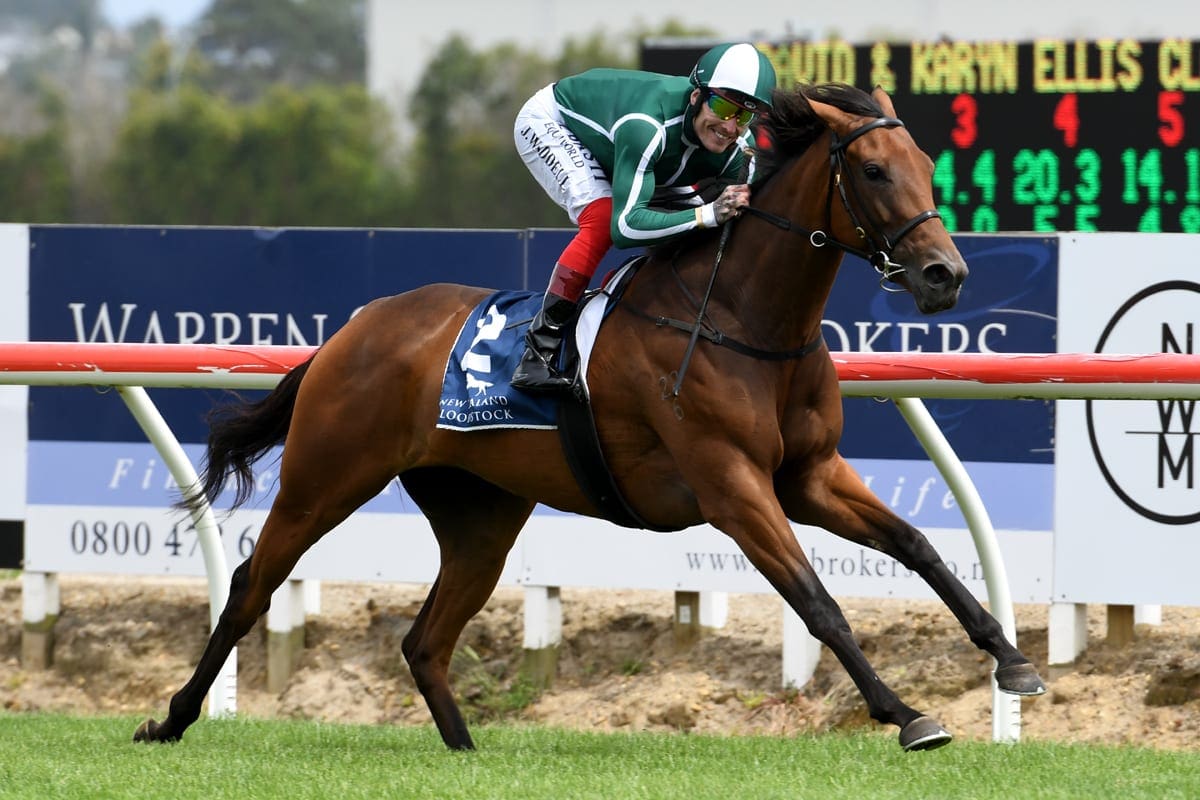 A picture-perfect ride from Jason Waddell allowed class act Jennifer Eccles to show her undoubted quality as she dashed away from her age-group rivals to take out the Group 2 David & Karyn Ellis Fillies Classic (2000m) at Te Rapa.
Touted as a match race between the Shaune Ritchie-trained three-year-old and her Group 1 New Zealand 1000 Guineas (1600m) conqueror Loire, the race turned into a tactical affair as Brahma Sunset and Leith Innes set up a muddling speed in front.
That played perfectly into the hands of Waddell as he settled his charge into the trail with his main dangers in Showbeel and Loire forced to come from behind her in the home straight. When Waddell asked Jennifer Eccles for her effort the response was instantaneous as the filly hit top gear in a few strides and dashed clear of a game Showbeel who chased hard to finish in second ahead of Loire who only plugged away in third.
Waddell was having his first ride on the filly and admitted it would take a crowbar to get him off now. "She's top class," Waddell said. "We got a gorgeous run and wow she came up underneath me approaching the home corner. "She was fair flying coming past the furlong and it would have taken something very very special to beat me. "There was nothing in the race that could do that today."
Ritchie was finding it hard to make himself heard as the filly's large ownership group made their presence felt as they waited for their pride and joy, who was named after the title character in a song by The Hollies, to return to the birdcage. "Geez if they break into song it could be a problem for us," Ritchie said "It was a spectacular win wasn't it although when you've got a filly with that turn of foot you do have a few little doubts about whether they will run the 2000m right out.
"It was a beautiful ride as he did exactly what he said he was going to do and she ran the 2000m out strongly. "He (Waddell) always makes the right calls and that's why he is a Group 1 jockey."
Ritchie was also pleased with the way the filly relaxed during the running with a view to her stepping up to the 2400m distance of the Group 1 Al Basti Equiworld New Zealand Oaks next month. "I feel a lot better about it (the 2400m) after today," Ritchie said. "She did get a very economical trip but I liked the way she relaxed down the back and she didn't appear aggressive at all. "She will almost certainly go to Hastings now and we have to have a crack at the Oaks as well."
With the victory Jennifer Eccles now heads the table in the New Zealand Bloodstock Filly of the Year series with 24.5 points ahead of Loire on 20.5. Her next target will be the Group 2 Little Avondale Lowland Stakes (2100m) at Hastings on February 26, the eighth event in the Filly Of The Year title race.