NZ racing wrap: Guineas winner heads to the paddock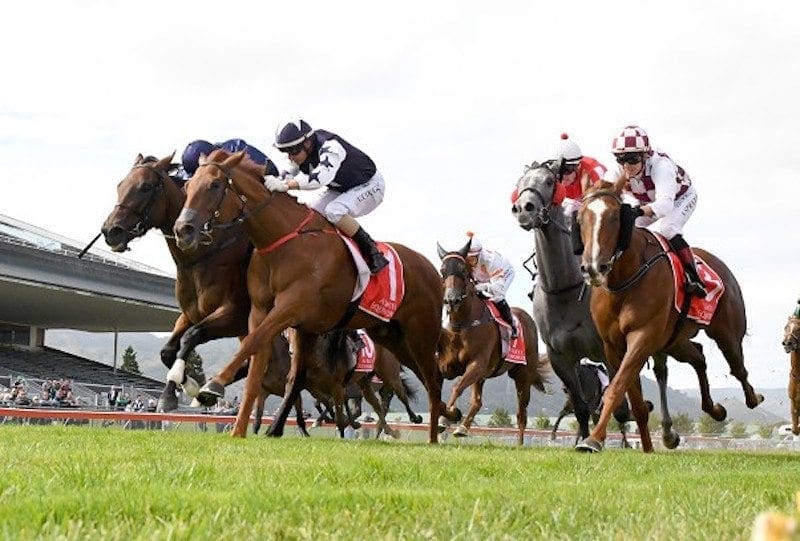 Scott Base heads for a spell
Quality three-year-old Scott Base has gone for a spell after his victory in the Gr.2 Wellington Guineas (1400m) on Saturday.
"He pulled up really well, but we have decided to put him in the paddock," said Hollie Wynyard, who trains the Dalghar gelding with partner Johno Benner.
"There's not really anything else for him in New Zealand to prove anymore. Just with the issues that we have had with him it's a bit risky to go to Australia so he's going to be back for the spring."
Scott Base was purchased out of Brighthill Farm's 2016 New Zealand Bloodstock Select Yearling Sale draft by co-owner Chris Rutten for $70,000.
Waipukurau winners a pair to follow
Two winning debutants at Waipukurau on Thursday from Fraser Auret's stable are expected to make their marks in better company.
Portland Jimmy, a son of Mettre En Jeu, was successful in the Central FM/CHB Mail 1400m under Johnathan Parkes, who also rode Detentore to victory in the Aerospread/Ravensdown 1200m.
The latter is a son of Keeper and had won a trial at Foxton in February.
"He's a big, bold sort of horse who has taken a bit of time," Auret said. "He's another one that we've got quite an opinion of."
Collett to get inside knowledge
Jason Collett will be picking his sister's brain ahead of the Gr.1 Ranvet Stakes (2000m) on Saturday.
The Sydney-based expatriate Kiwi jockey will be aboard Alysha's regular mount Consensus for trainer Stephen McKee in the Rosehill feature.
"She was my sister's first Group One so she'll tell me all about her," Collett said.
Consensus has won eight races, including the 2016 Gr.1 Zabeel Classic (2000m) at Ellerslie.
Stakes winner close to further success
Wafer hasn't won a race since she claimed the Listed Gore Guineas (1335m) in 2016, but expectations are that she will be adding to her record in the near future.
The Mike Breslin-trained five-year-old placed in her first three runs this year before she was out of the money last time out in the Gr.3 Cuddle Stakes (1600m) at Trentham.
"We weren't disappointed by the run, in hindsight it might have been better to scratch her as by the time she raced the track had got too hard," said part-owner Bill Gleeson, of Wellfield Lodge where Wafer's sire Alamosa is resident.
"She's a lovely, big mare who needs the sting out of the ground. We believe there's a really nice race in her."
Rain welcome for 2YO
Kenny Rae is hoping for rain at Avondale on Friday for his debutant Keep The Cash.
With wife Lisa and daughter Krystal Williams, he trains the Keeper youngster who will step out in the New Zealand Bloodstock Insurance Pearl Series Race (1200m).
"He's a nice horse, but he will probably want softer ground," Rae said.
He is also keen on the chances of Blanco Bay, who resumes in the Race Images 1400m.
"It wouldn't surprise me to see him in the money, he's always showed a lot of ability," Rae said.