Moonlight Dash delivers in Dubai International Cup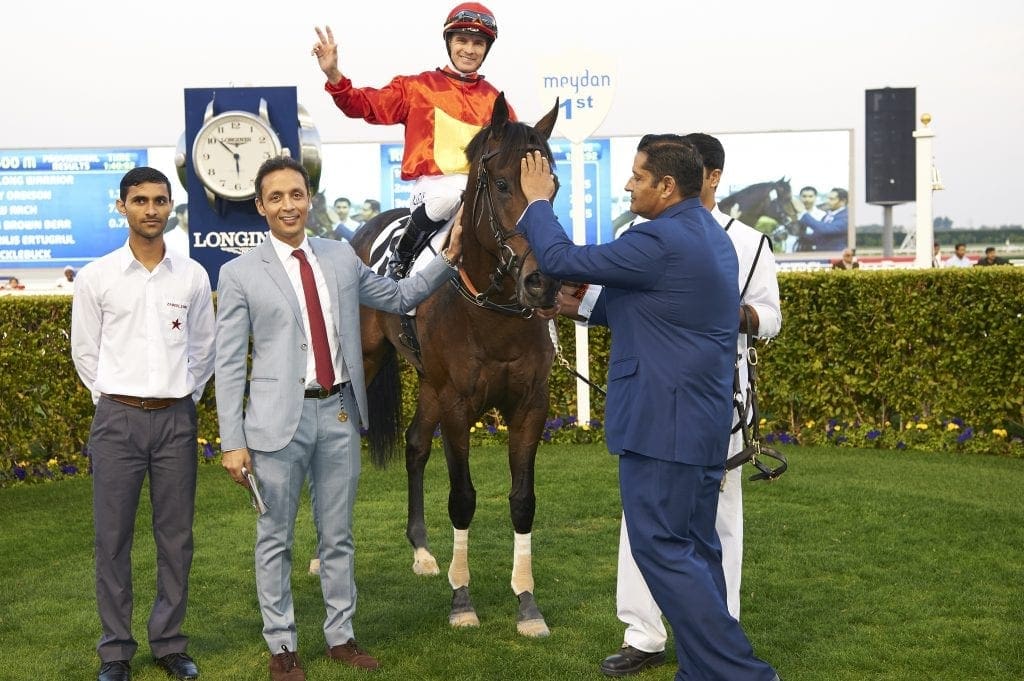 The 5th Chengdu Dubai International Cup meeting featured a competitive and thrilling day of racing at Jinma Lake Racecourse, a 2000m right-handed turf course just outside of Chengdu, Sichuan, China. The day also featured the second edition of the Chengdu Dubai International Cup Jockeys' Challenge, which comprised of two races, the Wenjiang Sprint (Race 1) and Guangsha Handicap (Race 3).
The featured race of the day was the namesake Chengdu Dubai International Cup presented by Longines, which was won by Moonlight Dash, a relatively lightly raced 10-year-old making his 27th start and winning for the fifth time. Starting just in front of the grandstand at the 200m pole, the race had eight starters running for its RMB 1.5 million (about US $238,000). Jockey Richard Mullen was aboard the winner for trainer Satish Seemar, whose assistant Bhupat Seemar was on hand.
"We've always really liked Moonlight Dash and he's run some really good races on the turf," Seemar said. "The plan was to get freshened up and aim to (Chengdu). This is big prize money".
"It's a privilege to come back to Chengdu," Mullen added. "I want to thank Chengdu, Meydan for putting on the event and Longines for sponsoring. It's been a fantastic year and it was a fantastic day once again."
The winning margin was 2½ lengths and final time was 2:25.17. Trainer Doug Watson filled out the remainder of the top four with his triad of entries, led by Tried and True in second under Pat Dobbs. The 6-year-old was a head to the good of Dehbashi under Sam Hitchcott, who in turn was 2¼ lengths ahead of Storm Belt and Tadhg O'Shea.
The day's co-feature, the RMB 750,000 Wenjiang-Meydan Classic sponsored by Azizi Developments, provided a sweep of the two big races for Mullen. The veteran rider guided Portamento for conditioner Ali Rashid Al Rayhi to a well-earned victory in a healthy 1:37.12.
Unplaced last out in the Nad Al Sheba Turf Sprint behind subsequent Al Quoz Sprint sponsored by Azizi Developments (Group 1) winner Jungle Cat, the blueblood gray son of Shamardal and multiple Grade 1 winner Octave stretched to the added 400m beautifully and outfought Watson-trained Dream Dubai and jockey Antonio Fresuen route to a three-quarter-length tally. Another Watson trainee, Fast Enough, was three lengths back in third under Adam McLean.
"I want to thank everyone today for their support," Mullen said. "Everything went to plan today. Tadhg O'Shea, who usually rides this horse, gave me some great advice on what to do with him. Fortunately enough, everything worked out well and the horse ran a great race."
The day's opener, the 1400m RMB 500,000 Wenjiang Sprint, the first leg of the jockey challenge, featured a battle to the line between Seemar-conditioned Ejbaar and Watson-trained Denzille Lane, with the former gaining the advantage late and surging to a three-quarter-length win under Dobbs in 1:24.07.
Chinese rider Xianfei He was aboard the runner-up. It was an 8¼-length gap back to Mutahaddith in third under O'Shea for Al Rayhi, while Musabbeh Al Mheir-tained Damar was another 1¼ lengths astern that rival in fourth.
The second race of the day was on the other side of the distance spectrum, the 2418m RMB 500,000 Meydan Handicap.
In a display of stamina, Quartier Francais, a lightly raced 4-year-old raced son of Street Cry, claimed his second lifetime victory from seven starts. Ridden by O'Shea, the pair proved superior by 1¼ lengths over a game Jamesian and Fernando Jara, with another three-quarters of a length back to Hawker and Dobbs in third. Trained by Al Rayhi, the dark bay winner appreciated the switch to grass and finished up the about-1½ miles in 2:34.92.
Al Rayhi's pair of wins moved him into a tie (six) with Al Mheiri for the five years thus far of the Chengdu Dubai International Cup.
The Guangsha Handicap, the day's third race, completed the two-race Jockeys' Challenge over 1600m and was won in style by Tobaco by 1¼ lengths under O'Shea for conditioner Watson, who completed a sweep of the top-two positions when Centrifugal forced himself into the runner-up position under Wenxun Wang by three-quarters of a length. Initial was third under Liankai Ma, while Archaic was a good fourth under Jiafel Li. The final time was 1:38.02.
The win secured a victory by the International riders over the Chinese contingent with a score of 30-18, with points distributed to the first four finishers in each race on a 12-6-4-2 basis.
"It's great to come here and ride with these jockeys," O'Shea said afterward. "It's a beautiful racecourse and a beautiful day and I'm very fortunate to represent Meydan here."
"I have no regrets and I tried my best," said Ma, who won one of the two competition races during the 2017 launch.
"I was a little slow from the starting line and I'm not so familiar with the horse I was riding, but, again, I have no regrets. If (this meet) happens again next year, I'll be very happy to attend."