Melbourne Cup tour launched in Ballarat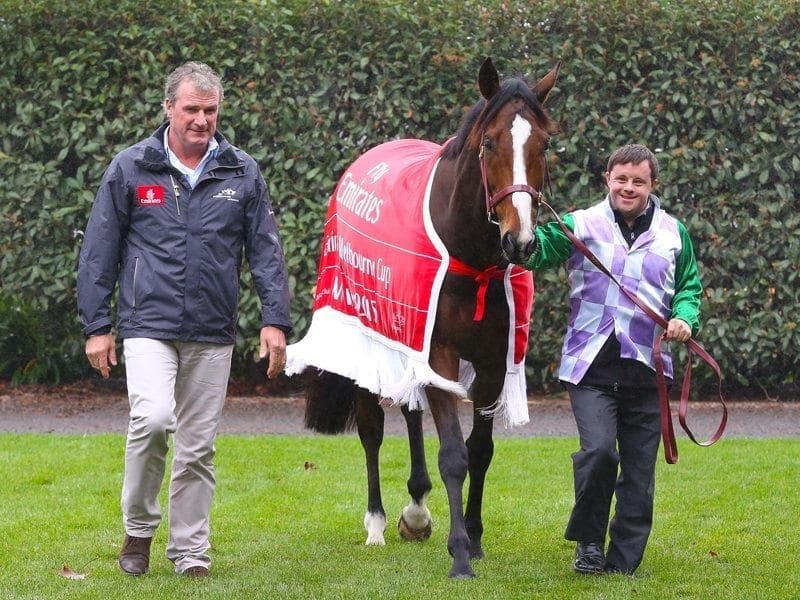 The Melbourne Cup tour has been launched in the absence of its most famous face.
Last year's winner Prince Of Penzance, his trainer Darren Weir and strapper Stevie Payne were all at Weir's Ballarat stables on Tuesday with the 2016 Melbourne Cup.
Prince Of Penzance's jockey Michelle Payne, the first woman to win the Cup, remains in hospital recovering from pancreatic surgery after a race-fall at Mildura last month.
She hopes to be released on Wednesday and has indicated she wants to get back to riding.
The Cup will be taken on a tour of Australia and New Zealand, beginning its journey on July 2 in Streaky Bay, the small South Australian town made famous as the home of Kerrin McEvoy who won the 2000 Cup on Brew.

The trophy arrives back in Melbourne on October 18 and will be presented to the 2016 winner at Flemington on November 1.
This year's Cup was made using gold mined from West Wyalong in country NSW, a destination on this year's tour.
Victoria Racing Club chief executive Simon Love said the tour would celebrate a heightened passion for racing among many community groups.
"Since the tour began in 2003, we have delighted in bringing communities together in the shared history and magic of the Melbourne Cup and Michelle Payne's victory last year certainly adds another dimension to that narrative," Love said.
Since its inaugural year, the tour has travelled more than 456,000 kilometres and visited more than 333 regional, rural and metropolitan destinations.