Lock considering taking Honneur Noir across the Tasman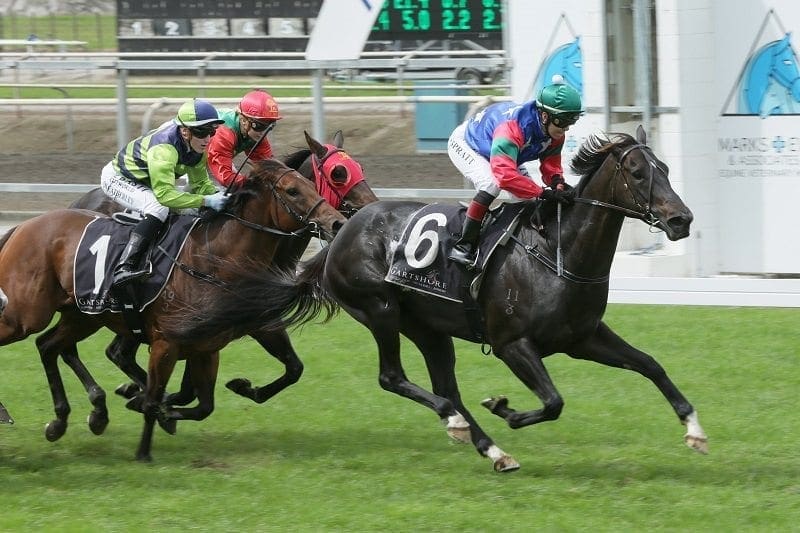 In-form mare Honneur Noir has put herself in the mix for a trip to Australia.
The daughter of Falkirk is on a roll and victory in Saturday's New Zealand Bloodstock Insurance Pearl Series Race at Matamata was her fourth success from her last six starts.
Trainer Peter Lock is in the early stages of mapping out an overseas programme for his stable star Hiflyer and Honneur Noir may also cross the Tasman with him.
"We'll probably head to Sydney with him in the next couple of months and this mare could go with him," he said.
"Hiflyer was on the water walker yesterday and I've never seen a horse improve so much. He looks amazing, I'm over the moon with him." Lock also has domestic options with Honneur Noir and is unsure of her more immediate future.
"My heart says don't go to the Breeders' Stakes at Te Aroha, but the money says to go," he said.
"There's 20 in the syndicate that race her and I've got them all on my back, but we'll enjoy the night first and then make some decisions."
Honneur Noir jumped well to race on the pace and she finished determinedly under jockey Sam Spratt to beat Yearn, who was giving the winner five kilos.
"We were pretty confident, the only worry was the Dead 6 track and drawing one so I said to Sam to get off the fence when she could and stay one or two spots out and it all worked out well," Lock said.