La Fille En Jeu chases stakes treble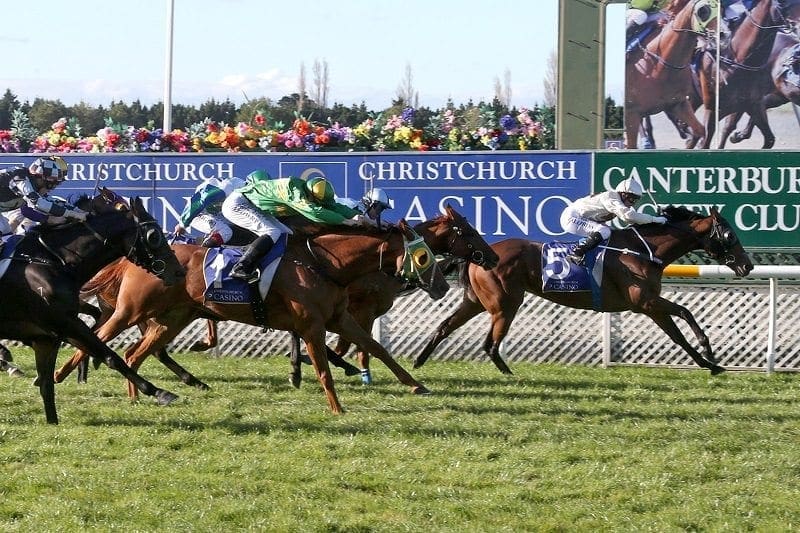 La Fille En Jeu will bid to join hallowed company when she contests Saturday's Listed Daphne Bannan Memorial Great Easter Stakes (1400m) at Riccarton.
The Mettre En Jeu six-year-old mare is shooting for her third straight stakes win, a feat Wanganui trainer Nigel Auret has achieved just once before – with champion two-year-old Pompeii Pearl more than 30 years ago.
Pompeii Pearl won the Listed Manawatu Futurity (1100m) at Awapuni before adding the Group 2 Sovereign Lodge (now the Wakefield) Stakes (1200m) at Trentham and the Group 1 Manawatu Sires' Produce Stakes (1400m) at Awapuni in 1988 before she was sold to American interests.
La Fille En Jeu has won the Group 3 South Island Breeders Stakes (1600m) and the Listed Easter Cup (1600m) at Riccarton in her last two outings.
"I hadn't really thought about it, but it surely is esteemed company," Auret said of the prospect.
"She's been with Les and Richard Didham and she's really doing well. All reports have been positive. We've freshened her for the 1400m and she's right where we want her."
"We're so thrilled with her," Auret said.
"When we first thought about going down there, we thought if she could pick off one of these races, we'd be happy, so for her to have won them both so far and now chasing a third, she's exceeded our expectations.

"We'd been worried about her getting a mile so we didn't put the blinkers on because she'd gone too hard earlier on when she raced in them, but putting the blinkers on has really worked for her.
"We give Lisa Allpress a lot of credit too. She's ridden her really well, but this mare has just strengthened and come into her own."
Auret, who bred and races nine-win mare La Fille En Jeu with his wife Adaire, said his main concern ahead of Saturday's race was the prospect of a heavy track.
"But I was worried about the track for her first race down there [run on a slow 7 track] as well and she won that." On tactics, Auret said little was likely to change with the free-goer.
"There's a bit more speed in this race, but if something wants to take her on, we'll see what happens. Plenty of horses have tried to take her on in the past and many of them have finished last. It might cost our mare, but it will cost them more."
Auret said Saturday's race would be the last of La Fille En Jeu's campaign, with Hastings features likely to beckon her in the spring.
"Our original plan was to mate her in the spring and race on, but that might yet go on hold."
La Fille En Jeu's awaiting mate is Unusual Suspect, who stands at the Aurets' Letham Thoroughbreds in Wanganui.
Unusual Suspect covered La Fille En Jeu's dam Quality Eyes earlier this season.